What an Organized Email Inbox Means for Email Marketing
Wednesday, May 21, 2014 Jackson Categories: Marketing
Hey, email marketer, you seem frustrated with Google and Microsoft's changes to email inbox functionality. Do you blame Gmail tabbed layouts for your low open rates? Or even go as far as Groupon did and blame Gmail's Promotion tab for poor earnings?
Contrary to popular belief, Gmail and Outlook.com aren't against email marketing. They are just focused on winning the hearts of their users. As it turns out, users love organized email inboxes.
Gmail's Tabbed Layout
Last year Gmail made a new tabbed layout available to its 425 million users. During the first week of the rollout, users enjoyed sorting, organizing and cleaning up their inboxes. Meanwhile, email marketers were scrambling, sending emails asking email subscribers to move their promotional emails from the "Promotions" tab to the "Primary" tab. It seems no marketer wanted to be demoted to Promotions.

Were email marketers correct in fearing the tabs and forecasting the decline of email marketing open rates? A study released in November 2013 by Return Path, called "The Tabbed Inbox: How Gmail Changed the Way Consumers Engage with Promotional Messages," found that most industries have maintained their email marketing performance levels.
Contrary to expectations, Gmail users are actively searching for marketing messages in the Promotions tab and reading them at almost the same rates at which they did before tabs. Gmail has essentially taught users to use the tab to shop from their inboxes.
Google and other email providers are always innovating. In last week's tech news, Geek posted screenshots of a major Gmail design overhaul. These leaked pictures reveal new functionality such as pinning emails, creating reminders and alerts, more tabs and a minimalistic look. Bottom line, changes will always be on the horizon.
Outlook.com's Advanced Rules
Last week Gmail's biggest competitor Microsoft rolled out new features to its email client Outlook.com (previously called Hotmail). Word on the street is that Outlook.com now resembles Gmail.
But Microsoft has changed more than the look; they're also rolling out Advanced Rules which allows users to set custom triggers to automatically organize their inbox. Users can organize and automatically filter promotional emails to a separate folder by creating a rule.
What an organized email inbox means for email marketers
Is an organized email inbox really bad news for email marketers? I don't think so. Maybe it didn't boost open rates, but open rates don't guarantee a sale. It's not the only metric that matters in email marketing.
The good news is when your customer is ready to buy, they can find your email easily. An organized inbox should boost your conversion rates.
In fact, this new inbox functionality and filtering does not spell disaster for your email marketing ROI. Email marketers, take heart. No matter how email users organize their inbox, they still opted in to your promotional emails.
However, you may need to adjust your strategy or maybe your mindset about email marketing.
Email marketing should be all about the customer. It is their inbox after all.
Whichever customer (or prospective customer) is receiving the email, the email should be tailored to him/her. It's not about your brand, what coupon you have to offer or what news you have to share. It's about what is valuable to your customer/client. If you haven't reset your thinking about email marketing yet, it's time to do so.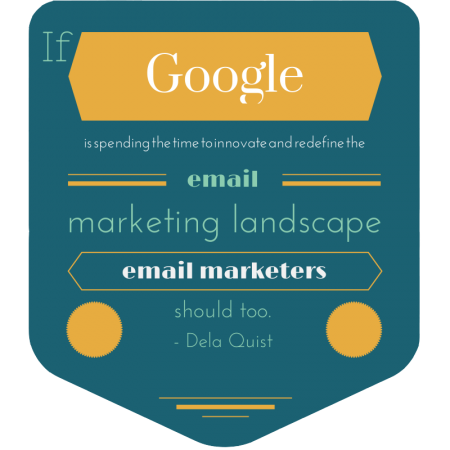 Yes, your email recipients may filter your message, delete your email or just ignore it altogether. That's not new. It's the same old challenge of email marketing: knowing your audience, tailoring content for them and sending at peak times.
Don't be frustrated. Email providers like Google will make updates and changes for its users. Instead of fighting change, embrace it and work with it. Let email users organize their inboxes. Be confident in the fact that they'll easily find your email when they're ready to purchase.
As I mentioned last week, email marketing ROI is 4,300%. You can make email marketing work for your brand.
And thankfully, some things haven't changed for email marketers: content strategy, intriguing subject lines, valuable content, email automation, and emails tailored for each recipient no matter where they are within the buying cycle.