You open up your phone to post your #freshkicks or #MondayMotivation (or maybe just a pic from your latest brunch) on Instagram, and you have to do a double take to make sure you didn't open TikTok. That's right, Instagram has continued their pursuit of becoming META's version of TikTok and people are not happy.
*We would have included thoughts from our whole social media team, but they are still a little salty about the changes.
What Changed
Ok, before you write me off as crazy. You may not have a clue what we are talking about since the rollout has only been served to certain users as of now.
What does this new feed look like? The new layout, primarily suited for Reels, incorporates a dark background and full-screen view. All captions now sit at the bottom left of posts and when you click "see more," they obstruct the view of the post. According to Adam Mosseri, the head of Instagram, video content consumption is trending higher and higher on the platform, and the changes are a means of "leaning into that shift" to create a "more fun and engaging experience."
Great attempt at transparency…just a little late since this was a means of responding to the critiques instead of a "we're evolving based on what you want to see" message.
Here's a great example of what the new feed looks like.
What People are Saying
Hey hey, ho ho —
this new feed has got to go.
That's not exactly the chant that protestors had going at a recent protest outside of the Instagram HQ in NYC. However, this protest was a precursor to the online backlash Instagram received for the test feed.  The protest, representing meme culture to a degree, was to spread awareness and incentives change by META regarding account moderation, speech suppression, shadow banning and the like. Creators who rely on the platform to generate income have become increasingly vocal regarding the massive changes in algorithms used by the tech giant, which serve to determine when and where to serve content to users.
In regard to the Instagram feed, an online petition that has been signed by 199,467 people at the time of this writing calls for Instagram to:
Utilize chronological timelines
Stop impersonating TikTok
Utilize algorithms that prioritize photos
As reported by Amanda Silberling of TechCrunch:
The graphic that Kim Kardashian and Kylie Jenner both shared said, "Make Instagram Instagram again," with a parenthetical that added, "Stop trying to be TikTok, I just want to see cute photos of my friends." Combined, the two mega-famous sisters have about 686 million followers on Instagram.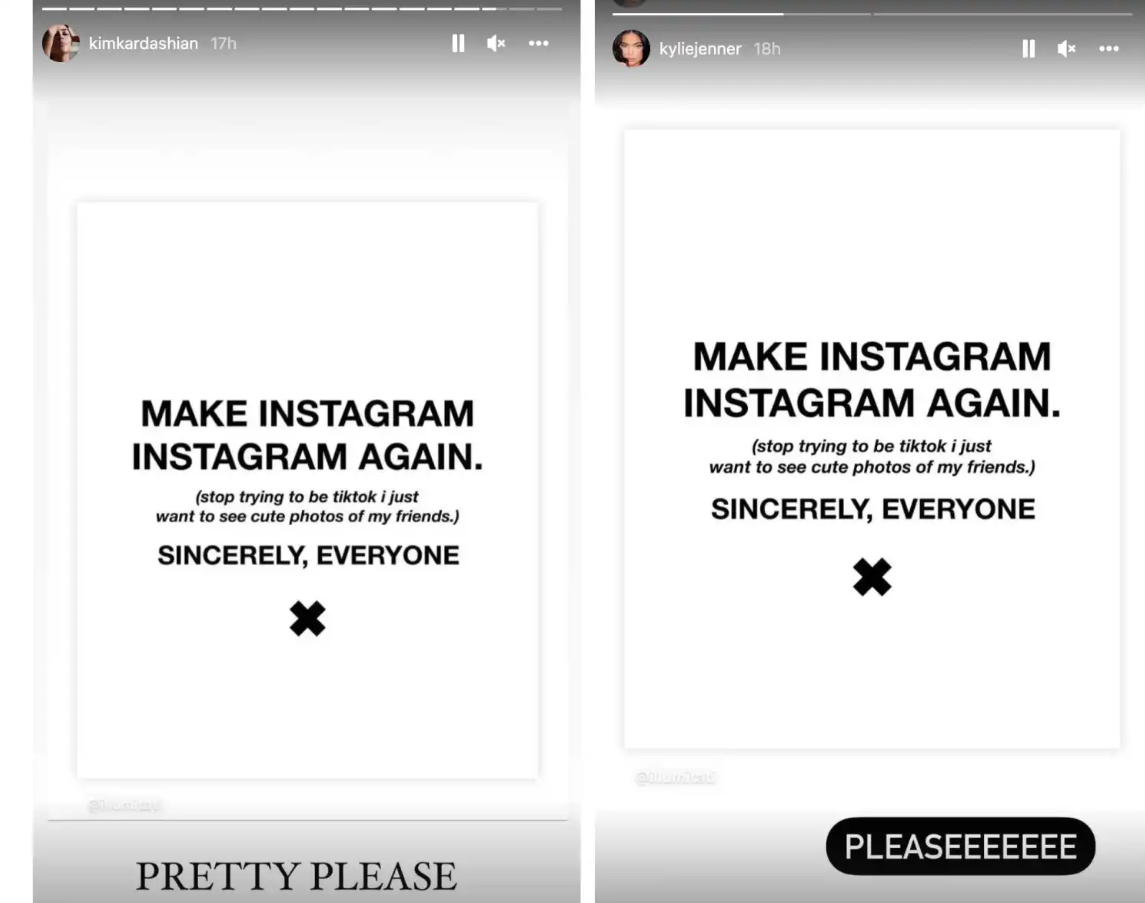 Laya Neelakandan of TODAY captured the thoughts of Greg Isenberg who is CEO of web3 and serves as an advisor for Reddit:
"What ends up happening is you end up having a Frankenstein-looking product because you've got stories that are from essentially Snapchat and Reels that are from TikTok. I guess the worry I would have if I was Instagram is are people going to be as connected to this product in six or 12 or 18 months when it doesn't feel like the original brand promise was met?"
Time to Swipe Left
Instagram is trying to portray a more transparent and audience-focused image during the backlash to this new feed test. Based on what the audience is saying, it seems clear that Instagram should swipe left and go back to a more photo-focused platform for the time being.
Before you scroll: Instagram has announced it will pause the new full-screen feed test and limit recommended posts. However, they also noted these features may see a comeback in the future. Short story is the backlash and critiques worked to cause change in this scenario. While Instagram is sure to bring back the features, hopefully they look beyond data points and talk to end users to really understand how they can adapt the app while still "leaning into that shift" Mosseri described.
Instagram needs to remember what caused their success and appeal amongst countless social platforms. Hold tight to your core audience and find unique ways of bringing others to the platform. Drastic changes which repackage the whole platform only serve to alienate your core and weaken your position. This does not mean never innovate, but it does mean be strategic and be authentic. Otherwise, you will suffer the same fate as MySpace, YikYak, Vine, Periscope etc.
Get "Reel" with Your Social Media
In our digital age, it's more important now than ever before to ensure your brand has a comprehensive social presence that:
Creates two-way conversations with your core audiences
Engages them in unique ways to create a relationship with your fan base or customers
Educates followers on products
Supports sales initiatives
Positively impacts brand awareness
Jackson's PR & Social Media team builds holistic communication campaigns to best position your brand within the industry and public eye. Our team excels in content development, social media, community relations, media relations, crisis communication, media events and influencer management.
Send us a DM or set up a tour of our Greenville HQ to learn more about how our team can unleash your brand.