After all the drama we've seen in the beer sector lately, it's—dare I say—refreshing to see a recent ad campaign for beer that really nails it.
Out of nowhere, Sierra Nevada dropped a cool campaign for one of their IPAs, famously called Hazy Little Thing. The tagline? The Clear Choice is Hazy.
Here's why I love this campaign:
1. IT'S FUN
Most people drinking beer just want to have a good time. They don't want to make a point or prove themselves or spark uncomfortable conversations. They just want to feel good. And let me tell you, this guy, makes you feel you good.
It shouldn't be hard to find a feel-good beer, but it is. It's so hard—which brings us to our next point.
2. IT'S HONEST
There are way too many craft beer options out there with more popping on the shelves every day. It's overwhelming. The last thing we need when we're looking for a good time is to make 500 additional decisions before they get there.
Sierra Nevada wants you to take the guesswork out of it. The clear choice is hazy, they say. It's that simple.
3. IT'S INTERACTIVE
Sierra Nevada gives their fans what they really want: the chance to interact with their campaign. From a hotline to a hashtag to merchandise, the brand didn't miss the opportunity to turn a great line into a chance to share the spotlight with their customers.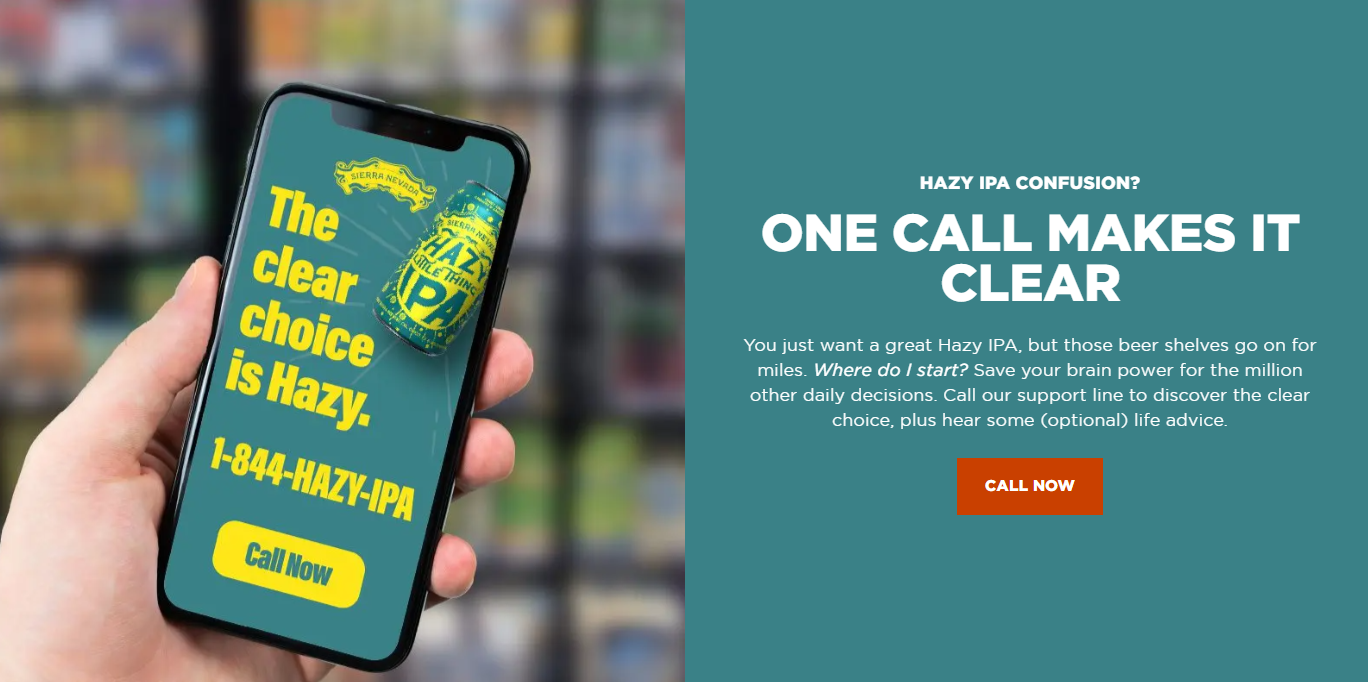 4. IT'S SMART
Sierra Nevada knows if they can keep you out of the store, then you're more likely to end up with a pack of Hazy IPAs in your fridge. So, they give you the link and the idea to order online—because honestly, who thinks to order beer online? I mean, until now.

5. IT'S EFFECTIVE
It's worth noting that this entire article was prompted by a targeted banner ad I received this week. The simple line "The clear choice is hazy" was too good. I had to click on it to see what other nuggets of genius this campaign had tucked away.
And now I'm triggered, which means I'll likely pick up a 6-pack of Hazy's at some point this weekend. So, there you have it: proof that advertising really does work when it's smart, honest and interactive. Cheers!