GREENVILLE, S.C. (March 14, 2023) – Larry Jackson, 76, founder and former CEO of Jackson, a leading national brand marketing and motorsports marketing agency headquartered in Greenville, SC, passed away peacefully surrounded by family on Monday, March 13, 2023.
A 55-year veteran of the communication industry,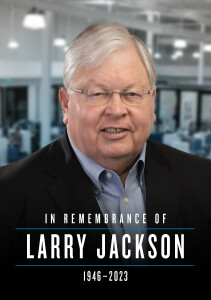 Larry built a powerhouse  agency that has provided marketing strategy and services to globally recognized brands including Ford, BMW, Michelin, BFGoodrich Tires and even the Harlem Globetrotters. In 2010, Larry assumed the role of Chairman of Jackson, with his son Darrell succeeding as CEO.
"Dad was my mentor as a father and as a marketer," said Darrell Jackson, President and CEO of Jackson. "For years, I saw him passionately lead brands beyond their potential while also investing in our associates every day. Today, our "north star" is defined by the way Dad lived his life both professionally and personally—uncommonly creative, uncommonly collaborative and always living out the golden rule."
The roots of Jackson go back to 1980 in Detroit. It was then that Larry and business partner Sam Dawson opened Jackson-Dawson Communications, an agency created to help automotive brands with product launches and dealer training. They soon added a Los Angeles office, and in 1987 Larry moved south to open an office in Greenville.
Eventually, Larry divested of his interest in Jackson-Dawson Communications, rebranded the agency to Jackson, expanded the company to include Jackson Motorsports Group and opened a West Coast office in San Diego. Today, Jackson is 140 uncommonly collaborative, passionate people helping to grow brands with a complete offering of fully integrated brand and motorsports marketing services.
Larry began his marketing career serving as a public information officer in the U.S. Army. His responsibilities included directing training films and videos and serving as editor of the post newspaper. He was awarded the Army's Commendation Medal for his services and was awarded an honorable discharge from the Army.
From there he joined the Ford Motor Company, where he served as supervisor/marketing services in Ford's Public Relations Department at World Headquarters. His responsibilities included overseeing Ford's extensive driver education program, educational film library, sales training and meeting/presentation development for Ford senior management, as well as coordinating public relations for Ford's motorsports operations. He then served as vice president and general manager of Wilding Division of Bell & Howell, a major U.S. communications company, and capped his corporate career as senior vice president, Ford Account Group.
Larry held a Bachelor of Science degree and a Master of Arts degree in Film and Video Production from Bob Jones University. He was named Alumnus of the Year in 2000. Jackson served on the Board of Trustees of Bob Jones University from 1982–2016 and served as Chairman of the Board of Trustees from 2013–2016. He has also served on numerous academic and professional advisory boards, including the Headquarters Recruiting Committee of the Greenville Chamber of Commerce, Greenville Technical College's foundation board and on the Greenville County Economic Development Board. Additionally, he served on the boards of the Gospel Fellowship Association, The Wilds Christian Camp and Conference Center, CMI Ministries and L.E.A.D Ministries.
Larry is survived by Betty, his wife of 54 years; children Darrell (Alicia), Andrea (Matt) and Eric; plus grandchildren Gage, Ellie, Ali, Clayton, Kaine and Merin.
# # #
About Jackson
Jackson is a fully integrated brand and motorsports marketing agency, offering marketing consulting and strategy, branding, digital marketing, content and public relations, events and tours, and dealer marketing. Awarded "Agency of the Year" by BMA Carolinas and named a "Top Shop" by Chief Marketer magazine, Jackson partners with a host of blue-chip brands including Michelin, BFGoodrich Tires, INEOS Automotive, NAPA Filters, Edelbrock, Sage Automotive Interiors, Hawk Performance Brakes, JCB Equipment, BNSF Railway, Trijicon Aiming Solutions, the Harlem Globetrotters and Bob Jones University. For more information about the company or its locations in Greenville, S.C. and San Diego, Calif., visit www.jacksonmg.com.
Contact:
David Jones
864.272.3052