Here we go again. While we were impressed with quirky brands on Instagram and movers/shakers on Twitter, we're turning our attention to brands that made us look twice on LinkedIn. The third blog in this series highlights companies that are thriving amidst the Great Reshuffle and carving out their own space on the professional platform. No "boardroom boredom" here.
---
Target (1.5M Followers)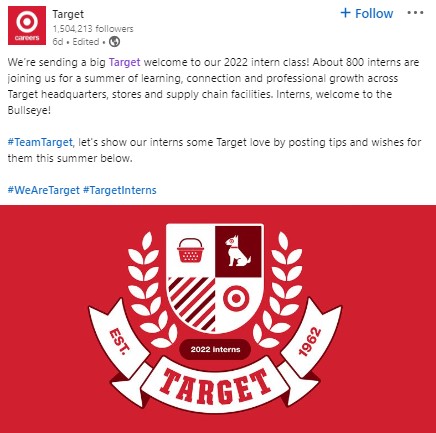 Target. Come on, really? Yep. But there's more than meets the eye when it comes to this popular retail therapy spot. Recognized as one of LinkedIn's Top Companies 2022, Target juggles new recruitment, professional development opportunities, employee accomplishments and future company initiatives all in one cohesive profile.
Perhaps their most notable tactic is their emphasis on the people behind the popular brand. Features. Achievements. Celebrations. They cultivate #TeamTarget pride among their employees and recognize who they are rather than what their job title is. Target also focuses on opportunities to help their employees succeed, whether that next step happens within the company or elsewhere. Hard not to admire a brand that spends more time talking about the team than the trophy case.
Bloomberg (1.4M Followers)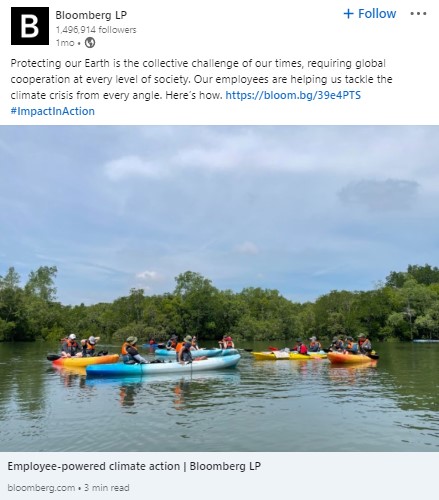 Short and sweet. Keep it simple. Less is more. We've heard these adages over and over again, but with a 1,300-character limit it's easy to ramble. Especially on LinkedIn. You know the ones we're talking about. The posts that read like novels and the updates that are never-ending.
Bloomberg, on the other hand, allows their content (videos, articles, infographics, etc.) to speak for itself while including a complementing caption that doesn't scare off users with unnecessary droning.
So, what else does Bloomberg's LinkedIn profile have going for them? Glad you asked. They regularly post original content while incorporating updates using tags and shares from Bloomberg Philanthropies, Founder and CEO Mike Bloomberg, company associates, community partners and more. This tactic simultaneously fosters online relationships and gives their profile a sense of "organization." Never thought we'd find a LinkedIn profile so aesthetically pleasing.
Nestlé (13.5M Followers)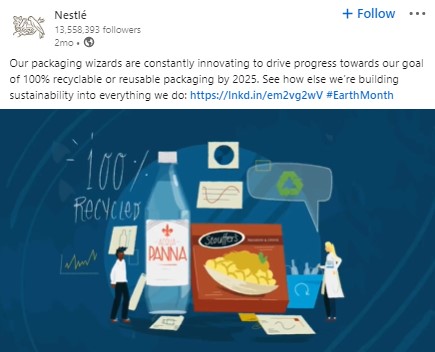 Industry innovation. Sustainability initiatives. Company culture. Nestlé tackles it all on LinkedIn. Yes, they talk about their achievements, job opportunities and products like every other brand, but it's the way they present it that has us intrigued. They celebrate accomplishments with spotlights on their employees and partners. Open positions are announced by current talent and their favorite things about life at Nestlé. (We love their "Nestlé BFFs" series!) Products shine with "Nestlé Stories" and the culinary chefs and inspiration behind them.
It's fascinating to explore the Nestlé "ripple effect" and see how the company impacts day-to-day occurrences ranging from morning coffee to inclusivity contributions. Their LinkedIn profile proves they're a whole lot more than the creamer in your fridge or the Thanksgiving ingredients in your pantry.
---
Alright, you know the routine by now. What's the takeaway? Focus on your people, cut the monologues and highlight how your work fits into everyday life. With 30% of a company's LinkedIn engagement coming from employees (they're your biggest advocates!), spend some time showing them off. They're also 14x more likely to share content from their employer than anything else on LinkedIn. Just saying.  And no one wants to read posts that require multiple scrolls, so keep it short. Top it all off with the impact your brand has on normal day-to-day activities and you're golden.
Facebook is looming on the horizon for this series, and we can't wait! Keep an eye out, and if you're looking to up your social media game but need some help, let's talk. Or tweet. Or DM. We're down for anything really.