3 Reasons to Give Email Marketing a Second Chance
Friday, May 9, 2014 Jackson Categories: Marketing
Across the industry, a debate is raging: whether email marketing is dead or merely evolving. This skirmish began long before the infamous 2009 Wall Street Journal article pronounced email's reign to be "over." However, soon after that article was published, marketers launched an offensive on email marketing, essentially giving themselves an excuse to not hassle with it.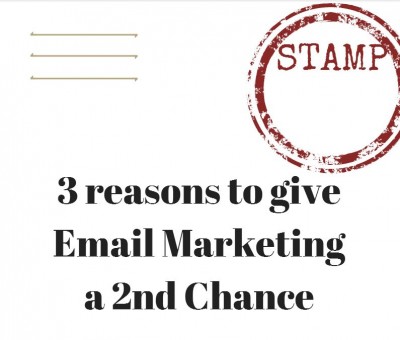 Email marketing isn't as easy as sending a quick text to your friend. It takes strategy, creativity, planning, copywriting, testing, monitoring, automating…work. No wonder our social media savvy brains wish we could replace email with social media.
But we can't. Here are 3 reasons why we can't replace email marketing with social media marketing.
1. Email is not dead
Don't you love predictions like "email is dead"? B2B is dead. The world will end in 2012. Gives us a good chuckle, right? Because email isn't dead.
Why hasn't email died when so many said it would? Business needs it. How else would we save archived messages, send large attachments, conduct digital business, read and write lengthy private messages, organize communications and store business-essential data? Certainly not via social media.
As of yet, no social media option can replace Microsoft Outlook, Yahoo! Mail or Gmail with their storage, organization and usability prowess. In fact, a year after Facebook forced its users into their email service, they admitted failure―nobody used Facebook for emailing! In early 2014, Facebook did away with its email service. While some would like to use this as proof that email is dead, the reality is, we don't like to mix our email and social media (i.e. don't mix business and pleasure).
2. Customers prefer email
In a recent ExactTarget survey, respondents said they preferred receiving email versus direct mail, social network messages or text messages when it comes to permission-based marketing communication.
(That doesn't mean they prefer email spam vs. social media spam. No spam permitted!)
We're talking about opted-in, permission-based communications. The type of emails customers have come to expect and are willing to receive for special offers, coupons, discounts, alerts, research findings, news and upcoming event notices.
And your customers prefer to receive those promotional messages in email (77%) vs. text (5%), social networks (6%) or direct mail (26%).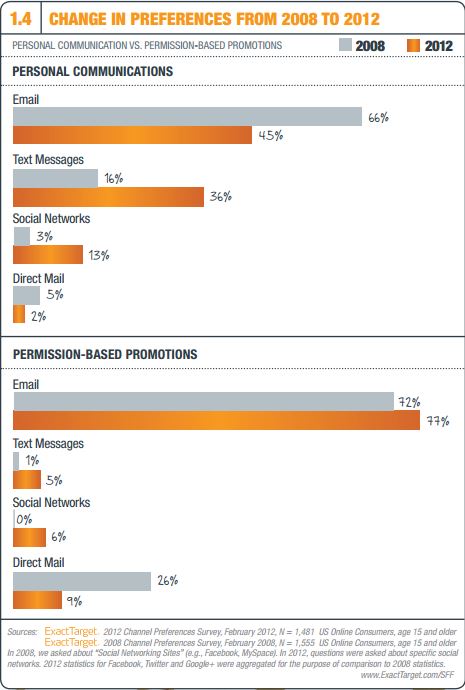 3. Email marketing has a strong ROI
According to Forrester, marketers sent 838 billion email marketing messages in 2013. That means more email marketing messages than the estimated number of stars in our solar system, people on our planet and animal species combined.
With so many messages in our inboxes and a big chance that email will be overlooked, why do so many marketers still bother with email? Because as the Direct Marketing Association reports, email marketing has an ROI of 4,300%.
That statistic is a bit staggering. What other marketing tactics give you 4,300% ROI? (Hard to say, right?)
If you can strategically leverage email by building trust and communicating value to your customers or clients, you will realize a huge return on your investment.
Conclusion
And with so many resources on email marketing, you have no excuse. Even if you want to DIY email marketing. When it comes to how to craft messages, reach an email audience and win the inbox of your customers, look no further than the marketing automation industry (ExactTarget, Marketo, Silverpop, etc.) They are packed with resources to learn the steps and DIY.
Just remember, strategy first. ExactTarget said it well: "With every message sent and every metric pondered, marketers must ask themselves: which tactic fits my strategy and overall company objectives."
Go ahead, give email marketing a second chance.