THE MICHELIN

RACEWAY ROAD
ATLANTA APP
BUILD AND REBRAND
NEW BRANDING.
OLD APP.
NO PROBLEM.
---
Michelin Raceway Road Atlanta is a world-renowned road course and multipurpose facility located in the hills of northeast Georgia. With millions of people visiting this 2.54-mile, 12-turn, world-class track each year, the raceway needed an updated app to help visitors navigate the grounds and optimize their race experience. That's where we came in.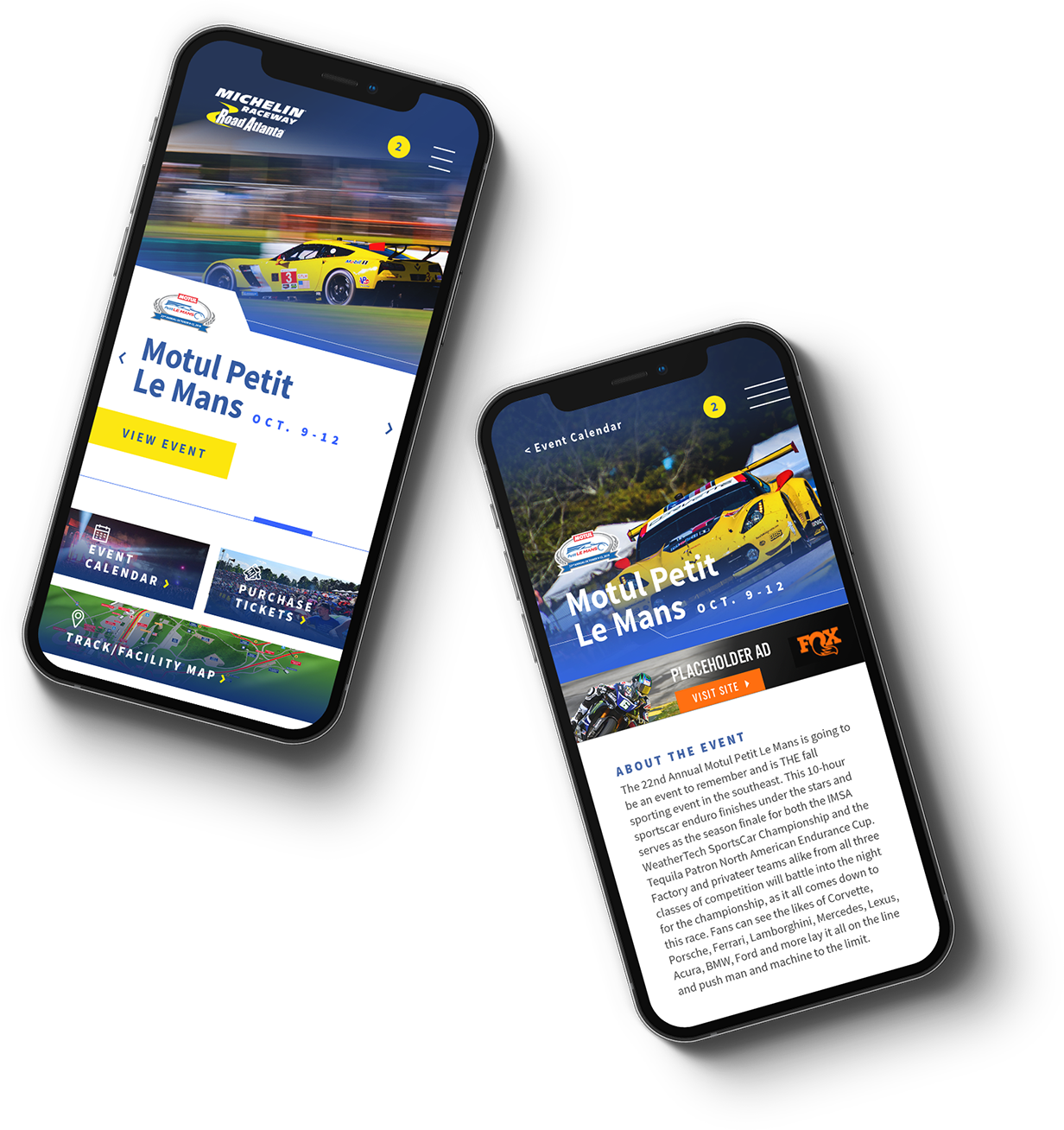 APP DESIGN
Taking the client's wish list for the app into consideration, the Jackson team got to work concepting and wireframing. Each detail—from the ad space for sponsors to the customized map functions—was carefully designed for a seamless user experience.
FUNCTIONALITY
SO, WHAT DOES THIS APP DO?
PROVIDES users an interactive map of the track and the grounds
CUSTOMIZES the user experience to show vendor activations for each event
SENDS push notifications to devices based on the race schedule and their personal calendar
HOUSES links to ticket sales
CREATES an ad space for sponsors and industry partners
FEATURES points of interest at the track for users to click and learn more
NOTIFIES users of track timing, changes in the schedule, promotions and qualifying
STREAMLINES the Michelin Raceway Road Atlanta branding
Not only was the app designed to be user-friendly for people at the track, but it was also created for the Michelin Raceway Road Atlanta team to be able to manage it with ease. We built a custom CMS to power the app, giving our clients confidence to publish and update content themselves.
APP TECHNOLOGY
Jackson utilized React Native to build a responsive app that works for iOS and Android devices. The custom CMS was designed in Expression Engine, giving the clients full control of the updates and customization for each race. These customizations are complete with drag-and-drop map capabilities and push notifications for event times and updates. With this approach, races like Petit Le Mans and Formula Drift can have their own unique app functions to drive the user experience throughout the event.
THE RESULTS
All the fancy marketing terms break down to one simple thing: a better trackside experience for event goers at Michelin Raceway Road Atlanta. Utilizing the app to provide visitors with a seamless experience was the goal, and each addition to the app made that possible. Take our word for it or see for yourself.
SEE FOR YOURSELF
OFFICES