OLIVER RETREAD
WEBSITE
HOW WE MADE AMERICA'S FIRST RETREAD RUBBER BRAND LOOK CUTTING EDGE.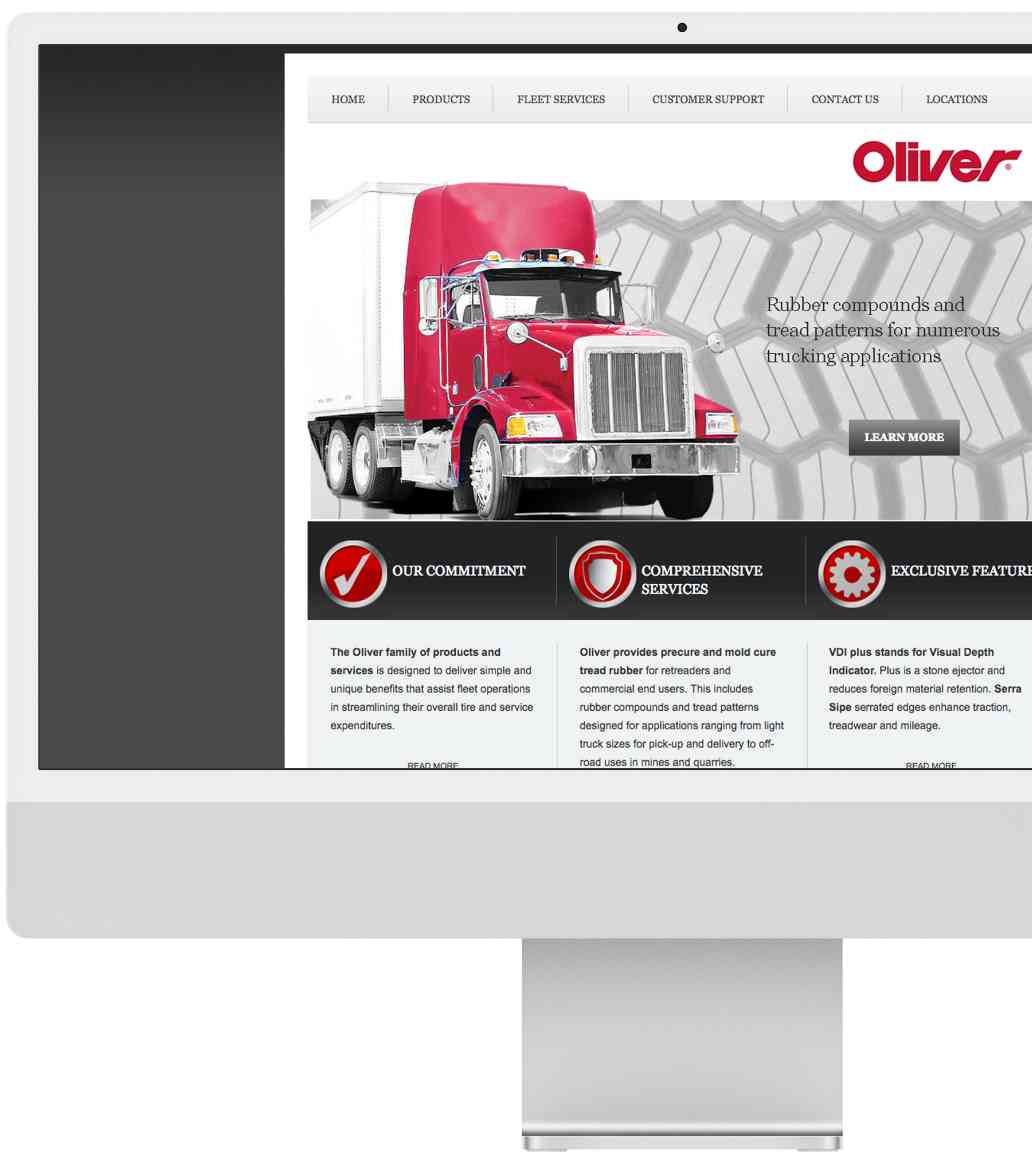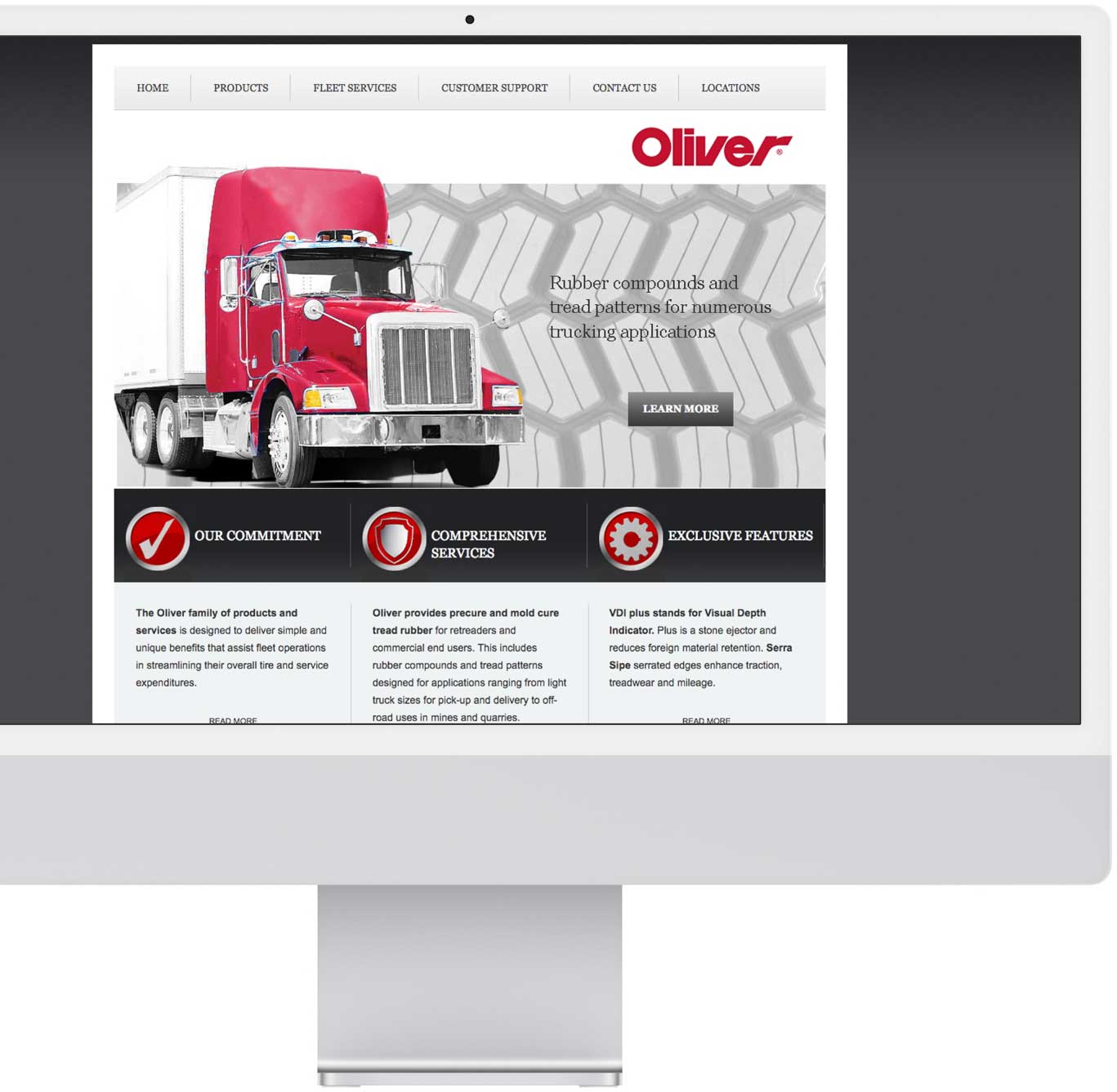 OPPORTUNITY
DOZENS OF USER INTERVIEWS TOLD US THE OLD OLIVER WEBSITE WAS A PAIN TO NAVIGATE AND THE ONLINE TOOLS WERE SHOWING THEIR AGE. OUR EYES TOLD US AN UNFOCUSED, OUTDATED DESIGN JUST DIDN'T REPRESENT AN INDUSTRY‑LEADING BRAND.
Oliver Rubber is a leader in retread technology, and the company wanted a new website that reflected its devotion to quality and market leadership. After doing some digging, we discovered that the solution was twofold. First, Oliver needed a website that served the practical needs of truckers on the road: A fully responsive site with user-friendly online tools designed for mobile devices. Second, the company needed to tell their story in a way that felt fresh and contemporary.
IDEA
BASED ON OUR WEB USABILITY STUDY, IT WAS CLEAR THAT AMERICA'S TRUCKERS — AND FLEET MANAGERS — NEEDED AN ONLINE RESOURCE FOR RETREADS THAT WAS SIMPLE AND EASY TO USE. THE OLD WEBSITE SIMPLY DIDN'T DELIVER. IN ADDITION, OLIVER WANTED THE NEW SITE TO PROMOTE THEIR RETREAD PROCESS IN DETAIL, SO END USERS COULD BETTER UNDERSTAND THE OLIVER DIFFERENCE.
We built the new site from the ground up with improved site architecture and a visual theme that focused on the details. For truckers, we developed a retread selector that could better recommend products and a store locator that was more intuitive and direct. Plus, a new retread process video captured Oliver's passion for quality and reliability. Finally, we took visual details of the hands-on process and blew them up into big, bold images for a stunning new look that is like nothing else in the industry.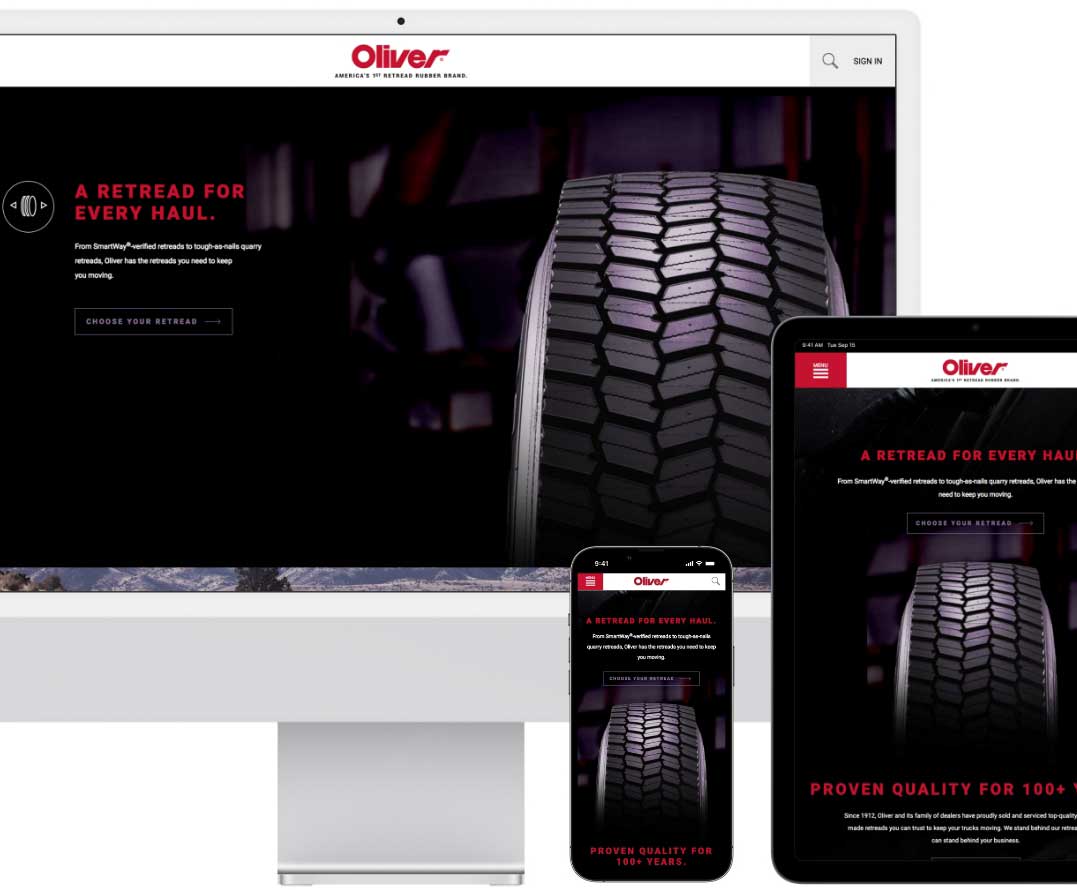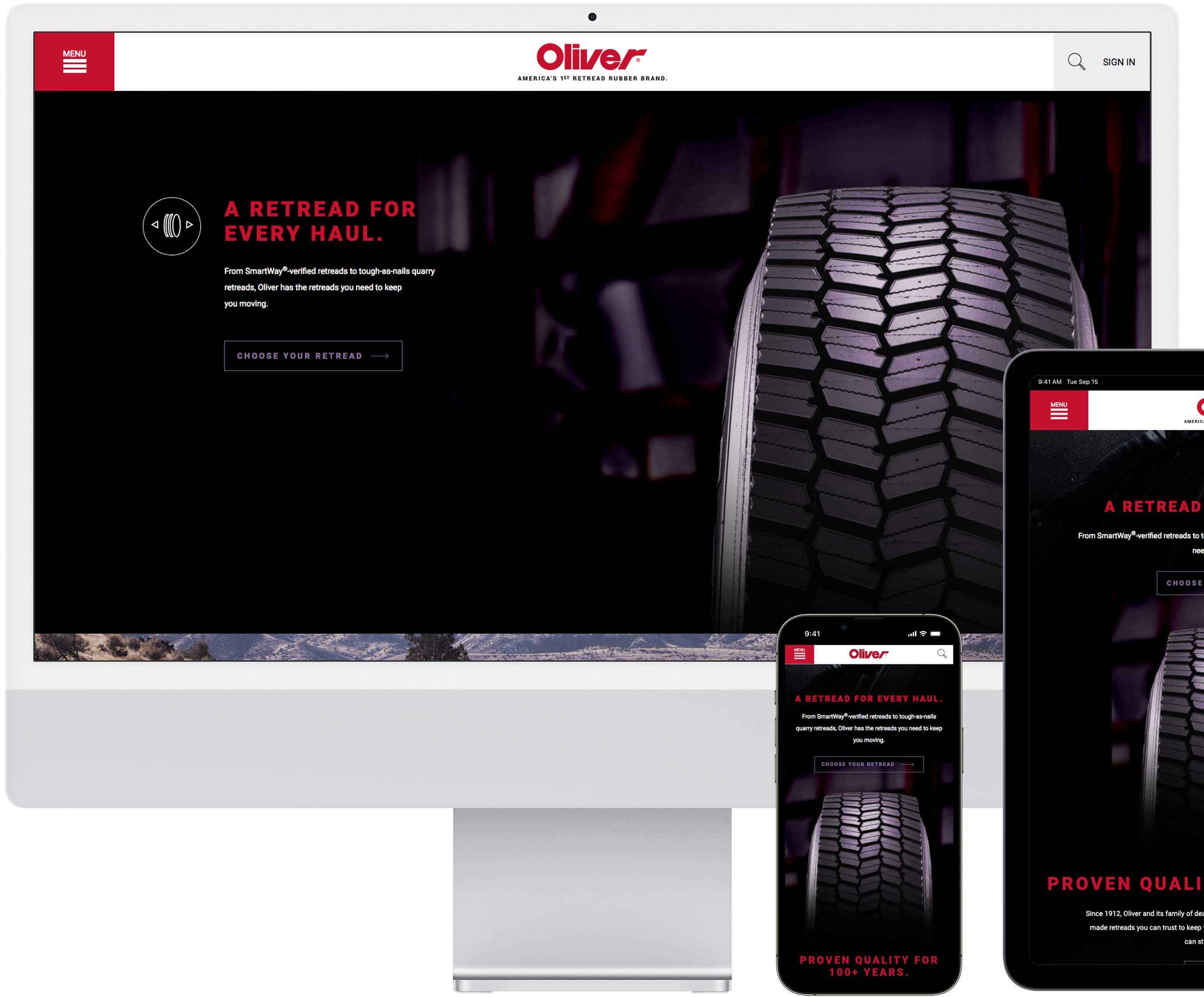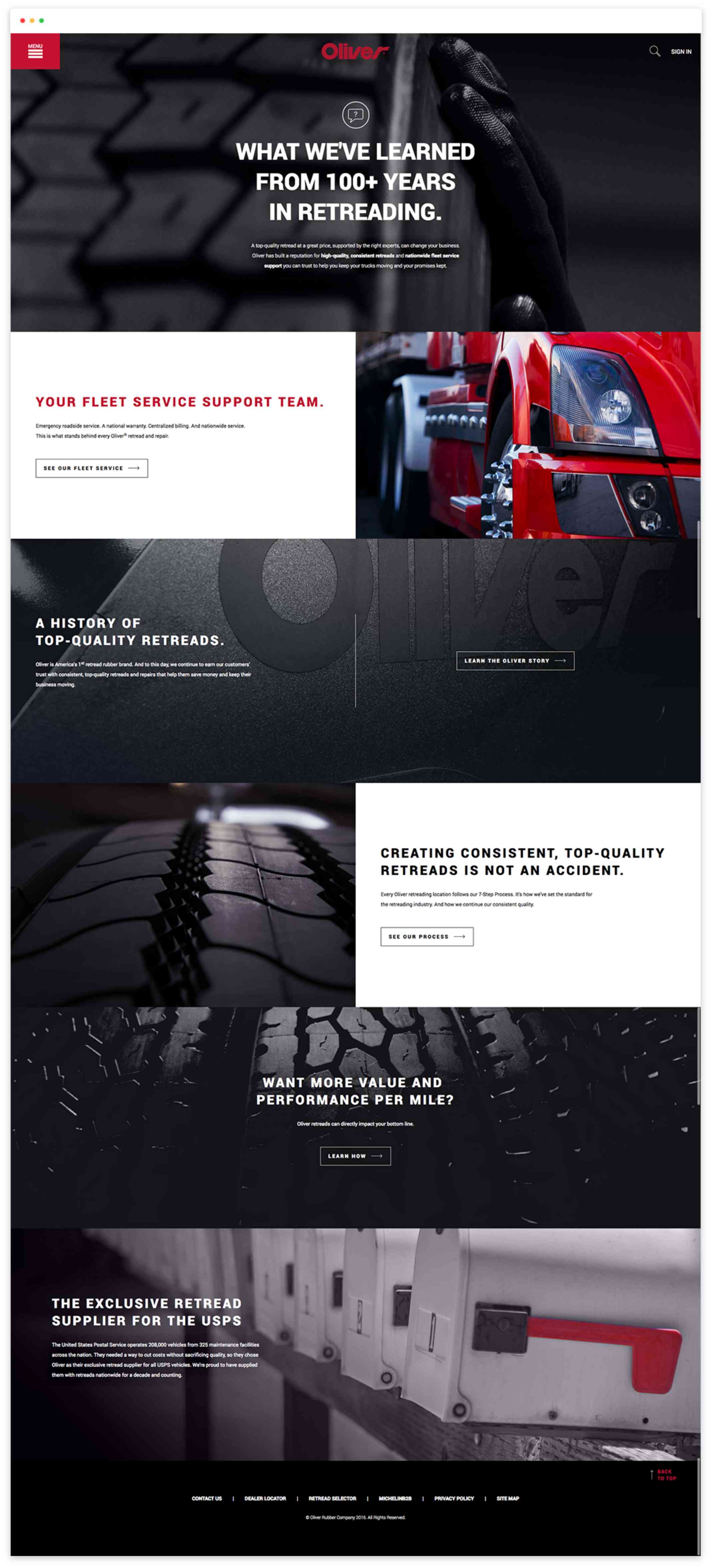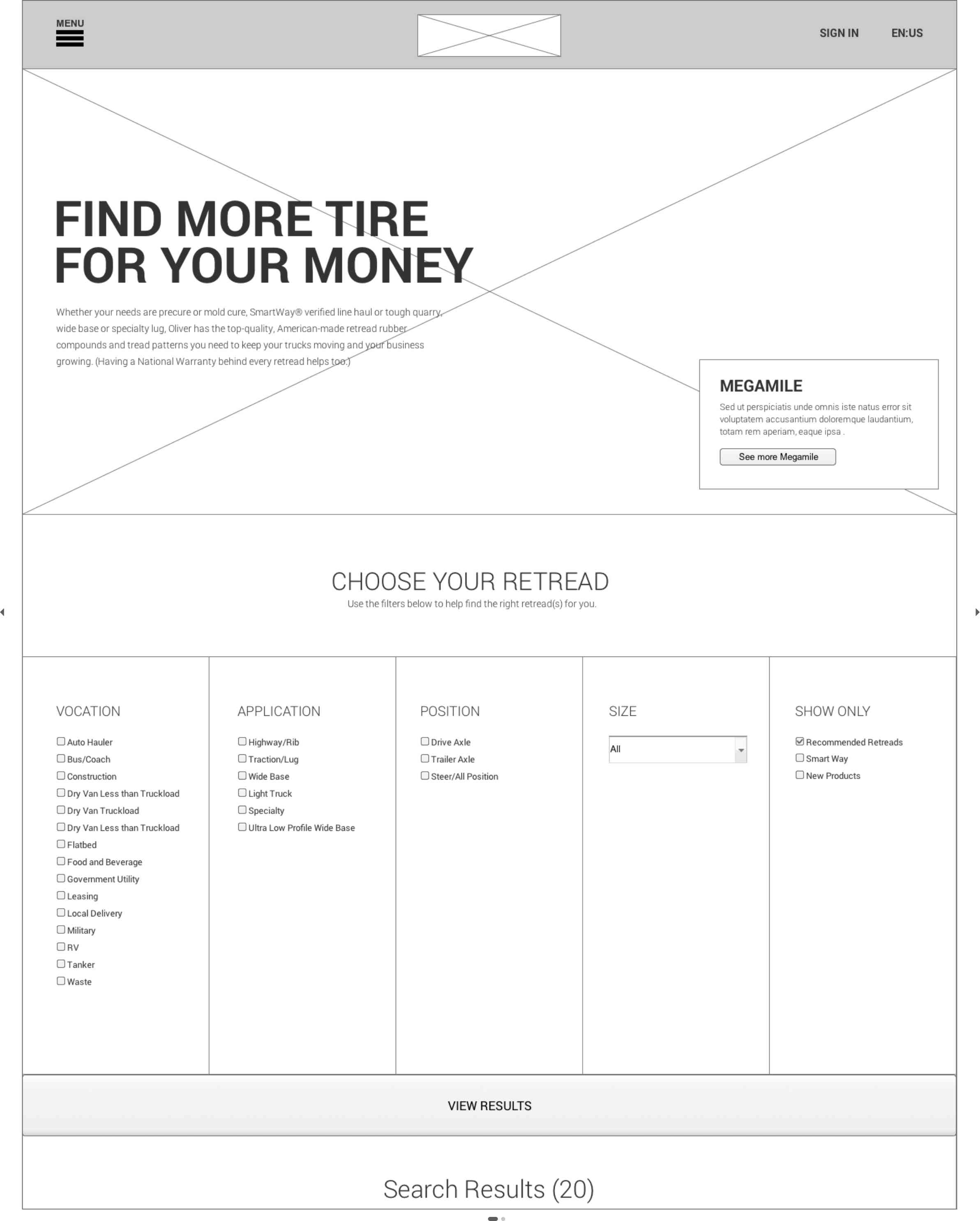 IMPACT
FROM PLANNING AND ASSET GATHERING TO WIREFRAMES AND VISUAL COMPS, OLIVER AND MICHELIN WERE THRILLED WITH EVERY STEP OF OUR PROCESS. AND WHEN THE SITE WENT LIVE, THEY SAID IT EXCEEDED THEIR EXPECTATIONS IN EVERY WAY. OUR BIGGEST COMPLIMENT? FOLKS WHO TOLD US WE'D MANAGED TO MAKE RETREAD TRUCK TIRES LOOK PRETTY DARN COOL.