MICHELIN

"STELLA'S
DATE NIGHT"
CREATING AN UNFORGETTABLE
EVENT IN THE TIME OF COVID
TO CREATE AN EXCLUSIVE, UNFORGETTABLE EVENT, A ZOOM VIDEO CONFERENCE CALL IS RARELY THE TOOL OF CHOICE.
But in the uncertain, unprecedented times of COVID-19, Michelin had no choice. Their dream of getting 100 people together with an award-winning Michelin chef for an exclusive dinner was not to be.
HOWEVER, A UNIQUE OPPORTUNITY PRESENTED ITSELF.
INSTEAD OF HAVING A CHEF COOK FOR YOU, what if you could cook with a chef? Better yet, what if you could stop by the restaurant in person (Stella's in Greenville, South Carolina, in this example), meet the chef, pick up your prepackaged food (with instructions) before dinner, then join a Zoom call later that night and have the chef instruct you, with a Michelin-starred chef adding commentary and stories?
Sounds exclusive, personal and fun, right? It also sounds like it needs serious production.
ENTER JACKSON. OUR EVENT AND VIDEO TEAMS WORKED WITH MICHELIN TO MAKE SURE THE PRODUCTION WAS AS HIGHLY RATED AS A MICHELIN-STARRED CHEF.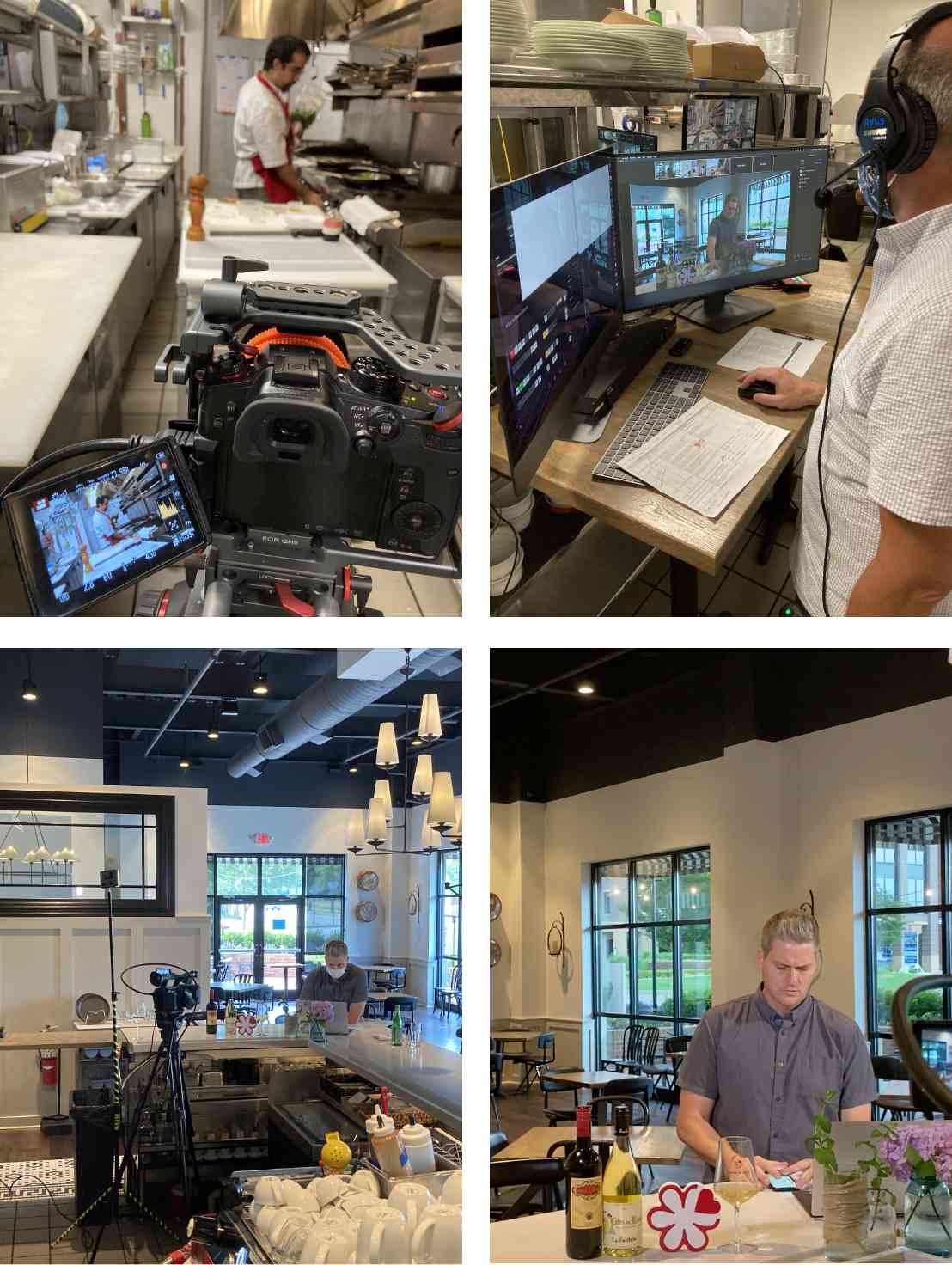 WE UTILIZED FOUR CAMERAS (three for the food; one for the host), three monitors (two for production; one for the chef to see the chat room) and wireless headsets for production communication. We also incorporated Stella's on-site chef, a Michelin-starred chef in Chicago, an event host and a Zoom chat room. And we juggled all this with TV-production-truck-in-a-box technology, allowing us to "switch" from camera to camera, chef to chef and consumer to consumer—all with the (expert) click of a button.
After many meetings (in person and online), a thorough run-of-show practice and flawless teamwork and technology, "Stella's Date Night with Michelin" was a rousing success. In fact, plans are in effect to replicate the event with even more consumers—originating from a Michelin-starred restaurant.
THE THEORY WAS THIS:
If Michelin invited friends, family and targeted consumers to cook with a renowned local chef (and a Michelin-starred chef) on Zoom, could they enjoy the experience as if they were there in person?
THE ANSWER WAS A RESOUNDING "YES."