HYSTER LIFT TRUCKS
BRAND REFRESH
WE HELPED HYSTER RECLAIM THEIR THRONE AS THE TOUGHEST LIFT TRUCKS ON THE PLANET.
OPPORTUNITY
HYSTER WAS TOUGH. BUT NOBODY KNEW IT. IN RECENT YEARS, HYSTER'S BRAND IMAGE HAD BECOME WATERED DOWN. THEIR TAGLINE, "THE SAFE CHOICE," CERTAINLY DIDN'T EXACTLY CONVEY THEIR LEGACY OF RUGGED STRENGTH.
To make matters worse, other lift truck brands constantly preached strength and durability. Hyster, and its parent company NACCO Materials Handling Group, knew they had a problem on their hands, so they conducted months of research on Hyster's brand image and reputation. They chose Jackson.
IDEA
FIRST, WE ASKED HYSTER TO LOOK INWARD. WHAT WERE THEIR STRENGTHS? THEIR WEAKNESSES? THEIR HISTORY? DID THEY STILL MAKE THE TOUGHEST TRUCKS ON THE PLANET? (THE ANSWER WAS YES.) WE WORKED CLOSELY WITH HYSTER TO ASSESS THE STRATEGIC GAP BETWEEN THEIR CURRENT POSITIONING AND THEIR DESIRED POSITIONING IN ORDER TO BRIDGE THAT GAP.
Based on our initial research, we set out to create a new brand position and brand attributes, along with a new ad campaign. Hyster reclaimed "tough" as their main brand attribute. Jackson helped create a new tough-minded marketing campaign with the theme of "Bring It," which was implemented into all of Hyster's marketing materials. We showcased the Hyster® lift trucks hard at work in their toughest applications (along with the people whose jobs they made easier).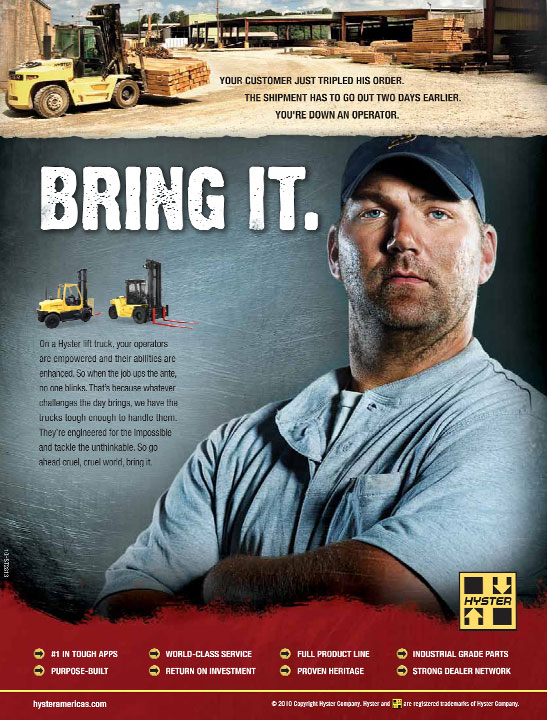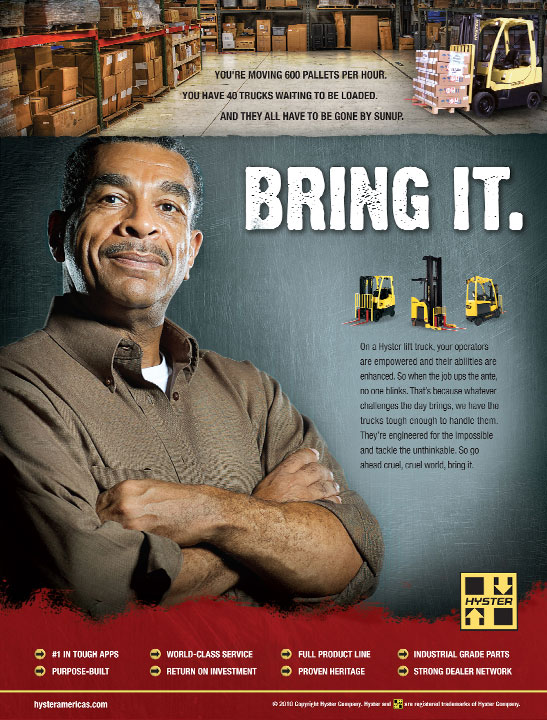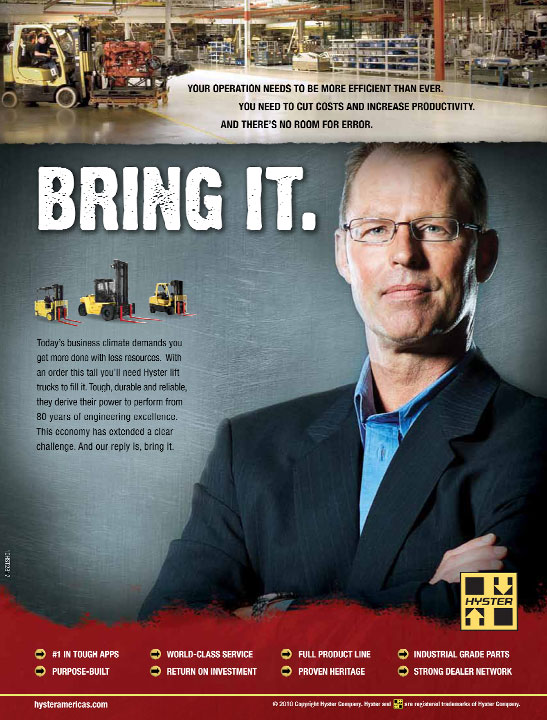 OUTCOME
THE CAMPAIGN WAS LAUNCHED TO THE PUBLIC VIA ADVERTISING, PR, COLLATERAL, TRADE SHOW MATERIALS, EVENT MARKETING, DIGITAL COMMUNICATIONS AND DEALER MARKETING MATERIALS. HYSTER IS STILL THE TOUGHEST LIFT TRUCK ON THE PLANET. NOW, EVERYBODY KNOWS IT.