CAROLINA PRIDE

ADVERTISING
CAMPAIGN
THE TASTE OF VICTORY: WE ADDED FRESH
FLAVOR TO A BELOVED HOT DOG BRAND.
OPPORTUNITY
CAROLINA PRIDE HAS BEEN MAKING THE BEST HOT DOGS IN THE SOUTHEAST SINCE 1920. (WE'RE NOT EXAGGERATING.) LUCKY FOR US, THEY DECIDED TO CREATE SOMETHING ELSE: AN EYE-CATCHING CAMPAIGN SHOWCASING THEIR PRODUCT AS THE OFFICIAL HOT DOG OF AUBURN, ALABAMA, OLE MISS AND MISSISSIPPI STATE.
Carolina Pride had already purchased a media plan with print ads, digital ads and in-stadium signage, but they still needed a look, a voice and a campaign. And the clock was ticking. So Carolina Pride threw a Hail Mary to us.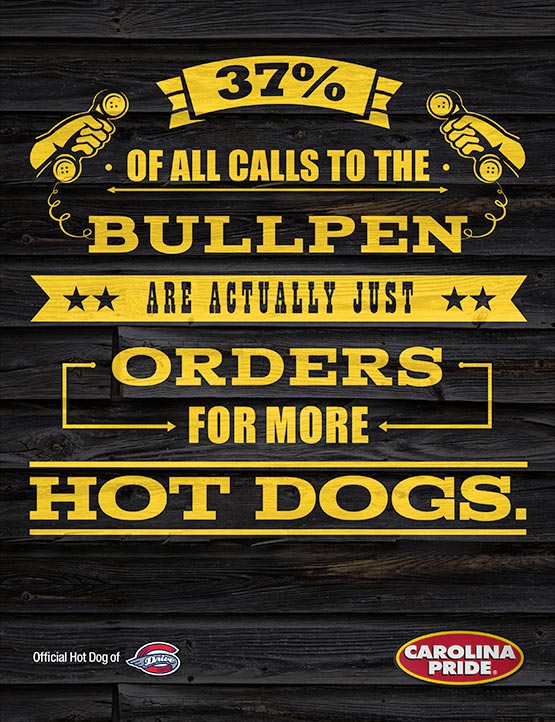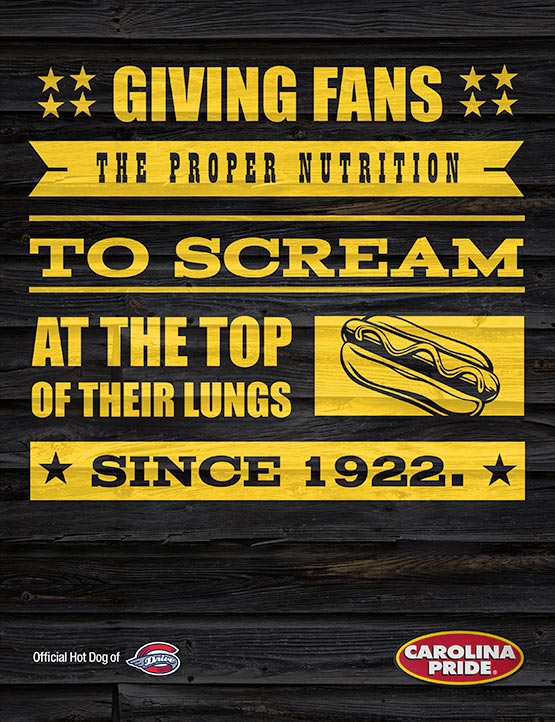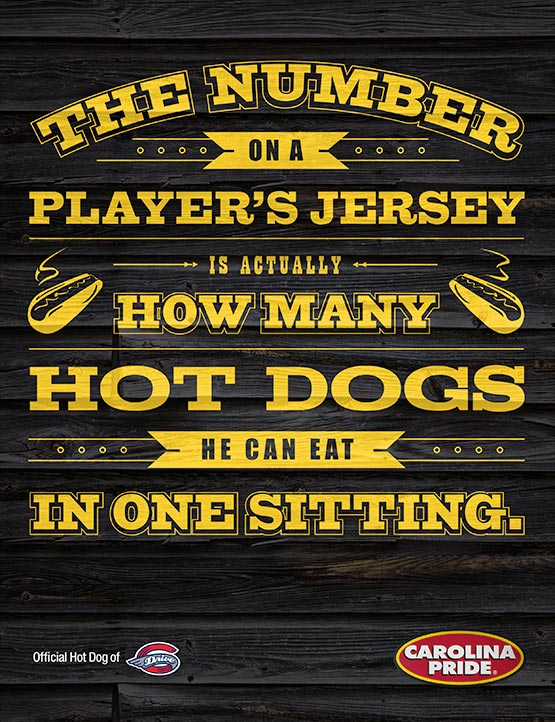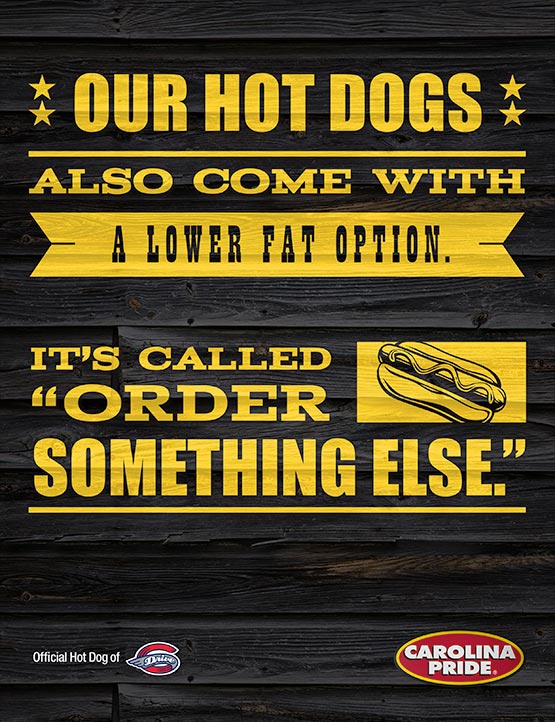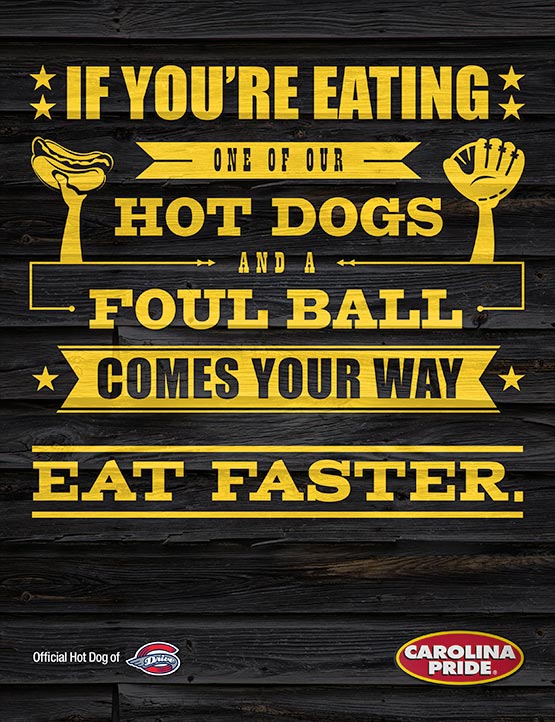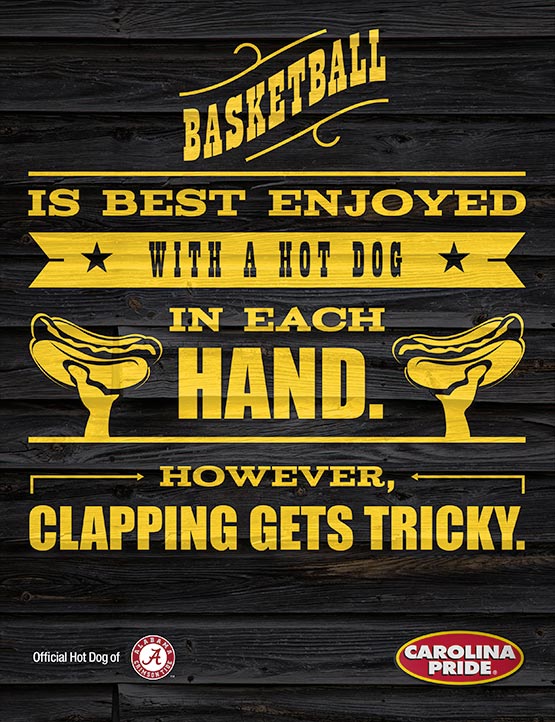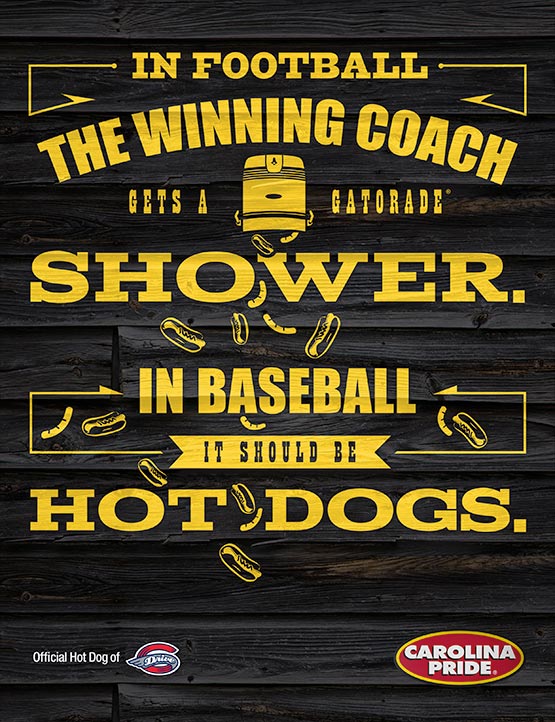 IDEA
AFTER OUR INITIAL EVALUATION, WE DECIDED TO GO STRAIGHT FOR THE FANS THAT MATTERED MOST—THE ONES WHO EAT HOT DOGS MOST EVERY GAME: TAILGATERS. WE REMINDED THEM TO "TAKE PRIDE IN YOUR TAILGATING," AS WELL AS IN THEIR SOUTHERN HISTORY AND HERITAGE. AND WE REMINDED THEM HOW AWESOME CAROLINA PRIDE HOT DOGS ARE.
Once we had the messaging locked in, Jackson's media team worked with the SEC athletic departments and publications to make the best of the media plan. This included print ads in Street & Smith (the bible for college sports fanatics), radio spots during football games and coaches' shows, in-stadium signage during football games and web banners on athletic websites.
OUTCOME
THE CAMPAIGN WAS A HIT. SO MUCH SO, WE HAVE SINCE VENTURED INTO SEC BASKETBALL, BASEBALL AND GYMNASTICS—CREATING PRINT, RADIO AND MORE IN-STADIUM SIGNAGE.