BNSF RAILWAY

INFOGRAPHICS
SALES SUPPORT
TO IMPRESS CAPTAINS OF THE SHIPPING INDUSTRY,
YOU NEED MORE THAN A WHITE PAPER AND A SMILE.
OPPORTUNITY
MAERSK HAS ANNUAL REVENUE OF 300 BILLION. CMA CGM, 15.9 BILLION. BOTH ARE VITAL PARTNERS TO BNSF RAILWAY, TO SAY THE LEAST. AND BOTH WERE ATTENDING THE GLOBAL CONTAINER SHIPPING COMMUNITY'S ANNUAL TPM CONFERENCE.
BNSF Railway wanted to "wow" Maersk and CMA CGM representatives, among others, on their offerings and new services. But it's difficult when multiple languages are involved, and time is of the essence.
IDEA
JACKSON CREATED CUSTOMIZED PRESENTATIONS FOR EACH PARTNER THAT SHOWCASED THE BNSF STORY THROUGH IMAGERY, NOT CONTENT. WE CHOSE INFOGRAPHICS TO BRING THE STORY TO LIFE IN FAST, INFORMATIVE BOOKLETS. THIS WAY, ALL LANGUAGE BARRIERS WERE BROKEN.
We produced 50 copies of each infographic book. Both books reminded the audience of BNSF's unique partnership and past successes, while also educating them on future initiatives. It fits innumerable numbers into easily digestible bits of information. (In short, it "wows" fast.)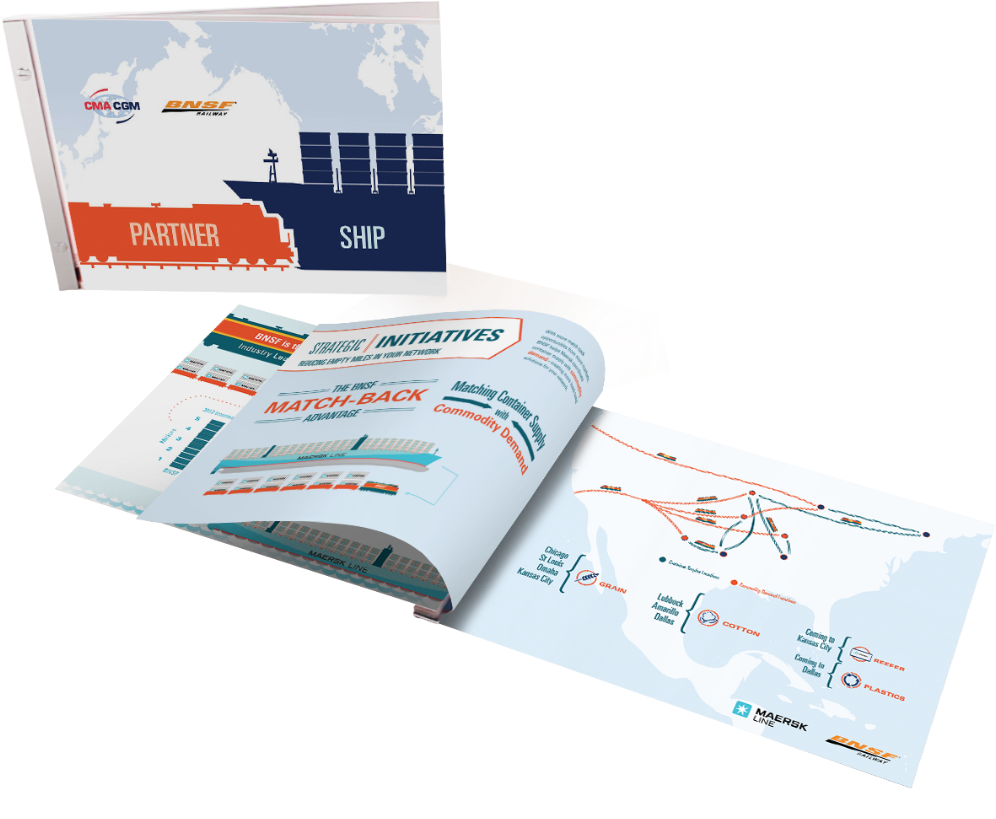 OUTCOME
MAERSK WAS SO IMPRESSED WITH THE PRESENTATION, THEY ASKED TO USE THE INFOGRAPHICS FOR THEIR BRANDING MATERIALS. WHICH MEANS BNSF RAILWAY WAS HAPPY. WHICH MEANS WE'RE HAPPY.