Though Zoom's stock prices dwindled after the peak of the pandemic, they're still at a whopping 279% greater than before people started working from home. So, safe to say, experts agree that virtual meetings and virtual engagements are here to stay.
We recently shared different styles and approaches for virtual meetings that, when executed well, help you to stay in front of your audience and keep them engaged. But with all the various approaches to virtual meetings, it's important to consider the logistics of "going virtual" for major events.
Here are our best strategies to execute effective virtual events going into 2022:
1. Lights, Sound, Action! Turning on a camera doesn't mean you can plan faster. Remember, in the "good old days," you started event planning by outlining your goals and objectives for major meetings or events months out! That thinking should not change even though you're going virtual. The time it takes to develop a good content strategy and delivery plan is just as important as it was before, and in fact, it might be even more important now. You don't want your audiences to fall victim to "Zoom fatigue," so in some cases, the planning time could be more intense and detailed to make it right.
2. Failing to Prepare, is Preparing to Fail. Ok, most of you know I grew up in a sports household, so it's hard to get these idioms out of my head. But the quote is still appropriate in this context. Plan and schedule rehearsal time for your virtual events. This time it's not on a stage with a live, in-person audience, but it's still "live." Your guests just happen to be sitting at their desk or on their couch! You still must be prepared and professional. Rehearse the cues, rehearse the lines, rehearse the cuts for the camera. The run-of-show is just as important virtually as it was onstage when we were in person.
3. Spend Money to Make Money.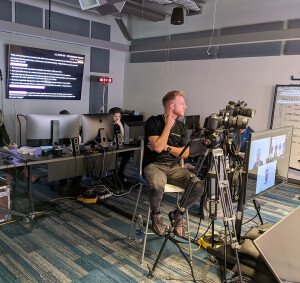 Understand there are still costs involved with virtual events. Sure, there are cost savings without elements such as travel or lodging; but there is still a need for support such as professional talent, content development and writing, proper equipment and technicians, potential stage builds, and appropriate lighting and audio support. In other words: keep these line items on your budget spreadsheet!
Each virtual meeting opportunity is different. Let us support you by listening to your needs and understanding your audience to help you craft the best virtual event.  And don't worry, our team will manage your run-of-show and develop your rehearsal plan. We'll make sure you look good!