At Jackson, we consider ourselves a competitive bunch. We take pride in pushing the envelope on creativity and continually working to "Beat Yesterday." Aside from being some of the first words on our website, this state of mind is apparent whether we're trackside or in the middle of a client strategy session. But how does that translate to social media? Sometimes being the hardest-working person in the room isn't enough to grow your followers, drive engagement or expand your reach. So, let's break it down in this blog series. Who's currently killing it on social media? What's working for them? What changes can you make to strengthen your brand on social?
Settle in, Instagram is up first.  We've identified three brands that do a great job using impactful visuals, highlight their brands' unique personalities and make a real connection with their audience through the platform.
Note-taking is encouraged.
---
Transportation Security Administration (1M Instagram Followers)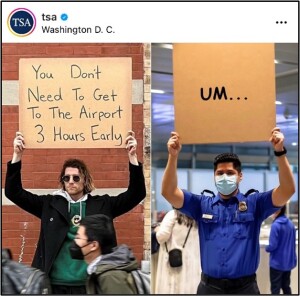 Yeah, you read that right. Most people don't think "humorous" when they think of the TSA. If anything, they're bemoaning the fact that they can't take their full-size toothpaste with them in their carry-on. But the TSA's Instagram account thrives in an online forum that could easily be a giant troll fest instead of a source of entertainment.
Capitalizing on puns and self-deprecation, the TSA draws attention to the unusual security infractions that hit their radar and turn them into lighthearted travel reminders. They might be a "government organization tasked with protecting national transportation systems," but that doesn't mean they can't be funny.
Oatly (339k Instagram Followers)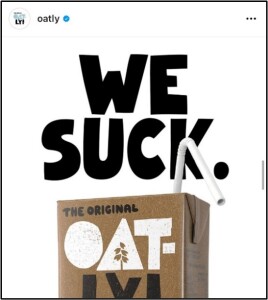 Before you start rolling your eyes, hear us out. It doesn't matter if you're a die-hard convert or you think oat milk is just a hipster fad. Oatly has carefully cultivated their brand voice with dry humor, self-awareness and by being unapologetically themselves. From their bio to the comments section, who they are rings true in every facet of their Instagram profile.
Yet we can't all be witty dairy-alternative brands, so what else do they have going for them? They're not afraid to jump into the fray of consumer feedback—including the good, the bad AND the ugly. Their content extends far beyond their products. (Honestly, it's refreshing how transparent they are as a brand.) You also never know what they'll post in their feed or in their stories. GIFs. Memes. Graffiti. Fanart. It's all fair game.
Vans (16.9M Instagram Followers)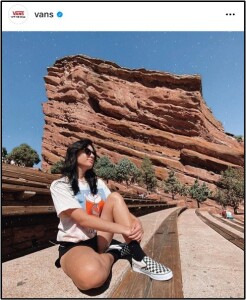 Go big or go home…or go visit Vans' Instagram account. You'll find the typical beauty shots of their kicks, but you also see their customers. Again. And again. And again. They might be known for their shoes, but their storytelling elevates their brand from a product to a lifestyle.
Highlighting user-generated content, Vans focuses on consumers living their best lives while in their sneakers. Road trips. Walking to work. Creating art. Authentic content helps them simultaneously build brand awareness while fostering a sense of community. Vans leaves users with a sense of "that could be me" that will stick with them the next time they go shoe shopping.
---
Here's the takeaway:
Instagram is the place for memorable visuals and quirky personalities. Grab your audience's attention with a photo, a reel or a story that will live rent-free in their head and make them want to share it with others. Include a caption that not only speaks to your brand's message but also relates to people on a personal level. Social media users are more than just customers or potential business partners. They're also people, and people like to be entertained.
We'll be back soon with top-tier brands on Twitter to keep your eye on and steal strategy tactics from. Stay tuned.