We're back with the second blog of our series Game Changing Brands on Social Media. Did you miss us? #WeKnowYouDid
Our last blog put the spotlight on brands that know what they're doing when it comes to Instagram. Ready to tackle another? Let's talk (read: tweet) about Twitter. When you only have 280 characters to make a memorable impression, every letter and emoji counts. It was hard to narrow it down to just a handful, but here are the brands doing an admirable job on Twitter.
---
Wendy's (3.8M Followers)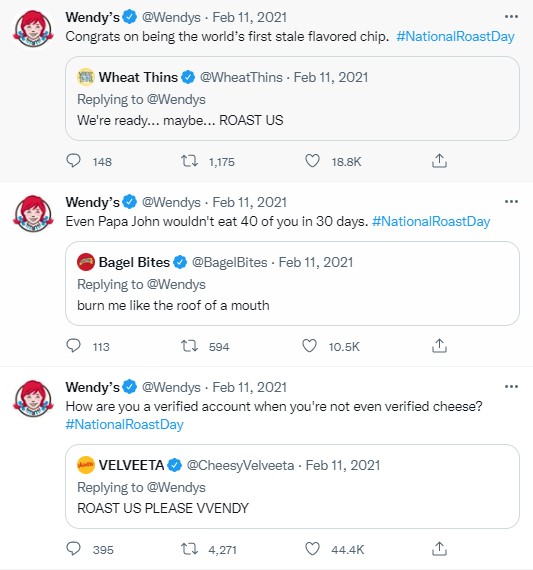 Now, what kind of Twitter eval would this be if we didn't mention Wendy's? Love or hate them, you can't deny that there's nothing more attention-grabbing than an epic Wendy's burn. Imagine being so good at what you do that other brands volunteer to be roasted by you on #NationalRoastDay. True story.
Other brands bend over backwards to emulate their seemingly effortless banter and user engagement. (Turns out the customer is NOT always right.) But why does this work? To start, they walk the very fine line of sassy and mean. They poke fun, but they're not cruel. They've also zeroed in on witty messaging that frequently circles back to their menu items. Talk about an efficient one-liner.
Long story short? Come for the Frosty, stay for the salt.
Xbox (18.4M Followers)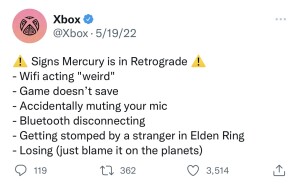 Choose your fighter…or your favorite gaming console. While their follower game (see what we did there?) isn't as strong in comparison to PlayStation, Xbox is certainly a force to be reckoned with. Known for their quick replies and eagerness to engage with fandoms, Xbox knows exactly what their followers want. Gaming trends and memes. Upcoming releases. Tips, tricks and hacks for specific levels. And, of course, merch giveaways.
So, what makes Xbox special? They spend a lot of time and energy communicating with their followers, not just creating new content. This helped them snag the "W" last year during Twitter's inaugural "Best of Tweets Brand Bracket," a competition entirely dependent on fan votes. They were able to mobilize their followers quickly (and rather enthusiastically) to claim the victory. It's a good reminder to jump into the comments occasionally and chat with your followers. Don't @ us. You know we're right.

Alexa (1.5M Followers)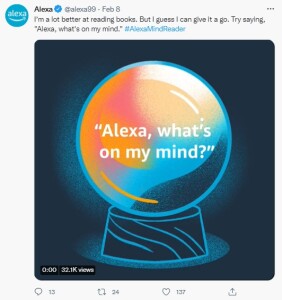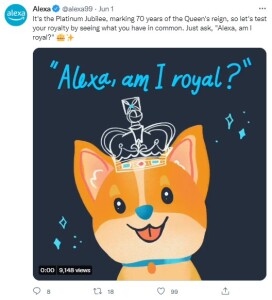 Yeah, that Alexa. The same one you're constantly yelling at to turn the music up, make a phone call to your mom when the cake doesn't turn out right, etc. Curious why the AI voice behind Amazon has over a million followers just because she's a self-proclaimed fan of Star Trek, bad puns and platypuses? Us, too. Here's what we discovered.
Alexa has perfected the art of an intriguing CTA. Her prompts are just too interesting to pass up. When you're encouraged to ask Alexa what her March Madness predictions are or what her favorite joke is, you're going to want to try it for yourself. She also capitalizes on random holidays (like #HugACatDay) and uses them to demonstrate the various ways she can help you accomplish a task or find an answer to a question. Be careful what you ask her though. She's been known to deliver a brutal zinger. See below.
Me: Alexa, teach me how to be interesting.
Alexa: I'm sorry, I don't have enough time to accomplish that.

---
Ready for the takeaway? Twitter is all about witty messaging and strong CTAs. The challenge here is to keep it short and sweet. Can you use a thread for more complex messaging? Sure. However, if you can tell the same story with fewer characters? Why not, right? When in Rome and all that. We're not saying it's always easy or straightforward, but that's why we're here to help. Give us a ring. Shoot us a message. Or @ us. We're here for it!
Be sure to check back soon, and we'll explore LinkedIn accounts that keep us coming back for more. Think interesting and informative rather than boring and irrelevant.