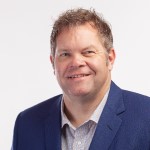 GREENVILLE, S.C. – Jackson Marketing, Motorsports & Events, South Carolina's second-largest integrated marketing communication and events agency, is pleased to announce that the agency's President and CEO Darrell Jackson has been named one of the Upstate's 50 Most Influential people by Greenville Business Magazine. The annual list is based on research by the magazine's staff and community nominations.
In addition to driving sustained financial growth and the agency's expansion into a new 120,000-square-foot facility, Darrell Jackson has demonstrated a strong commitment to the community and has served on boards of directors for several nonprofit organizations. Under his leadership, Jackson Marketing, Motorsports & Events associates have also supported numerous organizations across Upstate South Carolina.
"I am both honored and humbled to be included on this year's list alongside so many exemplary community leaders," said Darrell. "One of the core tenets of our agency's philosophy is to serve, and we work hard to reflect that in every interaction we have—not only with our clients, but with our communities," he added.
Other honorees this year include South Carolina's lieutenant governor, along with the presidents of Clemson and Furman universities. The full list can be viewed on the Greenville Business Magazine's website.
About Jackson Marketing, Motorsports & Events
Jackson Marketing, Motorsports & Events is a fully integrated marketing communication and events agency offering marketing consulting and strategy, branding, digital marketing, content and public relations, events and tours and dealer marketing. Awarded "Agency of the Year" by BMA Carolinas and named a 2015, 2016 and 2017 "B2B Top Shop" by Chief Marketer magazine, Jackson partners with a host of blue-chip brands including Michelin, BFGoodrich Tires, BNSF Railway, Harlem Globetrotters, Sage Automotive Interiors, Trijicon Aiming Solutions, Find Great People, Bob Jones University and Habitat for Humanity. For more information about the company or its locations in Greenville, S.C., and San Diego, Calif., visit www.jacksonmg.com.