GREENVILLE, S.C. (March 2, 2020) – Jackson Marketing, Motorsports & Events, South Carolina's second-largest integrated marketing communication and events agency, has won four ADDY awards, one Gold and three Silver, at the annual American Advertising Federation (AAF) Greenville American Advertising Awards.
The awards ceremony serves as the advertising industry's largest and most representative competition. The 2020 Greenville area awards ceremony was held Saturday night, February 29.
Jackson Marketing's new home in Bridgeway Station in Simpsonville, S.C. serves as home for Jackson's Gold ADDY award received this year.
The "Famous Jacksons" Conference Rooms won the Advertising Industry Self-Promotion Ambient Media ADDY. The conference rooms are named for famous Jacksons: Bo, Alan, Samuel L. and Shoeless Joe, with the fifth and final of the conference rooms named for company founder Larry Jackson.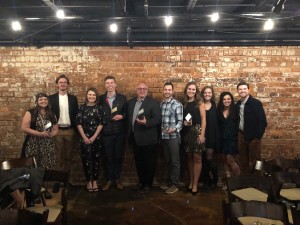 When visiting Jackson Marketing, Motorsports & Events, you can see the creative layout down the hallway before entering the office.
Jackson Marketing also captured three Silver ADDY awards for work done with clients NAPA Filters and Trijicon.
Two NAPA created assets won Silver ADDY awards. NAPA Farm and Fleet Sales Posters took home a Silver ADDY award in the Product or Service Sales Promotion Campaign category. Additionally, NAPA Farm Sale Posters took home a Silver the Product or Services Sales Promotion – Campaign category.
Trijicon's 2020 Catalog received a Silver ADDY in the Catalog category.
"I'm quite proud of our Jackson creative team for their vision, execution and efforts to earn these ADDY awards," said Chad Rucker, Executive Creative Director, Jackson Marketing.
"Their enthusiasm, work and dedication for our clients comes through with all their projects, even those not entered into the ADDY Awards. We're thankful to the AAF Greenville for recognizing our Jackson team's work."
###
About Jackson Marketing, Motorsports & Events
Jackson Marketing, Motorsports & Events is a fully integrated marketing communication and events agency offering marketing consulting and strategy, branding, digital marketing, content and public relations, events and tours and dealer marketing. Awarded "Agency of the Year" by BMA Carolinas and named a 2015, 2016 and 2017 "B2B Top Shop" by Chief Marketer magazine, Jackson partners with a host of blue-chip brands including Michelin, BFGoodrich Tires, BNSF Railway, Harlem Globetrotters, Sage Automotive Interiors, Trijicon Aiming Solutions, Find Great People, Bob Jones University and Habitat for Humanity. For more information about the company or its locations in Greenville, S.C., and San Diego, Calif., visit www.jacksonmg.com.