Change is constant in racing. The secondary and tertiary plans always need to be as front-of-mind as the primary ones, given the way the COVID-19 pandemic has affected the sport.
Such is the case for an extraordinary 2020 racing season for both Michelin Motorsport and Jackson Motorsports Group, after a year that has gone anything but according to the original plan.
The 2020 IMSA season began, as it always does, in January in Daytona with the Rolex 24 At Daytona race. But before the green flag of the season's second race at Sebring in March, a five-month COVID pause began. On July 4 weekend, we finally restarted.
However, the way we restarted would look entirely different compared to that first race back in Daytona.
Maximizing Minimal Personnel
IMSA established a 35-page "Event Operations Protocol" for the series' return to racing. Part of that meant a reduced number of crew for both Michelin and Jackson. At Daytona in January, that was 40 and 60 people, respectively, for the 24-hour race. At Daytona in July, that was reduced to 6 and 17, total.
Essentially, only those entirely crucial to on-site event operations would need to go back to Daytona this time around. And because of event movement restrictions, they would work entirely out of the tire workshop, separate and isolated from the paddock.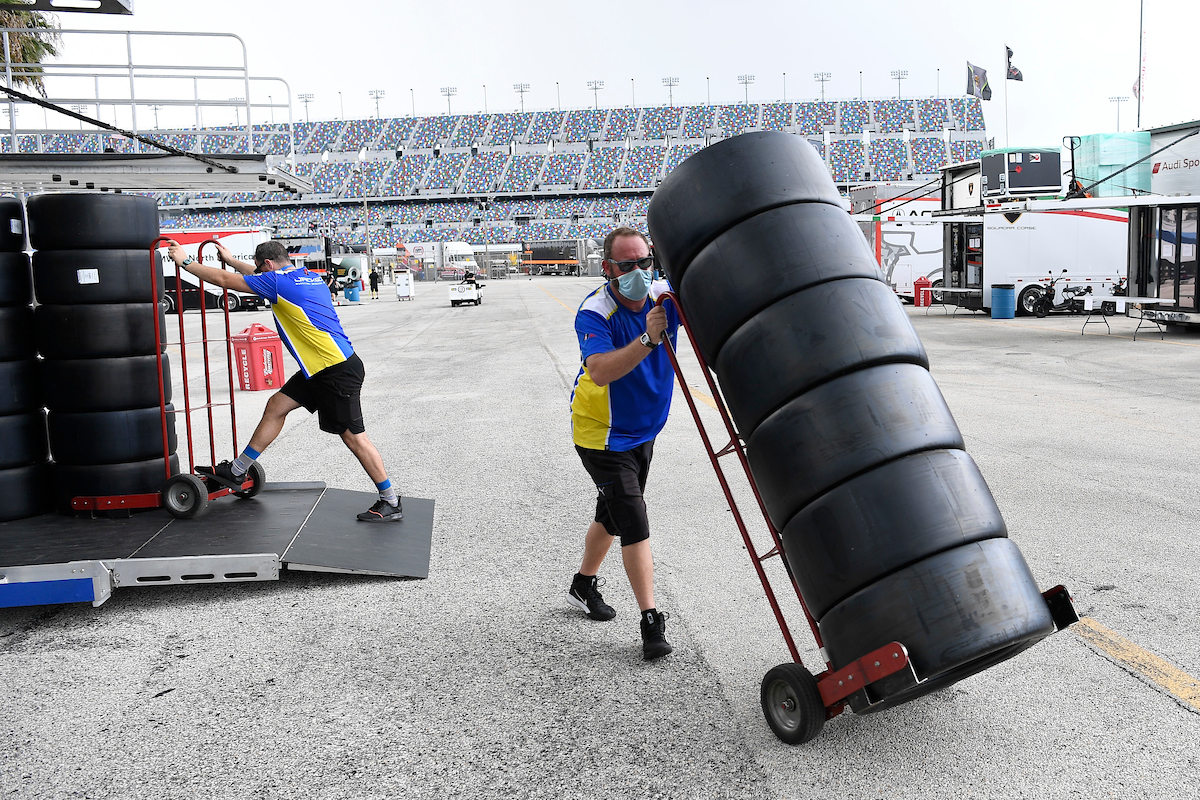 The Remote Game Plan
Beyond our at-track tire support staff, Jackson provides PR/communication, social media and marketing support of Michelin's motorsports activities. And with very limited fans at the track, things like social media became even more important.
So, instead of being cut out of the loop, many of our staff had to cover their race responsibilities remotely to ensure success. Elements that required remote execution included:
Coordinating times for filming and producing an NBC in-race feature
Selection and placement of in-car, onboard camera decals for partner manufacturer and team
Delivery of photos and videos for social media
Podium support to ensure winner branding
Integration with the Michelin global communication team for "return-to-racing" theme
At-Track vs. Home "Feel"
Naturally, when you are working at home versus working at a racetrack, you accept compromises and make tradeoffs.
The sensory overload and symphony of sounds coming from the 12 automotive brands and 26 cars racing at Daytona are, naturally, better experienced in person.
However, there is something to be said for the comforts of waking up on race day from your own bed, brewing a fresh pot of coffee and then wearing your official race shirt with either shorts or jeans rather than at-track pants.
The technological advances have also made working remotely now, in this period of change, quite a bit easier than it used to be. Earlier in my career, relying solely on timing and scoring screens without any social media around made it difficult to follow sessions and provide accurate reports to the audience. Now, information is just a text or tweet away, and the challenge now is deciphering the most critical information to not overload the audience.
At Jackson, we were not the only IMSA stakeholder working remotely either. Some team race engineers worked from their home offices to study and analyze the data being fed from the track. The NBC broadcast is done with the booth in a studio in Charlotte and only two on-site pit reporters. The IMSA Radio team broadcast from three different locations, none at the track. Most team PR reps were also operating from their home bases as well. It is safe to say the volume of text and WhatsApp threads happening during the weekend were as frequent as the number of laps on track.
Adaptation is key. Working from home is not the same as working at the track. But realistically, that is a good thing.
If the at-track experience were equaled or replaced by the at-home experience, the desire to return fully to the track wouldn't be strong.
But if work-from-home is the way of the future, we have now laid the groundwork to see that it can succeed if a hybrid model emerges.