Like everyone else's worlds, the motorsports world has been dramatically impacted in unprecedented ways by the COVID-19 global pandemic.
The world of professional motorsports operates in a highly structured environment built around very tightly choreographed schedules. Time is the one constant. Everything revolves around time.
Racers always anticipate change and adapt. They are, by their very nature, perpetual motion machines.  Or at least they have been until now.
Newton's first law of motion states that an object at rest stays at rest, and an object in motion stays in motion with the same speed and in the same direction, unless acted upon by an unbalanced force. But COVID-19 is an unprecedented, incredibly powerful, unbalanced force.
As the dangers of COVID-19 became increasingly apparent, race series, organizers, teams, suppliers and sponsors suddenly faced an unprecedented global reality.
The motorsports community responded as it always does, redirecting its technical, design, production and logistical capabilities to support efforts by producing masks, personal protection equipment and even ventilators.
The IMSA/WEC SuperSebring event, which in 2019 became the biggest event in Michelin global motorsports history, is a major event for Jackson Marketing Motorsports and Events, the race operations and marketing support agency for Michelin in IMSA.
For the 2020 Sebring event, Jackson had already installed the giant, 24,000-square-foot tire tent in the race paddock and started filling it with some of the 16,000 tires that Michelin would have on hand to support more than 120 entries for the mid-March weekend.
The race was suddenly postponed to November and the accompanying World Endurance Championship event canceled.
While this was happening, three other major race series descended on different venues for planned races the weekend of March 13–15. But within 24 hours, the Formula 1 Australian Grand Prix, IndyCar Grand Prix of St. Petersburg and NASCAR race in Atlanta were all postponed or canceled with the participants already on-site.
Since that point, most races scheduled for April and May have been canceled or postponed. Longstanding street races in Monaco, Long Beach and Detroit have been outright canceled for 2020. Meanwhile, major races like the Indianapolis 500 and 24 Hours of Le Mans have been postponed to later dates.
The biggest American professional motorsports teams each employ 300 to 500 people. Top Formula 1 teams can employ over 1,000 people.
Race cars and components are designed, built, continuously inspected, assembled, disassembled and reassembled, tested, prepared, transported, reinspected and raced. This process repeats 20, 30, even 50 times per year.
With the new race season just beginning, teams were already stocked with spares and ready to race, but you can only polish the cars so many times. Many teams furloughed significant percentages of their staffs. Sanctioning bodies banned testing.
In many cases, their respective states and countries were under stay-home or shelter-in-place orders. Many NASCAR teams are based in North Carolina, where car repairs were not considered essential.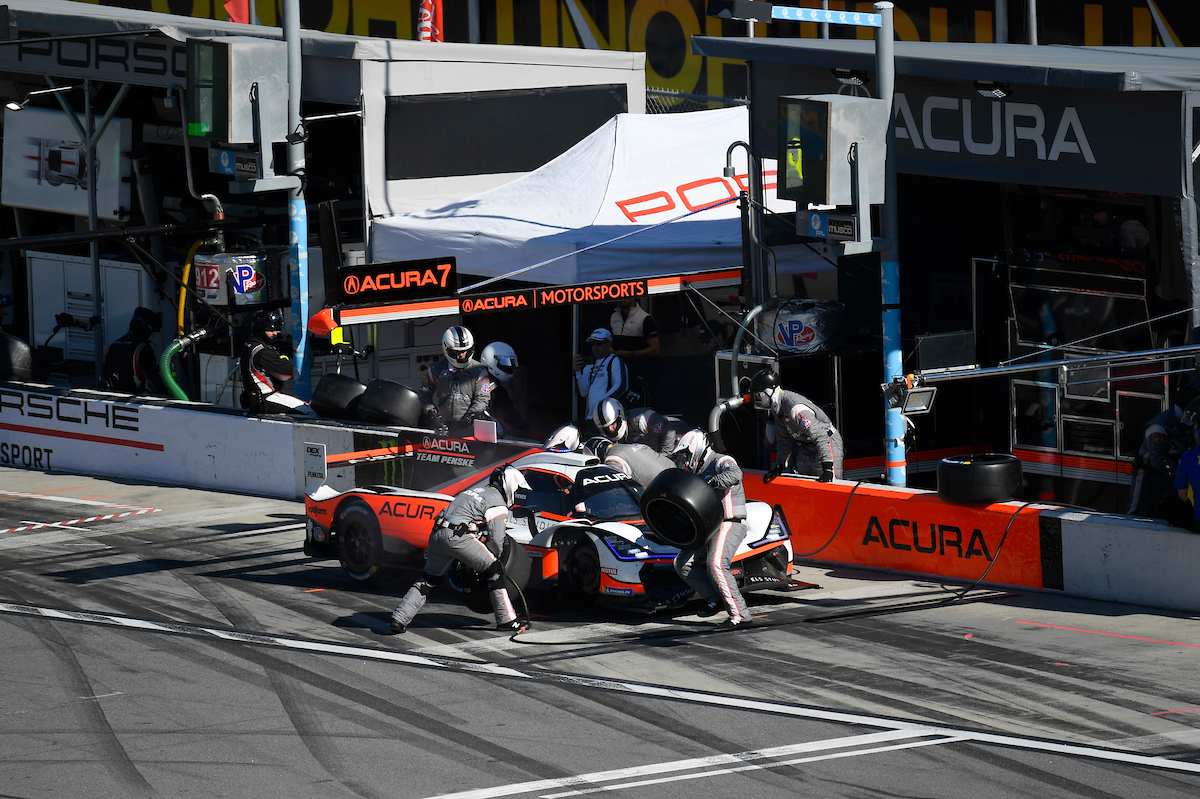 Teams often work with multiple manufacturer and sponsor partners. For example, the Mooresville, North Carolina-based Team Penske partners with Ford in NASCAR, Chevrolet in IndyCar, and Acura in IMSA (above). Each series has a different tire manufacturer: Goodyear in NASCAR, Firestone in IndyCar and Michelin in IMSA. Each manufacturer and sponsor will have its own guidelines and procedures.
Race teams rely heavily on sponsorships, some event-specific, with many based upon a certain number of events. Significant chunks of that revenue are already lost.
As the motorsports calendars slip further and more events are pushed to the fall, the limited downtime between the end of one season and the beginning of the next has evaporated. Formula 1 and NASCAR had both planned on major new technical rules for 2021. Formula 1 has already deferred its new rules to 2022.
Sanctioning bodies are looking closely at holding closed-door events, held without spectators, but still requiring guidelines and procedures for the safety of participants, officials and broadcasters, in an effort to put their collective racing bodies back in motion.
NASCAR, which owns several tracks and receives significant network broadcast rights fees, will likely be the first to run closed-door events. IMSA, also owned by NASCAR, may soon follow. One of the remaining challenges for IMSA will be travel restrictions for its many international drivers and crews.
In the meantime, some racing events have provided a way to entertain fans and maintain some presence in the media landscape. IMSA, NASCAR and IndyCar have all worked to produce iRacing.com events to entertain race-starved fans.
But once they can return to real racing, the teams will quickly adapt to whatever is placed before them in terms of schedules and calendars, and, if they have survived the deep financial implications, they will develop a new normal and once again be a body in motion.