Jackson Named a B2B Top Shop for Third Consecutive Year
Wednesday, November 23, 2016 Jackson Categories: News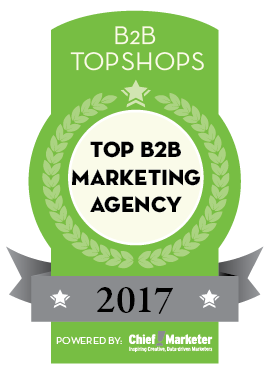 Jackson Marketing, Motorsports & Events, South Carolina's second-largest integrated marketing communications and events agency, has been named a 2017 B2B Top Shop, a listing of the top U.S. B2B marketing agencies selected by the editors of Chief Marketer magazine. This is the third year in a row that Jackson has been named to the list.
In addition to being a prestigious industry award, Chief Marketer's annual Top Shops is a valuable resource and online directory for brands seeking a marketing partner. In selecting the 2017 Top Shops, Chief Marketer chose agencies such as Jackson for their marketing expertise, recent campaigns and client roster. Jackson is one of 65 agencies to make the list and one of the few to make a third straight appearance.
"The B2B Top Shop designation is especially meaningful because it represents the totality of what we do as an agency, from traditional creative and interactive development to media, public relations and events," said Darrell Jackson, President and CEO. "We're fortunate to have a growing list of exceptional clients that trust us with their brands and allow us to do great work."
In addition to its long-standing partnerships with many top brands such as Michelin, BFGoodrich Tires and BNSF Railway, Jackson added several new clients in 2016, including Harlem Globetrotters, Trijicon, the Junior Invitational at Sage Valley and Sod Solutions. Projects for these clients include product launches, websites and microsites, mobile apps, marketing campaigns, public relations, content marketing, social media and event marketing.
Jackson Marketing, Motorsports & Events is a fully-integrated marketing communications and events agency offering marketing consulting and strategy, branding, digital marketing, content and public relations, events and tours and dealer marketing. Awarded "Agency of the Year" by BMA Carolinas and "B2B Top Shop" by Chief Marketer, Jackson partners with a host of blue-chip brands including BMW, Michelin, BFGoodrich Tires, BNSF Railway, Harlem Globetrotters, JCB Construction Equipment, North American Rescue, Trijicon, the American Red Cross and Habitat for Humanity.