My iPhone blinks a notification at me: my weekly screen time report is available! And my usage is, once again, up some percentage compared to last week.
I fear that if I were iOS savvy enough to determine how to look at a screen time trend report for the last 12 months, it would likely show a trend of steady, continuous increase. And I wouldn't be alone. The COVID-19 pandemic forced us all indoors over the last 12 months, catapulting digital media consumption in ways that few could have predicted and few marketers should ignore.
Per eMarketer:
Adults in the US will spend an average of 64 more minutes with media per day in 2020 than we thought they would. Within this, users will spend almost 26 additional minutes per day on their smartphones compared with our earlier expectations. Also, nearly 20 extra minutes per day will be spent with subscription over-the-top (OTT) services like Netflix and Disney+.
And, as recent Comscore reports show, much of this increased consumption is occurring at home as might be expected. At the peak of the pandemic, the year-over-year increase of in-home data usage reached upwards of 30%, leveling off to about 15% on average by year-end.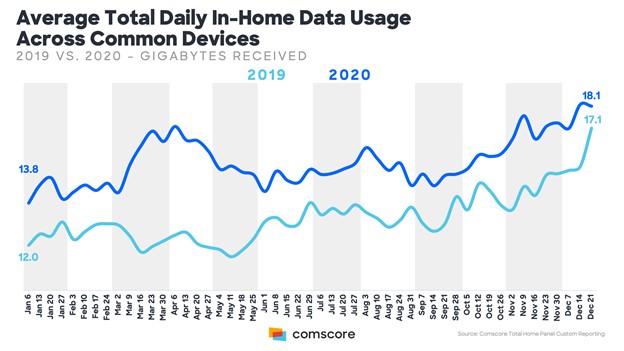 These shifts in media consumption really threw the advertising industry for a loop. According to the World Advertising Research Center (as reported by my personal favorite data eNewsletter, Chartr), traditional media took a huge hit in advertising spending in 2020, and it's likely that trend will persist in 2021. Whereas digital media held its own in 2020, as advertisers sought more efficient tactics to reach audiences as part of their "new normal" media habits as they spent more time with streaming and smartphones.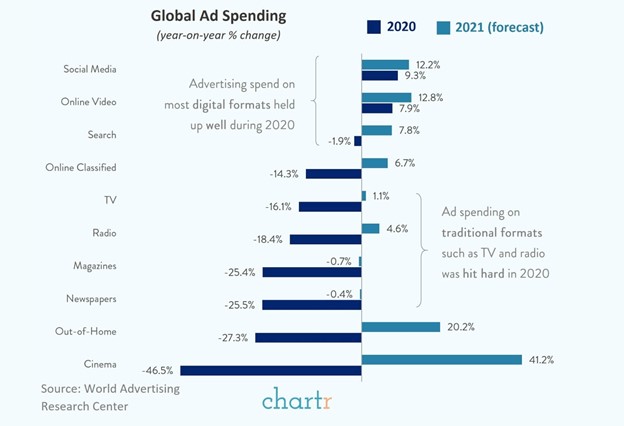 These data tidbits paint a more formal picture of what we intrinsically expected from 2020. And moving forward into 2021, we should expect that these trends will persist. Marketers and advertisers should continue adjusting their media mixes toward more digital and streaming to efficiently reach their audiences. Marketing strategies, now more than ever, need to be planned from a digital-first perspective.