I was amazed last week walking the show floor of the North American International Auto Show (a.k.a. Detroit Auto Show): amazed at more than the enormous structures built within a few weeks, dazzling digital wall displays and shiny new cars.
What I will never forget about the NAIAS 2012 was a conversation I had after wondering aloud to a friend whether the beautiful female models knew anything about the cars they stood next to.
My friend said, "I don't know. Let's ask."
So we interrupted a tall model in a business suit talking to another lady we presumed to be her manager. We found out that the models receive rigorous training on the manufacturer's brands and the cars' features. We also found out others had noticed the models at NAIAS were more than a pretty face. Five years ago, newspapers began acknowledging, even praising the models' knowledge of the brand.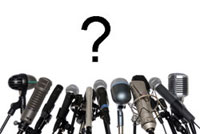 Contrast the preparedness of these spokesmodels with the lack of a spokesperson during the events of the Italian cruise liner sinking last week. The captain should have been the spokesman for his ship. All we heard from him was a pathetic plea with the Coast Guard. Throughout the week, reporters interviewed staff and crew members who each offered a different version of the story.
Sure, the two situations above aren't the same; the auto show is an event for sales and marketing purposes and the sinking ship is a crisis. But it's in a crisis situation that people desperately need leadership, reassurance and answers. Training and preparing someone to speak for your company is equally, if not more, important following a disaster like this.
What is the best thing a company can do for its public image, its brand? Prepare spokespeople, arm them with knowledge and truth, and empower them to lead.