Who will represent B2B in Super Bowl ads?
Wednesday, January 29, 2014 David Jones Categories: Advertising
Super Bowl Sunday. We're counting down – but not just for football. Four million dollar commercials that entertain and build brands are icing on the football cake.
We've seen some creative and memorable B2B Super Bowl TV spots over the years, namely from FedEx and GoDaddy. (FYI, memorable doesn't mean it actually boosted the brand's reputation or sales.) This year's list of B2B advertisers at the Super Bowl is a short one.
Representing B2B in the 2014 Super Bowl (e.g. Super Bowl XLVIII) commercial line-up:
GoDaddy
A staple in the Super Bowl line-up since 2005, we'll see if GoDaddy can finally produce a TV spot that builds their brand as a hosting platform vs. showcasing their distasteful view on women and advertising. AdAge reports: "The company, which last year started toning down its typical risqué approach somewhat, this year is promising no innuendo."
If their teaser ad is any indication, they may actually connect their brand message to the right audience (small business owners) this year.
Intuit
It sounds like Intuit, which makes financial software for businesses and consumers, will pull a Doritos strategy this year. Similar to Doritos' funniest video contest last year, Intuit offered a video contest for small businesses, Small Business Big Game. The public voted on their favorite small business story, and the winner of the contest wins big – a 30-second spot in the Super Bowl.
At this point, Intuit has chosen the four finalists: compost maker Poop National Dairy Compost, dog treat maker Barley Labs, egg distributor Locally Laid, and toy maker GoldieBlox. Guess we'll just have to wait and see which company's story airs in a third quarter Super Bowl spot.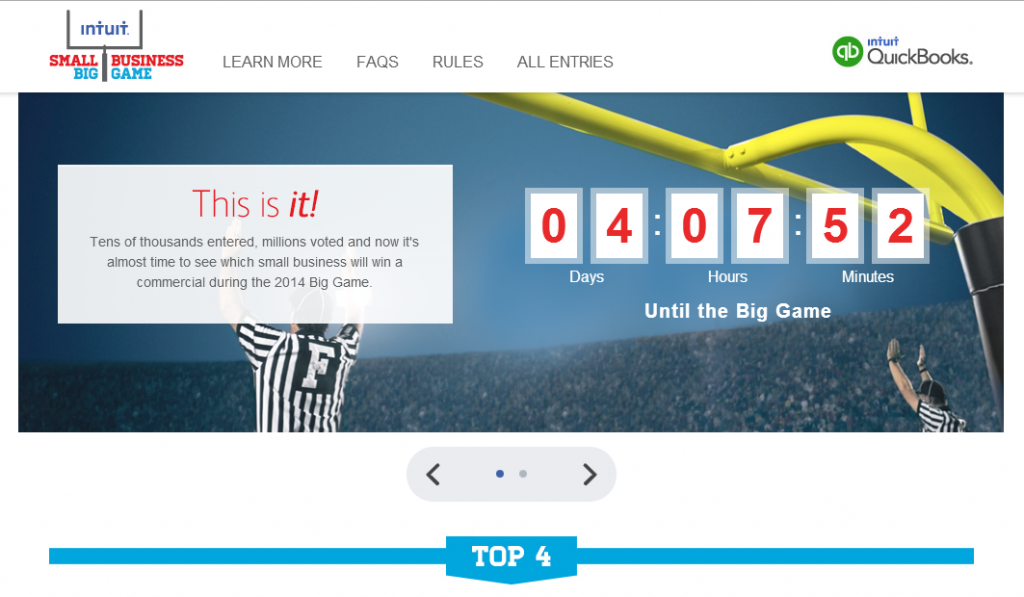 Squarespace
Now, here's a first. Squarespace bought a $4 million Super Bowl ad. A design-centric website platform, Squarespace's target audience is also small businesses. Taking up the feat of producing its commercial in-house, Squarespace has released its teaser ad.
This ad is a far cry from the spirited feelings of other successful Super Bowl ads (think Clydesdale horses) and is rather unsettling with its freak-show images. I will definitely be relieved if indeed "a better web awaits." What do you think?
Let's get geared up for some football and some great commercials. Go B2B – we'll see you on Game Day!