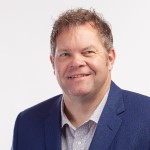 By Darrell Jackson, President/CEO
As you move beyond the lobby at Jackson, you pass five, glass-walled conference rooms (aptly named Shoeless Joe, Samuel L., Bo, Alan and Larry—in honor of famous Jacksons). You then enter a 20,000-square-foot, open-air agency that several guests have likened to Google. Sprinkled throughout the space are nearly two dozen collaboration spaces, plus three outside picnic areas and a custom-built deck, fondly named the Board Room.
The environment is very intentional, designed to foster collaboration. That collaboration—along with uncommon creativity and the golden rule—are at the heart of who Jackson is. Whether it's internal, with clients, with vendors or even with other agencies, collaboration is critical to success. It breeds better ideas. It gets an entire team aligned and onboard. And it makes work (and ultimately life) more enjoyable.
But collaboration takes more than a cool environment.
Collaboration requires communication, which is why we love being face-to-face (we didn't like COVID), why we conduct impromptu town hall meetings, why we have an associate intranet, and why we publish weekly Friday tidbits.
Collaboration demands open-mindedness, which is why we've created an open-door policy that encourages every associate to bring ideas or concerns to the forefront. It's also why I invite associates to meet with me personally, why we conduct annual surveys of our clients and our associates, and why we solicit feedback through quarterly "Cookies & Questions" sessions with our executive leadership team.
And all of that—the environment, the communication and the openness—hopefully combine to create trust. Because when we trust each other, and when our clients trust us and we trust them, there is no limit to what we can do together.
So, if you'd like to check out our "Google-ish" space, we're always up for tours. Better yet: If like us, you believe that two, three or four minds are better than one, give us a call, and let's put our heads together, solve some marketing challenges and have some fun.