Just when you thought the Oscars' Will Smith slap was going to be the talking point for a while. Grab the popcorn because the drama on Twitter is just getting started. And yet, maybe it's already over?
Ok, so what are we talking about?
---
March 26, 2022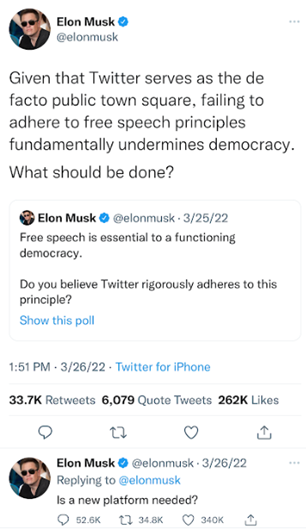 It all started with some tweets from Elon Musk about free speech and whether a new social platform was needed.
Mainly, Musk was examining free speech in a functioning democracy and how social giants fit into the theory of a public town square.
Yeah, we expected something about SpaceX or the Cyber Rodeo at Giga Texas, but apparently, he has other things top of mind.
April 4, 2022
After sharing his concerns, Musk purchased 73,486,938 shares of Twitter stock to become the "largest outside shareholder" per CNBC.
April 5, 2022
Twitter CEO Parag Agrawal announced that Musk would be joining the Twitter board. Of course, Elon seemed excited for the opportunity. That is excitement, right?
As the news of Musk's purchase became mainstream, Musk began a series of tweets that sought input on Twitter changes and criticized Twitter—some of these series of tweets have now been deleted.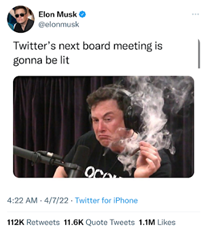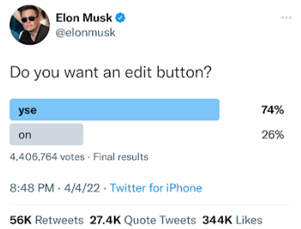 April 10, 2022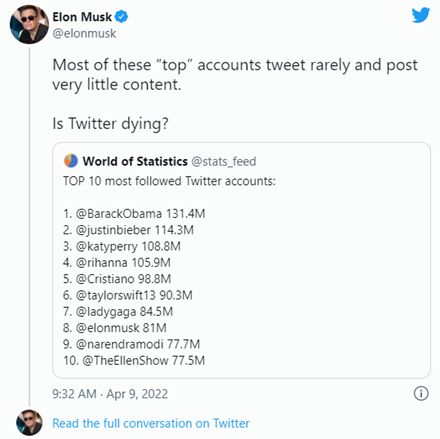 After a weekend of tweets seeking input for Twitter, criticizing Twitter and some—for lack of a more descriptive term, let's say original, ideas—Agrawal announced Musk would no longer be joining the Twitter board.
Cue the moment to delete Tweets!
If you find the screenshots of Musk's now deleted tweets, there's a common theme: Is Twitter on life support?
To be fair, Musk has a point, and I don't think Twitter would necessarily disagree that they are no longer the premier platform. Let's face it, there is a decline in Twitter use.
April 12, 2022
Somebody grab the legal team because now Musk is being sued for a potential SEC disclosure violation in regard to his purchase of Twitter stock.
April 14, 2022
From investor to owner? That's right, Musk has now offered to buy Twitter for $54.20/share. This purchase rings in at roughly $43 billion.
---
Well, there you have it: Twitter was on the brink of receiving the lifesaving CPR it needed. And now, maybe Musk will divest and forget about Twitter if they reject his purchase offer. Or maybe he will continue his aggressive investment strategy to force changes to Twitter through a stock purchase strategy.
What does this mean for your social media strategy on Twitter? It's still to be seen. Without commenting on the merits of Musk's argument on free speech on social platforms, it is undeniable that he has the potential to garner renewed interest in the platform and spur growth. Don't think so? Just look at the attention he garnered for space exploration.
Social media constantly evolves, and we are keeping tabs on updates from the boardroom to the algorithms to create uncommonly creative solutions to your social media marketing objectives.
Need a partner to evaluate your social strategy, provide full management of your social media or ensure you have a crisis plan in place that takes into account the 24/7 nature of social media? It's okay to slide into our DMs, or you can reach us here!