Twitter at 280
Wednesday, November 22, 2017 Kathy Vass Categories: Social Media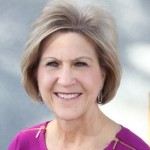 By Kathy Vass, PR Director
No longer constrained by 140 characters, Twitter users now can post up to 280 characters to express themselves when tweeting. The change has caused quite a stir, with the harshest critics saying that Twitter is using the increased character count to divert attention from the platform's real issue of online harassment and bullying.
During a trial period to try on the character count expansion, most participants continued to tweet below 140 characters, Twitter said. Specific data from the trial showed that only 5 percent of tweets were sent with more than 140 characters. Of those, only 2 percent were over 190 characters. So why the change?
Twitter backed up its decision to go to 280 characters, citing how character constraints impacted users differently, depending on their language. For example, those who tweeted in Japanese, Korean and Chinese could express roughly double the amount of information in a single character, compared with users who spoke English, Spanish, Portuguese or French. Fair enough.
I think we can feel confident, though, that the 280-character announcement is more of an attempt to reinvigorate Twitter's 330 million global users and improve its position in the social media pecking order. There's been a lot of press about the change, so Twitter has created any desired buzz. However, social media consultant Crimson Hexagon pulled sentiment data from 2.7 million tweets from Sept. 25 through Nov. 6 and found negative sentiment on the change at 63 percent vs. positive sentiment at 37 percent.
Here's a fun and telling example of one user's response to Twitter CEO Jack Dorsey's explanation of upping the character count: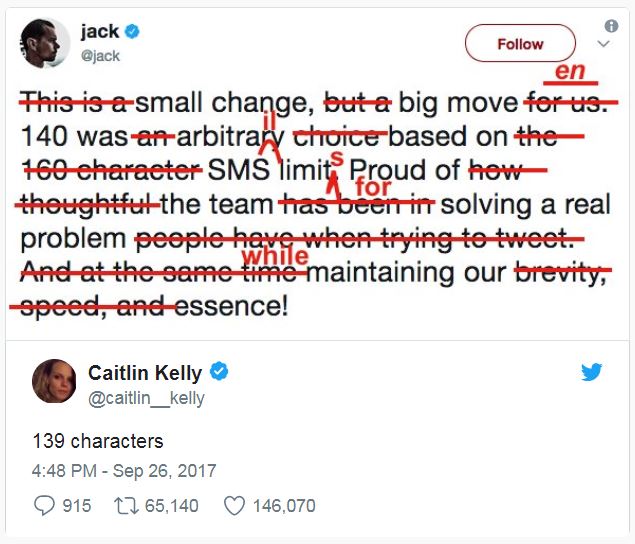 Many of us who use Twitter regularly will miss the challenge of effective expression in 140 characters or less. As a former journalist who was taught to never use 10 words when five will do, I believe 280 characters will simply lead to people using more words to say the same thing.
With its 140-character limit, Twitter differentiated itself from other social media networks. The platform's short, concise posts are a great tool for providing real-time updates that, for our clients, include live-tweeting at tradeshows, golf tournaments and other events. The real-time essence of the medium surely will remain, but we'll have to read longer posts to get to the meat of things.
"Twitter is a real-time medium where you want content that's fast and easy to digest," says Jackson Social Media Specialist Kaitlin Clark. "You can be very creative and informative in 140 characters. Why try to fix something that, to many of us, isn't broken?"
Perhaps we're just stuck in our ways, but numerous polls indicate that most Twitter users prefer the 140-character limit. Below are the results to date of a poll being conducted by PRWeek. Vote here if you'd like to weigh in on the change.