TV Viewership Shifts to Online Platforms
Thursday, December 14, 2017 Alissa Ricci Categories: Media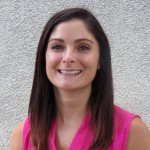 By Alissa Ricci, Media Supervisor
A recently released study from Hub Research finally shows what media professionals anticipated for years: Over-the-top (OTT) television viewing (TV content viewed via an Internet streaming service like Netflix or Hulu) overtook traditional TV viewing (via cable or satellite) in 2017.
This year, 52% of viewers are watching TV via an OTT source vs. 48% that are watching traditional TV. This is a pretty big jump. Just last year, only 40% were watching TV via an OTT source. In fact, way back in 2014, only 31% were watching TV via an OTT source.
This won't come as a shock to most media professionals. TV viewership has been on the decline in recent years, especially among the younger demographic (blame the death of traditional TV on those darn Millennials!).
And though we love to blame Millennials, we see from Nielsen data that live TV viewership sees sharp decreases from teenagers, as well.
I think we can attribute the rise of OTT viewership to a couple of things. One, companies like Netflix, Hulu and Amazon have invested billions of dollars in original content. Titles like A Handmaid's Tale, House of Cards, Transparent and others have been powerhouses for the platforms, earning loyal viewers and enough Emmy awards to make waves at the awards show in recent years. And two, viewers (especially Millennials) can consume the same type of high quality content for a lower price tag by "cutting the cord."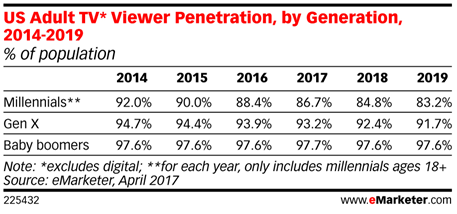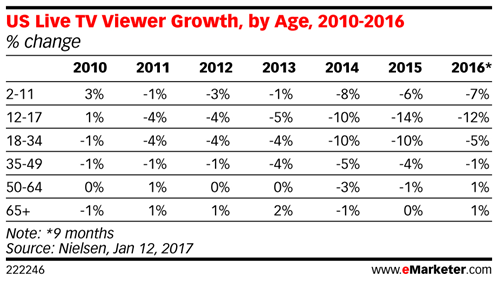 So, what does this mean for advertisers?
In simple terms, it means you may need to rethink your media mix. TV is still king, but your consumers are watching it in a different way than before, and you need to adjust your strategy to reach them.
Fortunately, placing ads on OTT may have some significant benefits. It is akin to buying digital pre-roll video programmatically, and has the potential to be even more valuable than traditional TV due to its targetability. Additionally, there is much less inventory on OTT platforms, meaning your ad will stand out more than it might on traditional TV where it could wind up stuck in the middle of a pod of 10 or more ads.
The downside however, is that the limited inventory may mean a higher price tag. But in my opinion, that is balanced out by the targeting potential and ability to break through the clutter.
This doesn't mean traditional TV is going away. As evidenced by eMarketer's viewer penetration data, almost 98% of Baby Boomers are still watching traditional TV as well as 92% of Gen Xers. And even those pesky Millennials are still sitting above 80%. But the study suggests that OTT isn't just a trend, it's here to stay, and worth consideration and investment.