TikTok, the new kid on the block as far as social media apps go, is taking the world by storm.
It was the second-most globally downloaded app in 2019, and has held its global rank in the number one spot as the most downloaded non-gaming app into 2020. The app has over 800 million active users worldwide and is continuing to see growth. For perspective, Instagram first launched in 2010 and now has one billion active users, but TikTok is not far behind since the initial launch only four years ago in 2016.
With the rapid growth and popularity, why not start moving advertising budget to TikTok? Ask a media buyer this and you are going to find out it is not a simple answer nor is it a "one-size-fits-all" approach. While it is new and trendy right now, there is a lot more to consider for whether it is a strategic option for your brand.
First off, what is TikTok?
TikTok, is a social video-sharing app where users can create and post videos ranging from 15 to 60 seconds long. The content of the videos is diverse and ranges from singing and dancing to comedy, recipes, art or even life hacks. It allows users to be creative and showcase what they are passionate about.
Types of TikTok advertising
Sponsored hashtag challenge
Hashtag challenges are a unique advertising opportunity only found on TikTok and are very popular within the community. Brands design a challenge for users to put their own spin on and post a video with the designated hashtag. When a user clicks a hashtag, they are directed to a page housing all videos using the same hashtag.
Guess Jeans launched the #InMyDenim hashtag challenge calling for consumers to share videos of their best fashion looks featuring denim. Within six days, the hashtag had over 5,550 user-generated videos, 10.5 million video views and a 14.3% engagement rate.
Brand takeover
Brand takeover ads are 3- to 5-second, full-screen videos or images that appear when a user first opens their app. The ads can link to a brand's page or hashtag challenge within the app. Inventory is limited as TikTok only allows one advertiser in a category per day.
Guess combined their #InMyDenim hashtag challenge with a brand takeover on the day they launched the campaign to increase awareness and gain traction.
Native in-feed video ads
The in-feed video ads are like what you would see on other social media apps such as Instagram or Facebook. They are 15-second videos that appear as users are scrolling through the platform. The videos are intended to look more like organic content from the brand instead of a produced commercial ad. The in-feed videos can link users to a hashtag challenge, brand website or a brand's TikTok page.
Branded lenses
Branded lenses are like the AR effects found on Instagram and Snapchat that feature 3D objects, face filters or other special effects for people to use in their videos.
Custom Influencers
Like other social media apps, TikTok has influencers with massive followings, and brands can leverage their fan base through influencer marketing.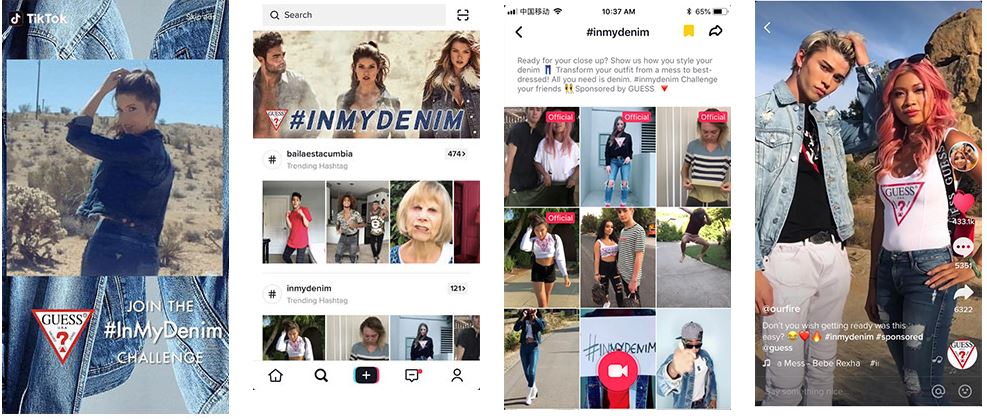 Pros and Cons
While the app has certainly consumed our time and attention as of lately, here are a few points to consider before TikTok consumes your advertising budget as well.
Who are you trying to reach?

TikTok's audience is young.

69% are age 13–24
16% are age 25–34
15% are 35+

The app also skews more female.
Based on the user data, the first thing to consider is if your target audience is on the app. TikTok has become wildly popular among the Generation Z age group with majority of users under the age of 25. In fact, one of TikTok's most popular creators, Charli D'Amelio is only 16 years old and has gained over 59 million followers in less than one year.
With TikTok's rapid growth, it is a great way to get in front of a younger audience if that is who you are trying to reach. On the other hand, if most of your target audience is above the age of 30, then there are other platforms that would more strategically serve your goals.
What is your budget?
If TikTok's user base aligns with your target audience, then the next criteria to consider is how much budget you want to dedicate to the platform.
TikTok has been slowly rolling out different advertising opportunities and is mostly still in the beta phase of testing, and because of this, there is not a lot of advertising inventory. There are both pros and cons to this. The pro being the app is not bogged down with tons of ads, and the advertising that is available is intended to look like organic content. This is a more enjoyable user experience but also more valuable for the advertiser because your message is less likely to get lost in the clutter among several other advertisements.
The downside is advertising comes at a premium because with limited inventory comes higher advertising rates. While TikTok has not officially released their rates publicly, Hootsuite published information from a leaked TikTok pitch deck that at least gives an idea of the spend levels required to advertise.
Brand Takeover: $50,000 per day
Hashtag Challenge: $150,000 for six days
Branded Lenses: $80,000–$120,000 based on the complexity of the lens design
In-Feed Video: $25,000 minimum per campaign
For example, if you wanted to run a similar campaign to Guess Jeans with a branded takeover for one day and a six-day-long hashtag challenge, it would cost around $200,000. A lot of brands do not have that kind of advertising budget for the year, let alone to spend over a six-day period on one platform.
TikTok has their self-serve platform in beta testing, so not everyone has access yet, but it will offer a somewhat lower cost option. In the self-serve platform, the advertiser is responsible for setting up and monitoring the campaign and is only available for the in-feed video advertising format. However, there is a minimum spend of $500 with a $10 CPM. For comparison, Facebook sets their minimum ad spend at $1 per day and while the CPM can vary, the average is usually around $7.
What are you advertising?
Now, if you are still onboard with the audience and budget requirements, then it is time to consider the product or service you are advertising. Brands that have tried advertising on TikTok have seen strong engagement rates, but it is important to remember the content was conducive to the app and the type of advertising available. Not every product or service is going to work with a hashtag challenge or fit their message in a 15-sec video, and that is perfectly fine. For an idea of successful campaigns from other brands, take a look at TikTok's inspiration page.
Keep in mind, TikTok as an app is new and growing and their advertising opportunities are slowly rolling out. As they start to get more advertisers using the self-serve platform, we could see rates decrease or the primary age demographic could change as more people learn about the app. For some brands, it is going to make more sense to hold off and wait to see how TikTok develops; but either way, we'll take a strategic approach to evaluate if it's the right fit for your goals.