The Changing Face of the Account Executive
Thursday, June 9, 2016 Jackson Categories: Account Services
By Donna Waldrep, Director of Account Services
I recently came across an article written by Maureen Morrison called, "How Account Management was Reborn." It begins with the "perfect job description" for today's account executive:
Wanted: Executive experienced in data, digital, social, search, media, creative, PR, events, shopper marketing, programmatic, mobile, print and outdoor. The ability to simultaneously and efficiently handle up to dozens of stakeholders (often with competing interests) a must. Successful candidate is skilled at managing up, managing down and balancing a P&L. Old-school thinkers need not apply.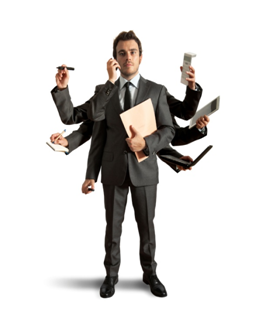 Sound like a bit much? Maybe more than you would expect an account executive to do?
The role of an account executive has drastically changed in the past 10-15 years. Account executives used to "simply" maintain relationships and make sure the content being delivered to the client was acceptable. While these still are important aspects of the job, the role has become much more complex.
So why has this role changed? Simply put, client demands have shifted. This is because of the new and ever-changing media world. There are more questions to be answered, more media channels to market, and more exposure available than ever before. Clients need help navigating these new concepts, so they turn to their account executives to find the solutions to their concerns.
They rely on account executives because they are the direct link to both the agency and the client. Blogger Mahmoud Saeed says, "An account executive is the man of the agency in the client's place, and the man of the client in the agency's place." Account executives are constantly representing two sides and must figure out a way to create an agreement. But in today's market, being an account executive requires more than being a liaison.
Account executives aren't project managers that take commands verbatim from clients anymore. The new idea is to strategically partner with clients in order to grow their business and create an integrated marketing plan. Account executives should innovatively create effective plans in order to promote their products and increase sales.
For example, video is becoming a major contributor to online marketing. By recommending video as an option to clients, it gives the clients a creative tool, but also allows for the in-house production crew to demonstrate their abilities and showcase what the agency can do. Account executives must be able to think of inventive outlets in order to maintain client and agency harmony and allow for mutually beneficial opportunities.
Account executives in today's agency environments need to have a skill set that consists of (but certainly is not limited to) maintaining client relationships, forming new connections, understanding and implementing media placement, negotiating contracts, creating strategic marketing plans, and of course, being able to sell their agency's services. They have taken on a leadership role now more than ever before. Account executives control client accounts which, in turn, control the money.
KBS in New York recently renamed its account management department "business leadership." Is business leadership a better name for the account management department? I would say so. Not only are account executives maintaining the client-agency relationship and promoting business, but they also are providing answers and guiding the client and agency in a progressive direction.
They have to know what the client expects and they must know their company's capabilities in order for things to flow well. The account executive should know all the products the company can offer as well as having the capability to sell it. As Morrison puts it, "The role is moving from selling the advertising ideas to selling the consumer experience across a number of channels." It is no longer just an advertising position. It requires the ability to go beyond the basic strategies in order to ensure success.