Study shows B2B marketers not focused on mobile-friendly websites – Really?
Thursday, October 16, 2014 Joshua Lyall Categories: Interactive, Research
Do you research large purchases on your smartphone – perhaps while you're sitting in a terminal waiting for your plane that has been delayed three times or while you're grabbing a quick lunch?
If you said yes, you are part of a majority of consumers and B2B decision makers who do the same. Recent studies have shown nearly 80% of B2B decision makers are regularly researching purchases (both products and services) on their smartphones and tablets.
With that statistic in mind, one piece of data from our Website Optimization Benchmarks for the B2B Marketing Channel survey stopped me in my tracks.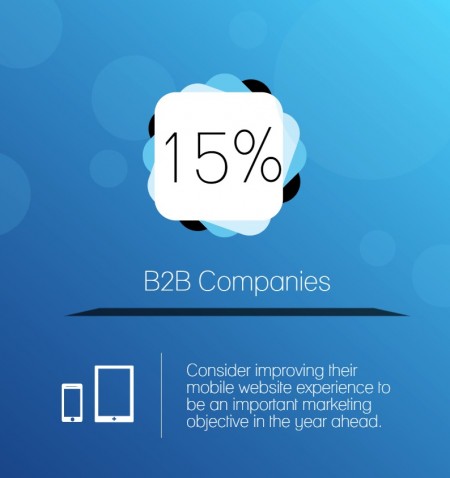 Only 15% of B2B companies noted "improve mobile optimization" as an important marketing objective for 2015.
Really?
For the 85% of B2B marketers who are not prioritizing and planning to improve mobile optimization, that is a missed opportunity.
Why would B2B decision makers allow their company to miss an opportunity like this? I truly don't understand it. B2B decision makers are glued to their mobile devices, which makes mobile optimization a lead generation opportunity, a sales opportunity and a customer nurturing opportunity!
Maybe I'm overreacting.
Maybe this element in the survey was rated low for other reasons:
Marketers already have mobile optimization well in hand and they no longer rate it as a top priority.
Marketers have a responsive website that is regularly optimized, so they have no need for separate mobile optimization.
Maybe those are contributing factors, but they can't account for the whole 85% of decision makers who didn't rank it as a top priority.
So let me give you three reasons why, if you aren't optimizing your site for mobile, you should be:
Mobile device adoption and usage is exploding as the capabilities of today's phones and tablets exceed those of any other mass-adopted technology.
The vast majority of B2B buyers are researching extensively online before ever reaching out to become a lead in your database.
If buyers have another source for the information they are looking for, they will leave your site immediately if it's not mobile friendly.
Don't miss another opportunity. Learn how other B2B companies are optimizing their websites for lead generation, lead nurturing, visitor engagement and personalization.
Want to learn more about website and mobile optimization?
Download the "Website Optimization Benchmarks for the B2B Marketing Channel" survey to read the full results on how other B2B marketers are accomplishing web optimization.
In this report, you'll learn…
How B2B companies rate their website success
Biggest obstacles that keep us from achieving website objectives
Most important website pages and processes to optimize
Which testing was performed for website optimization purposes
Which page elements to optimize for most impact on web performance