My event experience was unforgettable. Sincerely, Your Guest
Thursday, August 15, 2013 Julie Froehlich Categories: Event Management
It's much easier to meet an individual's needs at a dealer event with 60 participants than it is during an event of 1,000+ participants. But I don't let myself or my event staff off the hook. And neither should you.
Last month I wrote that face-to-face meetings and live events won't be replaced by digital events. In that blog post, we came to the conclusion that since live events are here to stay, we should make them enjoyable. The absolute best way to make them successful and memorable for guests is to add "the personal touch."
I also promised to share five more ways to make events personal for your guests. Read on to find out how to make your guests' event experience unforgettable.
Airport Meet & Greet
Assign a friendly staff member to hold a sign emblazoned with the event name so that the guests know where to go in the airport. If you're meeting guests at the luggage carrousel, your staff member should help your guests with their luggage and direct them to the appropriate transportation.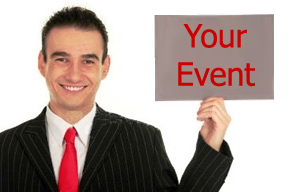 Does transportation have to be limos or taxi cabs? Not necessarily. You can use the hotel shuttle to transport your guests. It's the personal touch of a staff member helping and directing guests at the airport that makes a lasting impression.
Hotel Check-in
Your guests are tired from traveling. They just want to unload their bags in their room, unpack, make phone calls, and freshen up for dinner.  Make check-in easy for them.  Negotiate with your hotel for individual pre-registration packets that already includes each person's room key.  This is easy to do if you are hosting your guests (e.g. paying for the hotel). However, if they are paying for the hotel, set up a microsite specifically for registration and take their payment prior to the event. Then make their hotel reservation for them and negotiate for the individual packets mentioned above.
When your guests enter the hotel to check-in, send them to a private check-in location reserved for your group. Distribute the individual packets in this separate room, not the front desk where other hotel guests are also waiting.
Welcome Letter
Place a welcome note or gift in each room for guests to find upon their arrival.  This can get costly, but even a simple note, a bottle of water, and salty/sweet snack is always appreciated.  And make the note personal. (Mail merge is a great tool for this!)
Concierge Desk
Have a private registration desk/concierge desk on-site at the hotel, and assign a staff member to that desk whenever guests are in the hotel.  They can go to your registration desk for information, event schedules, and personal needs. You'll find, as I have, there are many things to forget! Guests may have forgotten black socks for the evening dinner, so where is the nearest store?  Better yet, have your staff ready to go to the store and purchase the socks for them.  Save your guests the time and stress.
Guests with Special Diets
Do you have a guest with a food allergy or special diet?  When you are placing snacks in the rooms prior to the guests' arrival, be sure that you pay attention to that special guest and leave a snack that meets their dietary restrictions.  When it's time for a group meal, find that guest personally and point out the food on the buffet line that contains the ingredients they cannot eat.  Yes, of course, these guests are already likely very aware of what food they should avoid, but your personal touch goes a long way!
How do I ensure the events I produce will be successful? What is my focus at every event, large or small? The personal touch.
What do you do to make guests comfortable and add that personal touch to your events?