Rio 2016: Summer Olympics Media Landscape
Tuesday, August 2, 2016 Jackson Categories: Media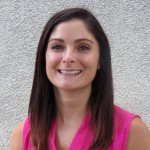 By Alissa Ricci, Media Supervisor
Virus-infected mosquitoes, contaminated waters, political upheaval, signs in airports saying "Welcome to Hell," and just recently, cocaine packaged with the 2016 Rio Olympics logo.6 This is the narrative surrounding the 2016 Summer Olympics in Rio; a far cry from the usual family-friendly, feel-good story that broadcasters prefer to portray.
While some worry that the negative conversation around this year's Games will discourage viewers, athletes, and advertisers alike, many signs point to the contrary. No, the world's top athletes and brands are not deterred from participating in what is arguably the world's most exciting athletic competition. Viewers will see the familiar faces of Gabby Douglas, Michael Phelps, Kerri Walsh Jennings, and Lolo Jones, while familiar brands like Coca-Cola, GE, McDonalds, Visa and more sponsor the Games for the umpteenth time.1 And Olympics viewers aren't going anywhere, either!
Advertisers agree, as evidenced by the success of ad sales for NBCU thus far. NBCU reached its 2012 London advertising sales levels of $1 billion back in March, 129 days before the Games even start. It anticipates exceeding the total sales of $1.3 billion that it garnered from the 2012 Games, turning a profit this time where it broke even in London.2 And I, for one, anticipate viewership to increase similarly.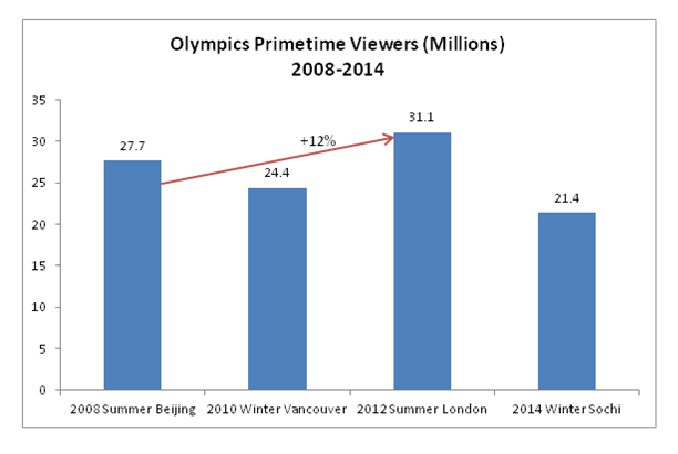 Source: Nielsen L +SD
Several factors make me think viewership will be greater than London 2012.
First, there is increased coverage across all screens (TV, tablet and mobile platform) for Rio. NBCU will cover the Games with more than 6,500 hours across all platforms, 1,000 hours more than London coverage.2, 3
Next, NBCU data from the 2012 summer Games demonstrated that multi-screen usage increased the likelihood of time spent watching on TV, with multi-screen users watching 171 minutes of linear coverage daily vs. 100 minutes for single-screen viewers.2 This tells me that, with increased coverage and even more platforms to choose from, NBCU is almost guaranteed more viewership.
Finally, the simple matter of time zone plays a part. Rio is just an hour ahead of those of us on the East Coast, giving NBCU and its viewers more access to live prime time coverage. This also means we don't have to set alarms to wake up in the middle of the night to watch our favorite events live.
Social media will play a large part in NBCU's strategy to dispense Olympics content to more users than ever. Though Snapchat was in its infancy for the 2012 Games, the social media platform's usage has since skyrocketed, especially among younger Millennials. Sources speculate that Snapchat has roughly 150 million active users daily.5 NBCU will take advantage of this, featuring highlights on Snapchat, both in the form of a live story and a channel on Snapchat Discover.2 According to a study by Crowdtap, 18% of viewers will "take the conversation to Snapchat." Crowdtap also argues that Rio will be "the most social Olympics yet."4
NBCU's social media already gained traction with significant followers on popular channels. As of July 27, the NBC Olympics Facebook page has 1.8 million followers, its Twitter account (@NBCOlympics) has 589k followers, and its Instagram account (@NBCOlympics) has 182k followers.
So despite the negative publicity surrounding Rio, expect to see all-time-high viewership levels for this year's Games, record social media engagement, and more action than ever across all of your favorite linear and digital platforms. The media landscape looks to be a lovely one for Rio this year, even if the literal landscape of Rio is a bit of a mess.
Sources:
6. http://adage.com/article/special-report-the-olympics/olympic-logo-rio-cocaine-dealers-party-district/305182/?utm_source=daily_email&utm_medium=newsletter&utm_campaign=adage&ttl=1470179893
1. https://www.olympic.org/sponsors
2. http://variety.com/2016/tv/news/olympics-2016-summer-games-media-experiment-1201812028/
3. http://www.huffingtonpost.com/2012/08/13/london-olympics-2012-ratings-most-watched-ever_n_1774032.html
4. http://www.businesswire.com/news/home/20160427005329/en/Millennials-Gen-Rio-Social-Olympics-18-Viewers
5. http://www.bloomberg.com/news/articles/2016-06-02/snapchat-passes-twitter-in-daily-usage