Rethinking your brand? Read 'Brand Real' first.
Wednesday, December 19, 2012 Jackson Categories: Book Reviews, Branding
Being a guy who's always worked with and had a passion for brands, I continue to be on the lookout for fresh perspectives and opinions on the topic. So in my blog reads, I came across a reference to a new book called Brand Real. Intriguing name for a book I thought and a pretty cool graphic on the dust jacket.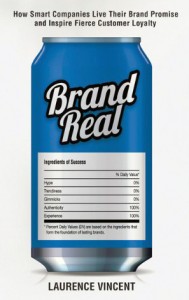 Until I saw the book details on Amazon, I'd never heard of the author, Laurence Vincent. But his claim to fame is that he's developed branding strategies for some of the world's most famous brands including Disney, MasterCard, Microsoft, the National Football League, Sony and Southwest Airlines. He's presently the head of The Brand Studio at United Talent Agency in LA.
So as my headline states, if you're rethinking your brand, read Brand Real first.
Why? Here are a couple of good reasons.
First, a simple brand refresh or an extreme makeover is not an easy undertaking. Unless you're a practicing branding consultant, the results could be disastrous. (Sort of like taking controls of a 747 after you haven't flown it for ten years. If you're not current, you, your crew, passengers and people on the ground could be in really big trouble.)
Second, if you're second guessing the state of your brand's health, for whatever reason, it's prudent to learn whatever you can from others' mistakes and to carefully consider "best practices" to decide on the best course of action and resource requirements for any branding adjustments.
That's where Brand Real can help with your brand rethink. You'll read about strategies behind great brand successes (Southwest Airlines) and disasters (Enron). And on the "how-to" side, Vincent covers just about every facet of what's important in the brand strategy and refinement process. His foundational premise is based on "the simplicity principle" which asserts that while a brand might reduce a complex array of expectations and experiences into a simple logo as an identifier, it is those expectations and experiences that matter most.
He also strongly reinforces the fact that great branding lies at the heart of every great business. Branding is a strategic discipline that simplifies how people think about an organization, and an operating system that informs every action of its people.
In the opening of the book, he poses the following questions:
How indispensable is your brand to its customers?
What's your rate of employee turnover?
What does your brand do better than any competitor and why does it matter?
How easy is it for competitors to replicate your brand experience?
How easy is it for customers to do business with your brand?
If your brand disappeared tomorrow, why would anyone care?
And on the last page of the book, he wraps it all up with this:
"Real brands make people better because of what they stand for. Great brands get better because people stand up for them every day. Make branding a meaningful and continuous cause, and your brand will enjoy a long and productive life."
Great thought starters for a brand rethink.
Brand Real: How Smart Companies Live Their Brand Promise and Inspire Fierce Customer Loyalty – by Laurence Vincent