Promoting Servant Leadership in the Community
Monday, February 25, 2013 Jackson Categories: Management, News
This past Friday, I had the privilege of serving alongside Larry Jackson, our chairman, at the Habitat for Humanity CEO Build. This is a first-time event in the Greenville area: 19 local executives will participate in constructing a Habitat house for a working, low-income family.
While Friday marked the beginning of the construction, the build is scheduled to be completed June 1, at which time, a single mom with four children will finally be able to call the finished product their home.
Seeing 19 executives come together, devoting four months to building this house was really inspiring. Each company CEO has committed to having his team contribute manpower to the construction of the home. But this event is more than a commitment of time and energy. Serving the community in this way shows that these execs really care about those who are less fortunate and want to help break the cycle of generational poverty through the Habitat for Humanity program.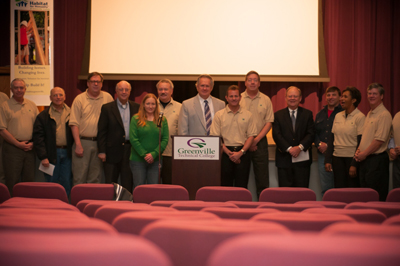 I had been aware of the Habitat Organization and had the privilege of working on a couple of homes several years ago. But not until I attended the CEO Build meetings did I fully come to appreciate the important service that Habitat provides to our community and many other similar communities across the nation and around the world. Through Habitat, which is an ecumenical Christian housing ministry, over 600,000 affordable houses have been built or repaired, serving more than 3 million people worldwide since its founding in 1976.
Today Habitat for Humanity International is the 6th largest homebuilder in the nation! Habitat's extensive research has validated that quality housing improves health, has a positive impact on children, helps break generational poverty by building wealth, and strengthens communities overall. Locally, Habitat for Humanity of Greenville County has just completed its 300th home.
And now the Inaugural Habitat CEO Build in Greenville is underway. Because of the Habitat program, volunteers and donations, the build cost of the new home will be about $60 a square foot vs. the average home build cost of $125+.  The house will also be built to meet energy-efficient standards to keep those utility costs as low as possible. Even though the family will be receiving an interest-free loan, they will be investing hours of sweat equity along with Habitat volunteers.
Finally here's another great statistic. Habitat foreclosure rates are very low…less than 3% nationwide and less than 0.4% in Greenville!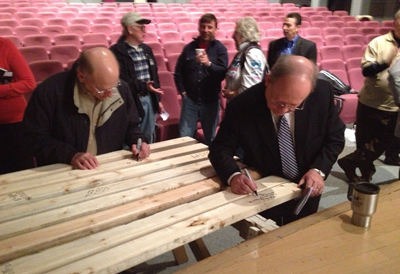 So at JMG, we're excited about being part of the CEO Build and hope that this new Habitat initiative will grow to have a positive, life-changing experience for many less fortunate families in the Greenville area.