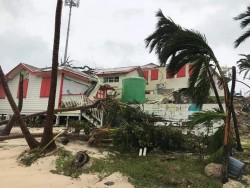 The Premier Foundation is launching a donation drive throughout the Upstate to provide critical assistance to those left homeless by Hurricane Dorian. The drive, which runs from Saturday, October 19, through Wednesday, October 30, will culminate with supplies being loaded and transported by Jackson Marketing, Motorsports & Events to Opa-locka, Florida, where they will be flown by D&S Aviation to evacuation centers and mission programs in Nassau, Bahamas.
This is the first supply shipment organized by the Premier Foundation that is supported by local businesses and the second shipment since the storm. Dick Brooks Honda in Greer, 13 Stripes Brewery in Taylors, Fourth Presbyterian Church in Greenville and Jackson in Simpsonville will serve as collection centers. The shipment will provide crucial supplies for displaced residents of Abaco and Grand Bahama Island who suffered devastating losses and who continue to be homeless nearly two months after the catastrophic storm.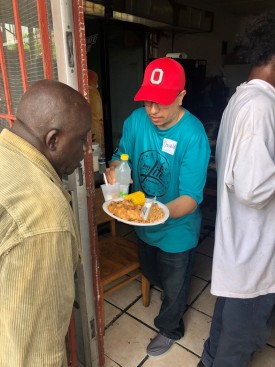 "The Premier Foundation has been working in the Commonwealth of The Bahamas with children's homes, elder care organizations, homeless ministries and many others for nearly a decade, and we felt it was imperative that we become a 'boots-on-the-ground' example for relief and recovery," said Gene Krcelic, Premier Foundation president. "The road to recovery will take years, and it is vital we continue to walk beside our brothers and sisters in their time of distress," he added.
"As a result of our extensive events and motorsports work, we have a strong warehousing, transportation and logistics infrastructure in place," said Jackson president and CEO, Darrell Jackson. "We are honored to have the opportunity to use our skill sets to help those who are in such desperate need," he continued. Supplies will be packed and loaded for transportation at Jackson on Thursday, October 31. A Jackson tractor-trailer truck will then transport the items to Florida on Friday, November 1.
The full list of donation locations and hours can be found below. The list of needed relief items, can be found here. Financial contributions can be made by visiting https://www.premierfoundation.com/make-an-impact/.
Greenville Area Collection Sites and Donation Hours:
Fourth Presbyterian Church, 703 E. Washington St., Greenville, SC 29601
Monday–Thursday 9:00 a.m.–4:00 p.m.; Friday 9:00 a.m.–1:00 p.m.; Sunday 8:00 a.m.–Noon
http://fourthpres.com/
Dick Brooks Honda, 14100 E. Wade Hampton Blvd., Greer, SC 29651
Monday–Friday 9:00 a.m.–8:00 p.m.; Saturday, 9:00 a.m.–6:00 p.m.
https://www.dickbrookshonda.com
Jackson Marketing, Motorsports & Events, 1068 Holland Rd., Simpsonville, SC 29681
Monday–Friday 9:00 a.m.–5:00 p.m.
http://www.jacksonmg.com/
13 Stripes Brewery, 250 Mill St., Taylors, SC 29687
Monday–Friday 2:00 p.m.–9:00 p.m.; Sunday Noon–8:00 p.m.
http://www.13stripesbrewery.com
###
Jackson Marketing, Motorsports & Events Contact:
Andy Aparicio, PR Director
1.864.272.3012
andy.aparicio@jacksonmg.com
Premier Foundation Contact:
Gene Krcelic, Premier Foundation President
1.864.505.5354
gene@premierfoundation.com
About Jackson Marketing, Motorsports & Events:
Jackson Marketing, Motorsports & Events is a fully integrated marketing communication and events agency offering marketing consulting and strategy, branding, digital marketing, content and public relations, events and tours, and dealer marketing. Awarded "Agency of the Year" by BMA Carolinas and named a "B2B Top Shop" by Chief Marketer magazine, Jackson partners with a host of blue-chip brands including Michelin, BFGoodrich Tires, BNSF Railway, Sage Automotive Interiors, Trijicon Aiming Solutions, Find Great People, Bob Jones University and Habitat for Humanity. For more information about the company or its locations in Greenville, SC, and San Diego, CA, visit www.jacksonmg.com.
About Premier Foundation:
The Premier Foundation is the charitable arm of Premier Productions, Premier Festivals and Premier Vacations and Events and a Registered 501(c)(3) Nonprofit Organization. The foundation is committed to being a voice for the disadvantaged and exists to love and serve the impoverished by meeting their physical, spiritual, educational, social, and emotional needs, thereby empowering them to be agents of change in their communities. Premier has raised millions of dollars for partner projects and nonprofit organizations worldwide. Premier was honored earlier this year as an organization impacting culture at the 6th Annual GMA Honors and Hall of Fame Ceremony in Nashville. Other Foundation projects include: Fellow Countrymen in Greenville, SC; Agape International Missions in Cambodia; Ciudad de Angeles in Mexico; K-LOVE Hope Center in Detroit, and Mount Nebo Church and Community Center in New Orleans. Learn more at https://www.premierfoundation.com/.
About Premier Productions:
Premier Productions is the largest producer of live Christian events both nationally and internationally, producing more than 600 events this year. Premier promotes Tours for Hillsong UNITED, Hillsong Worship, Young & Free, Kari Jobe, Jesus Culture, Lauren Daigle, Gaither Homecoming, Sadie Robertson, Newsboys, comedian John Crist, Rend Collective, as well as their annual Winter Jam Tour Spectacular and OUTCRY Tours. Premier Festivals promote 10 of the largest Christian festivals in the U.S., and more than 80,000 guests have sailed on cruises and gone on excursions through their vacation experience company, Premier Vacations and Events. For more information about Premier Productions, visit https://www.premierproductions.com/.