We first addressed the rise of OTT in December of 2017, and now we're back with updates and fresh perspectives to keep you in-the-know.
If you didn't catch the first blog, OTT stands for over-the-top, meaning any service other than traditional pay TV (cable or satellite) that viewers use to watch TV programming. Some well-known examples of OTT are Hulu, Netflix, Roku, AppleTV, or Amazon Video.
Back then, OTT had just overtaken traditional TV viewership, 52% to 48%, as the way in which U.S. television audiences watched their favorite shows. Those of us in the media buying profession were challenged by high CPMs (cost per thousand impressions), restricted targeting capabilities and limited scale. In just a year and a half since then, we've seen improvements in these areas and are now ready for the next exciting advancement: Addressable TV.
OTT consumption is on the rise…
According to Nielsen's most recent Total Audience Report, (from Q3 2018), 67% of television households have on-demand video streaming services, or OTT. This is up from 61% for the same quarter in 2017. Penetration is highest among Hispanic and Asian American audiences.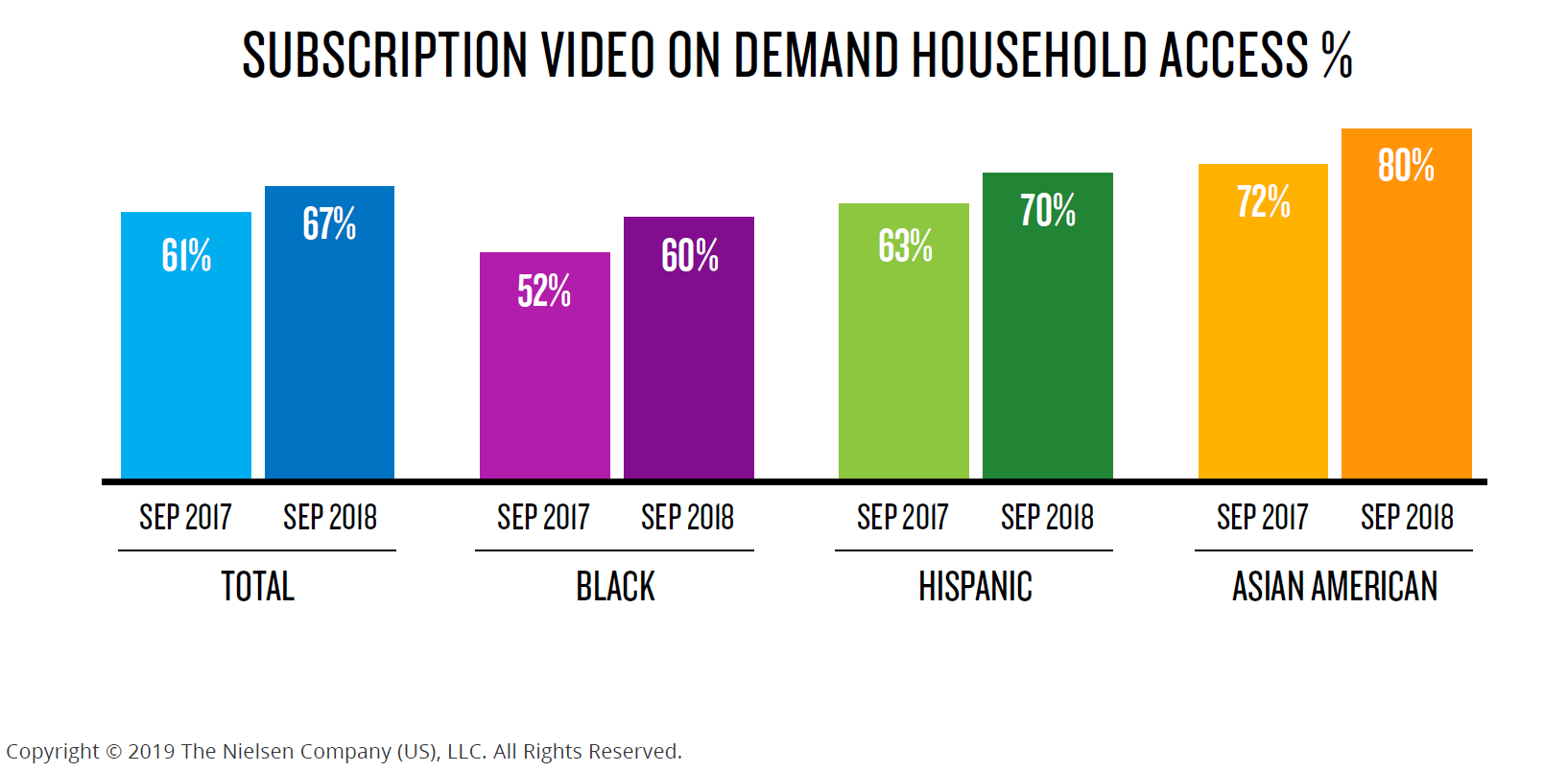 Of the 5 hours and 24 minutes a day that the average adult spends consuming video content, 25% of that, or 1 hour and 21 minutes, is digital video viewership.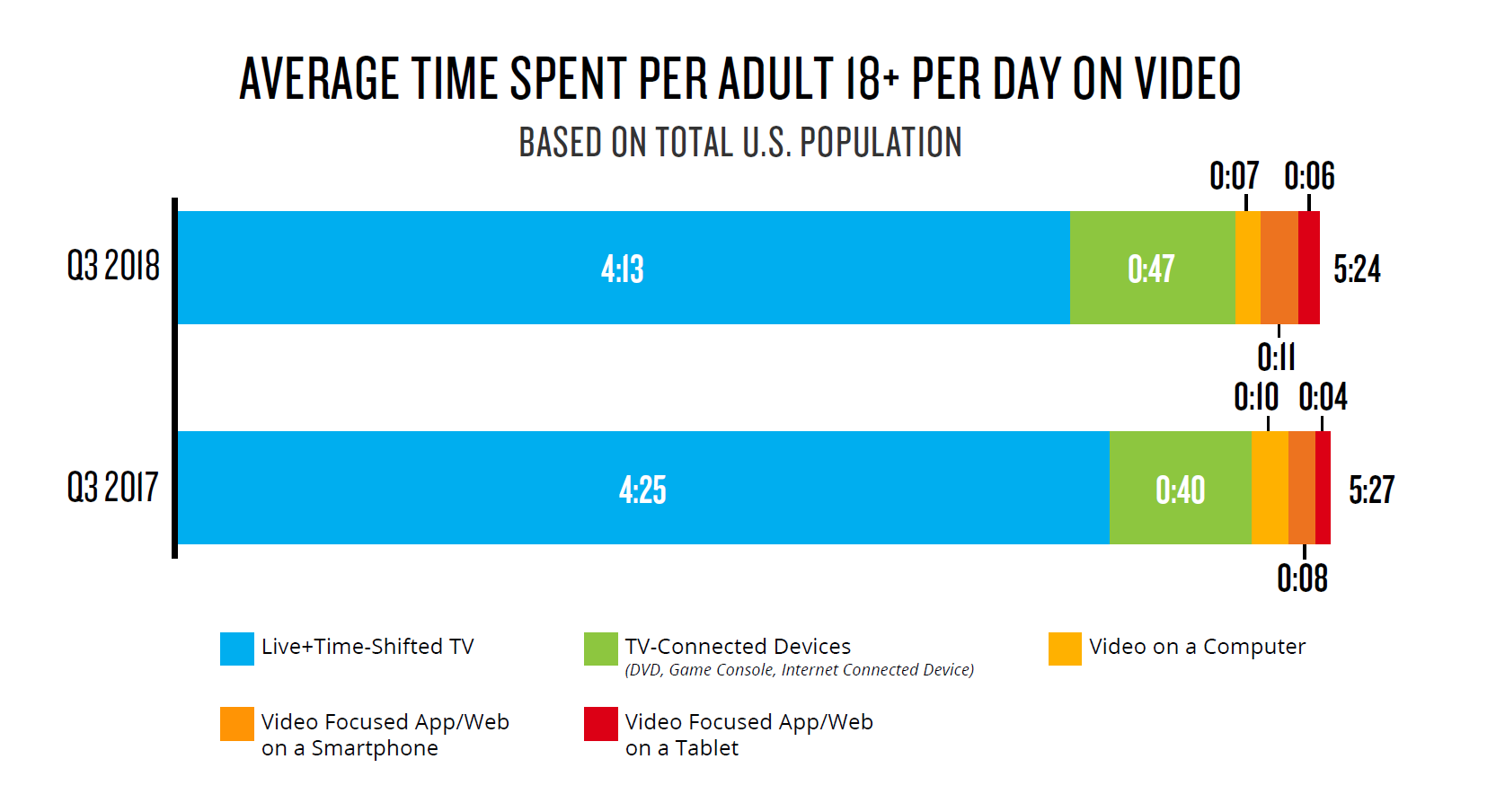 …but spending on OTT advertising isn't increasing as quickly
Despite the rise in OTT viewing habits,  the 2019 OTT Consumer Report by OpenX and The Harris Poll finds that, of the $70 billion (yes, that's billion with a B!) spent annually on TV ads, less than 5% is spent on OTT ads. The same study reports that 72% of OTT users can recall seeing a specific ad, 66% have learned about a new product or company from an OTT ad, and 40% have paused their content to go online to purchase or learn more about a product they saw in an ad.
So, if OTT is where our clients' customers are, what's stopping us from buying the heck out of OTT ads? eMarketer reports that many of the same issues we mentioned in late 2017 are still holding us back. Scale, quality of inventory and ROI measurement capabilities are the top three challenges of OTT/Connected TV advertising.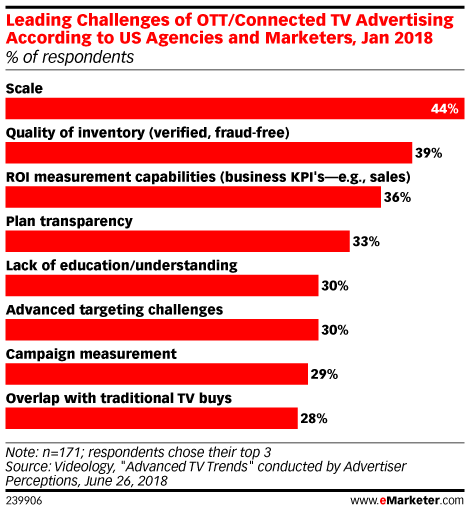 From my personal experience, scale, measurement and targeting have greatly improved since late 2017. With 67% of U.S. consumers watching OTT, I believe it makes sense to consider OTT as part of a client's overall TV buying strategy.
Addressable TV
The allure of Addressable TV is on the horizon and may tip the scales in favor of OTT advertising. Addressable TV means that, in theory, we can serve different ads to different households that are watching the same program. Here's an example:
Neighbors DJ and Todd are both watching the same TV program. Todd is an outdoor enthusiast as evidenced by his recent online browsing behaviors: shopping on Cabela's, reading an article on Game and Fish's website, and recently viewing Big Deer TV online. He sees an ad for Shimano fishing line.
DJ, on the other hand, was recently shopping for North Carolina Tarheels golf shirts on Amazon, reading an article about the PGA Tour, and searching for local golf courses. He sees an ad for Tarheels-branded golf balls.
Essentially, "addressable" is a trendy word for "targeted." We can now target users on their TVs much in the same way that we can target them online. The ads are delivered through CTV (connected televisions/Smart TVs) with cable, satellite and Internet TV delivery systems. Addressable TV is now available in nearly 64 million households according to a study done by the VAB. The study also projects that ad spending on Addressable TV this year will be roughly $2.5 billion—a similar spend to that on OTT—and should exceed $3 billion by 2020.
This targeted advertising is a winner, not only for advertisers, but for consumers too. We've learned from targeted digital advertising that consumers really do prefer to see ads that are relevant to them. According to the OpenX OTT report mentioned earlier, a majority of U.S. consumers say they are not bothered by ads when they are relevant.
The biggest takeaway from this conversation about new TV advertising technology is that video is still king among consumers, but how they receive it is changing. Consumers are spending more than half of their daily media consumption watching video in some form, according to Nielsen, but advertisers need to be smart about how they are reaching these consumers and add variety to their media mix. Advertisers should consider a variety of video outlets, including linear broadcast and cable TV, PreRoll ads, OTT and (if available) Addressable, to make sure they are finding their audience wherever and however they're consuming content.