"Make the logo bigger" is an advertising cliché for a reason. Battles have been fought for centuries, possibly millenniums, between designers, marketing managers and salespeople, and much blood has been shed. In fact, too much blood. Therefore, to offer a final truce, I propose the creation of—drumroll, please—the LogoMax App.
The LogoMax App will suggest the largest logo size that a company should implement per project, depending on the medium placement. All projects are unique, so all suggestions are unique.
Got an outdoor board high above the road? Use LogoMax.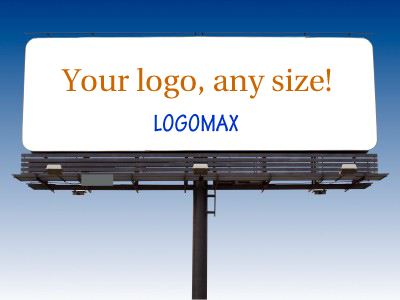 Need a 728×90 banner ad? Shazam! LogoMax.
Through serious code and mathematics that have yet to be formulated, but would boggle the mind if explained, LogoMax would take into account a brand's personality, market position, ad placement and total number of salespeople who email the marketing manager every time they see an advertisement. The result is the ideal logo size for every need.
As a value add, each LogoMax App suggestion comes with a strategic rationale for final size restrictions. Also, the phone number offered for feedback will go to a voicemail that will eventually be answered by an intern.