We often say that marketing is a blend of art and science. We live in the gray area where creativity and data coexist to produce meaningful results for our clients. As you walk through our open workspaces, you'll pass by screens open to Excel spreadsheets, round the corner and see artistic sketches, make a hard left into lines of digital code and end up facing photographs of a glamorous event on a golf course. Our people embody this dichotomy as well; we might be wearing button-ups some days, but when we roll up our sleeves, you'll catch a peak of our tattoos.
As marketers, we learn from facts and leverage them to make an impact on our target audience. This uncommon collaboration between art and science is what makes a successful marketing team. Here are a few recent projects that showcase this harmony.
DIGITAL ANALYTICS & WEB DESIGN
Our client requested we add a product selector to their homepage. The full product selector search interface is very feature-rich and allows many ways for users to refine their search criteria to find a product that fits their needs. But it takes up a lot of space and can be cumbersome to the end user. Leaning on science, Jackson ran a heat map test on the main product selector for a few weeks to determine user interactions. Based on the data collected, the team artfully designed a simplified interface for the product selector consisting of the three most heavily used search criteria options, ultimately delivering a pleasing and efficient user experience.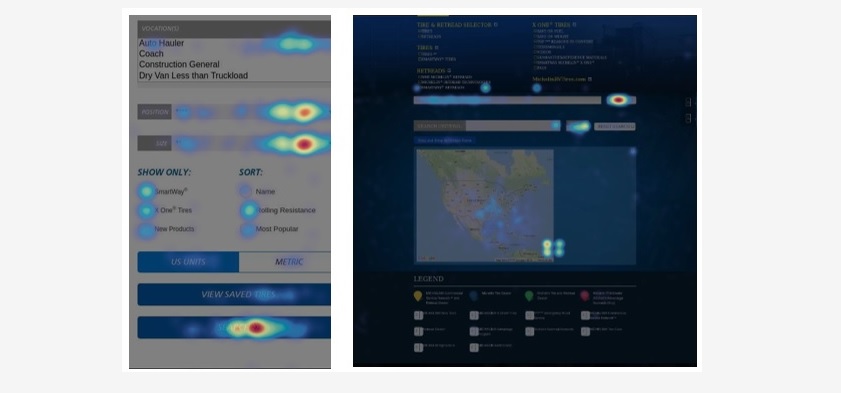 MARKET RESEARCH & GRAPHIC DESIGN
Upon receiving explicit direction from our client Sage that bar charts were banned, we put our Account Service and Graphic Design teams together to come up with a unique solution to present important market research. We conducted comprehensive research digging into years of environmental data, interviews with environmental engineers and tasked our Graphic Design team to find an aesthetically interesting way to communicate it without using a bar chart. The result? Lots of science, synthesized to nuggets that are relatable to the end user and look nice, too.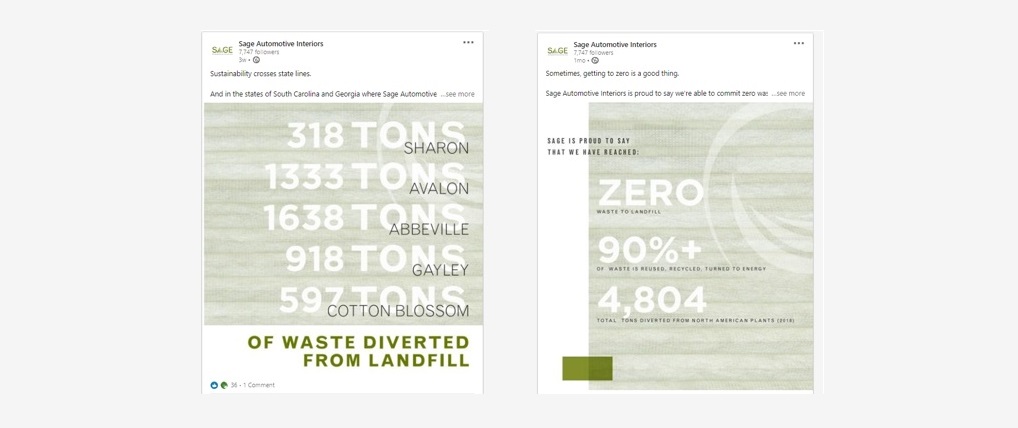 TECHNICAL SPECS & COPYWRITING
We recently worked on a B2B sales presentation for a client who needed to support their sales team with relevant and impactful information for end users. Presenting an innovative mining technology in a creative way was a challenge. Numbers can be impressive, sure, but when you're trying to engage a customer, numbers alone might leave the customer saying, "so what?" So, we told them "what." Armed with scientific research, technical statistics and relevant data, our team of copywriters created a list of tangible benefits that could be easily understood by the customer and make them say "wow!" instead of, "so what?" As a result, our client's sales team was able to quickly cite quippy benefits without explaining every detail of the technology and losing the customer's interest.
PRODUCTION DESIGN & SCIENTIFIC PROCESS
Last year, Jackson helped create, launch and deliver a series of special awards for Michelin in the IMSA Michelin Pilot Challenge series (the top support series to the IMSA WeatherTech SportsCar Championship). There were a multitude of ways in which we supported this process, including: consultation on nominees, technical web support, award design, delivery logistics, winner communication and more. The result was delivery of an award that was, in and of itself, a unique piece of art. But for this project to have been achieved in less than a month—from initial idea conception to awards being received—we had to take a scientific approach to handle all the needed items. Late nights, numerous spreadsheets and logistical and industry expertise all worked together to deliver a piece of art with a marketing goal at its core.