Manufacturing Leaders, Your Stakeholder Communication Needs Work (Part 1)
Friday, July 3, 2015 Jackson Categories: Public Relations
Manufacturing in America has undergone huge changes in the past quarter of a century. Whether through mergers, tariffs, new initiatives or evolving programs, manufacturers have come to expect change.
While manufacturing leadership is busy adapting to changes, what about the workforce? They are vulnerable during times of change; and leaders who do not properly manage change are four times more likely to lose talent. According to a study by Right Management, "Twenty percent of employees who perceived change was not handled effectively indicated they planned to leave within one year."
Consider the impact of losing 20% of your workforce.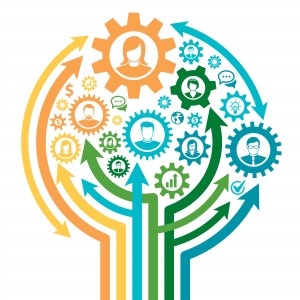 Although change isn't purely negative, even positive changes—a new division head, improved benefits, a new sustainability program—can meet with resistance and uncertainty. It is a basic human instinct to fear the unknown.
With all this in mind, it is clear that change must be carefully considered, handled delicately and communicated effectively to minimize potential negative impact. It is critical to think of the communication stakeholder.
How do you improve your communication? Distilling stakeholder communication down to a five-step process will help manufacturers communicate more effectively and retain employees when change is on the horizon.
We will discuss Steps 1-3 below, and Steps 4-5 in Your Stakeholder Communication Needs Work (Part 2).
Who are the stakeholders?
Whether internal or external, a stakeholder is someone who has a vested interest or "stake" in the organization. The process of communicating to stakeholders begins with identifying who they are (and how to group them), what their needs or concerns are, and what their level of commitment or resistance is relative to the challenge or task at hand.  The leadership team will need to take an active role in researching or brainstorming these first three steps.
1. Identify and list the stakeholders
The process of finding and listing all the stakeholders may require charting the organization's circle of influence. In the end, a basic list could look something like the following:
Internal stakeholders—board, upper management, mid-level management, line employees
External stakeholders—customers/clients/end users, vendors, community, media, legislators, investors, analysts
When it's complete, the list may include additional special groups, nonprofits, grassroots organizations, committees or advisors. It may have internal stakeholders broken down into smaller segments or segmented according to their department. Whichever way the list organizes stakeholders, management should create a communication plan for each of those segments. But first, there's more work to be done toward stakeholder relationship management.
2. Define stakeholder concerns and priorities
This step places "listening" at the forefront. Organizations that value listening and feedback may have a system of gathering insight already in place. Surveys (SurveyMonkey is a free online tool to survey stakeholders and gather anonymous feedback), town hall meetings, internal research or third-party research and interviews are common ways to collect feedback. Internal or external consultants may also be called upon during this listening and defining step.
If leadership has not been listening, they may struggle to define stakeholder concerns and may not be prepared to address the issues stakeholders raise.
The goal is to find the key priorities, concerns/fears for each stakeholder group. A written list of priorities and concerns will help build the communication plan. (For more on building the communication plan, see Part 2 of this blog series.)
3. Assess stakeholders' level of commitment or resistance to the change
Assessing commitment or resistance can be tricky because this process means generalizing. People are not 100% committed to everything or 100% resistant to everything. Often people and departments are being affected differently by the upcoming change, so assessing each stakeholder segment individually is important.
For example, not every person in the stakeholder group of mid-level management would be opposed to a merger. However, if the merger means eliminating all mid-level management positions, then it's easy to assume a high level of resistance from the entire group.
By assessing the level of commitment or resistance for each stakeholder, the beginning of the communication framework may look something like the "company acquisition" example in the following chart.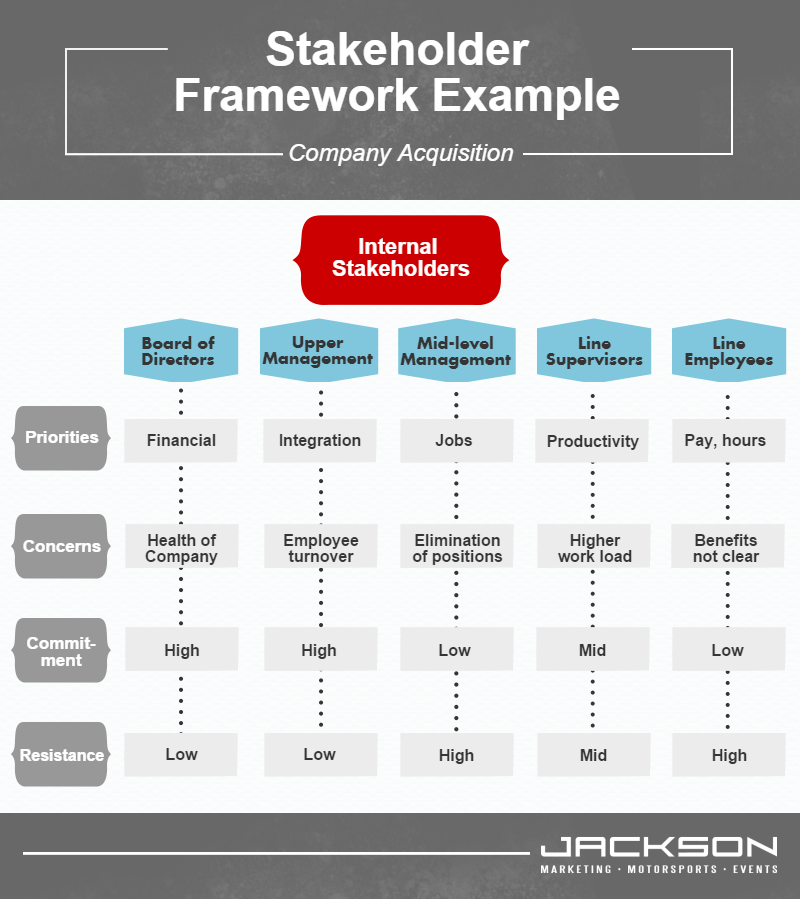 Keep in mind that each level of stakeholder:
Has its own structure and various centers of authority and influence
Is fluid and will frequently discuss issues and concerns among themselves or with external stakeholders
Has a relationship and vested interest in the success of the organization
May already have advocates for change in place
Those who have a vested interest in the success of the company are your most valuable assets! Communicating with them is key to keeping them onboard or gaining their support.
Steps 1-3 (identifying the stakeholders, defining their concerns and priorities, and assessing their level of commitment and resistance to change) are just the beginning. There's still work to be done to build the plan for stakeholder communication. Be ready to dive into Part 2 to learn how to effectively communicate change to stakeholders.