Jackson's Event and Travel Team Is Expert at Making It Memorable
Wednesday, October 19, 2016 Jennifer Igancio Categories: Event Management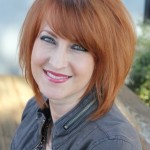 By Jennifer Ignacio, Event & Travel Director
Jackson Marketing, Motorsports & Events can be a mouthful when sharing with others where you work and what you do. The "Events" part sometimes trails off like the end of a sentence and other times, people get hung up on the "Motorsports" part.
No, we don't race NASCAR, but we do help clients plan and execute racing events, trade shows, corporate meetings, golf tournaments, employee functions, dinners and every other kind of event to launch and promote new products, train employees or raise money for worthy causes. As a matter of fact, we manage more than 350 events each year from dealer meetings to desert races, handling every detail including transportation, accommodations, registration and on-site logistics.
And unlike most other event management companies, Jackson offers in-house creative, video production, media, public relations, social media and research expertise that can help support an event with pre-event planning and promotion, on-site execution and post-event follow-up.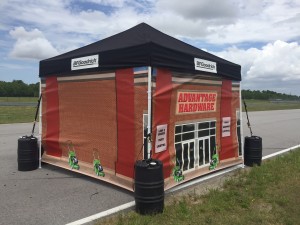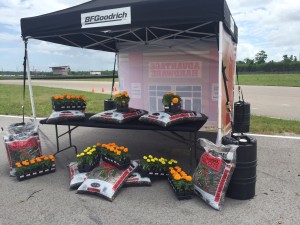 Jackson's creative expertise was on full display at a recent tire launch held at a New Orleans racetrack. Rather than stage a standard event during which participants test drive new tires on a wet track and then on a dry track, we pulled the Jackson creative team together to brainstorm ideas for an atypical road test.
The team settled on a daily fun drive. The concept was to put participants in a minivan and let them experience driving on new tires, specifically designed for that type of vehicle, as they would in their daily lives—driving the kids to school or soccer practice, going to work, stopping to pick up groceries or dry cleaning, grabbing a cup of coffee, or stopping by the gym for an early morning workout.
To make things interesting, we made it a competition. Participants would jump in their minivans with a list of tasks to accomplish in a designated amount of time. They were instructed to stop by tents masquerading as a gym, coffee shop, grocery store, home improvement store and dry cleaners. At each location, drivers had to exit the van and perform a function like buying a cup of coffee, riding a stationary bicycle for 30 seconds, running in to get the dry cleaning or buying a house plant. To make things even more interesting, each van was outfitted with a doll buckled into a car seat. At each stop, drivers had to unbuckle the baby, take it in with them, then place the doll back into the car seat and buckle it in before proceeding to the next stop.
A coned course always offers a great, tried-and-true experience, but the New Orleans tire launch included an element of fun that proved memorable. During breakfast at the hotel the next morning, the daily fun drive was the topic of conversation. I heard comments like, "I've been going to tire launches for 20 years and this was the best one yet."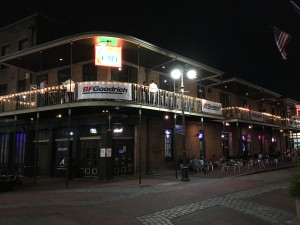 That's the kind of work Jackson is known for—events that stand out, something that's unique yet perfectly demonstrates a product's features and benefits. Being able to utilize our creative team and find that uncommon idea that works sets Jackson events apart. We're also accustomed to staging events at nontraditional sites like the desert, an aircraft carrier and in locations outside the United States, so we understand the requirements of international travel.
A Jackson-produced event combines the expertise of our account services, production, public relations, social media, video and creative teams to give a client a one-stop shop. We also maintain a warehouse with a considerable amount of client and Jackson-owned inventory, and we operate a fleet of semi-trucks and box trucks for event transportation and logistics. From conceptualization and design to production and execution, Jackson offers the expertise and experience required to pull off an event to remember no matter its size or scope.