Jackson Motorsports Group Hires Two for Wiley X Tour
Wednesday, July 16, 2014 Jackson Categories: News
GREENVILLE, S.C. – Jackson Motorsports Group (JMG), leading motorsports, events and race tire distribution company, hired Joe Hindman as lead event specialist and Brice Pratt as event specialist.
"Joe and Brice are motorsports enthusiasts with just the right mix of business savvy—exactly what this industry needs," said Darrell Jackson, CEO of Jackson Motorsports Group. "We look forward to their fresh perspective on a tour that has been growing and gaining market share since we launched in 2009."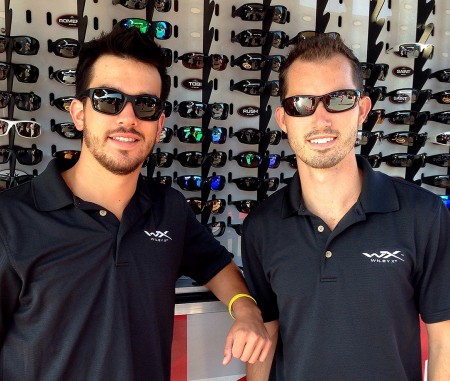 As lead event specialist, Joe Hindman will oversee the planning, promoting and executing of a year-long sales and marketing tour for Wiley X Eyewear. A major portion of the tour is marketing and selling high-performance eyewear at NASCAR races, motorcycle rallies and other motorsports events.
Hindman previously worked for Jackson Marketing Group, planning and executing marketing campaigns and events for automotive and motorsports clients. He served as a committee member for PULSE Greenville, which supports the development of young professionals in the area. Hindman holds a degree in marketing management from Bob Jones University.
Pratt will assist Hindman in planning and promoting the Wiley X Eyewear sales and marketing tour. He spent four years building sales and customer service expertise with Earth Fare and was assistant manager at QuikTrip. Pratt graduated with a degree in business administration and management.
Wiley X Eyewear is a leading provider of advanced eye protection for military, law enforcement and other tactical applications. Every pair of Wiley X glasses meets stringent high velocity and high mass impact safety standards, providing occupational grade protection for activities of all kinds. Wiley X is the only premium sunglass brand with this level of vision protection in every pair of glasses.
About Jackson Motorsports Group
Jackson Motorsports Group provides a wide range of services to its clients, including event management, motorsports strategy and marketing, on-site product services and sales, on-site spokespeople and brand representatives, and operational support. Based in Greenville, S.C., its experience includes working for clients such as BMW, Volvo, Wiley X and Race Ramps and supporting some of the world's leading racing series, including NASCAR, NHRA, TUDOR United SportsCar Championship, American Le Mans, SCORE, Best in the Desert, Ultra4 and AMA. For more information, please visit the company's Facebook page.