This question has been asked and asked for the past couple of years. I won't list all the statistics as to how many people are using their mobile device to access the internet—we've all seen and heard those. But now Google is raising the bar. On April 21, Google will deploy a new algorithm for website ranking and a key component to that ranking is the mobile friendliness of your website. According to Google's Webmaster Central Blog, the new algorithm will have "a significant impact in our search results."
So what should you do about it? I have three simple suggestions.
1. Review your site analytics.
Your site analytics will inform you about referrals – in other words, how many people are coming to your site from Google Search, LinkedIn, Yahoo, etc. Are you willing to risk losing those site visitors? While you're reviewing the analytics, notice how many people are coming from mobile devices. Is it around 50%? Are they bouncing, perhaps leaving your site because it's not mobile friendly?
2. Check your site with Google
Google offers a free tool to check whether your website is mobile friendly or not – a Mobile Friendly Test. Just type in your URL and hit "analyze." If your site is not mobile friendly, Google will give you specific reasons why. After testing your site, you'll be armed with some basics of what needs to change to get it ready for the new search rankings.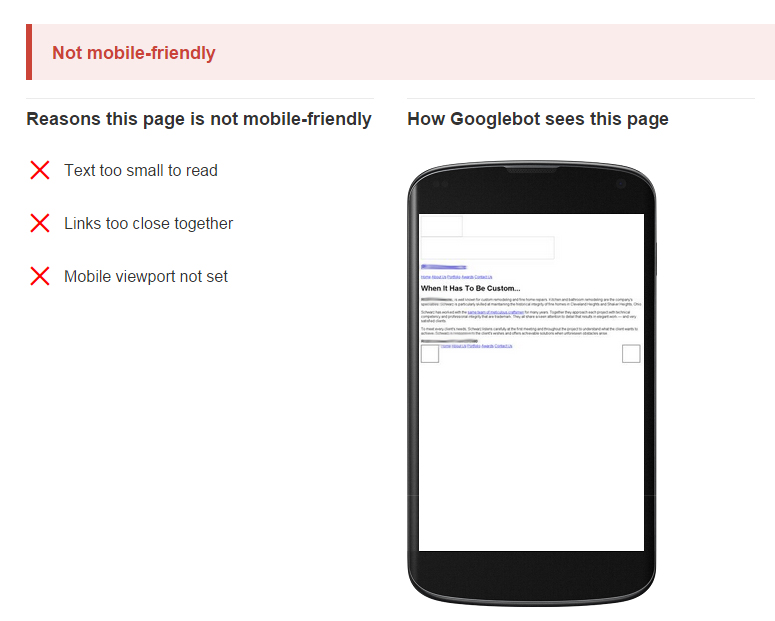 3. Make a plan
One more piece of advice for those who need a mobile friendly site: you'll need a plan to update your site in order to maintain your Google search ranking. It's not a quick fix. There are many ways to make a site mobile friendly, and the most popular is to use a responsive web design (RWD). The right plan will depend on many factors, including your site structure, CMS, design, indexing and other web developer jargon we could throw at you.
Navigating this can be intimidating, but it doesn't have to be with the right help.
Don't wait to see what happens; make a plan for a successful outcome!