Inspiring Advice from 7 Creative Directors (+1)
Thursday, February 6, 2014 Jackson Categories: Creativity
So the Super Bowl wasn't all we had hoped. At this point, you probably need a little creative inspiration. Look no further. We've mined the Internet for quotes, interviews and advice from the world's best creative directors.
They share from personal experiences the creative genius that has made them so successful.
1. Melissa Rosenthal
director creative services, Buzzfeed
Understand the brand's goals, aspiration and initiatives.
Buzzfeed users visit the site "to share content with their friends — editorial and advertising content alike. The Creative department is responsible for coming up with the innovative, inspiring content for advertisers. My team's role is to understand the brand's goals, aspirations and initiatives and come up with content that is authentic to them—and relatable. And content with this in mind earns the right to go viral, and earns the right to be shared."
Even advertising.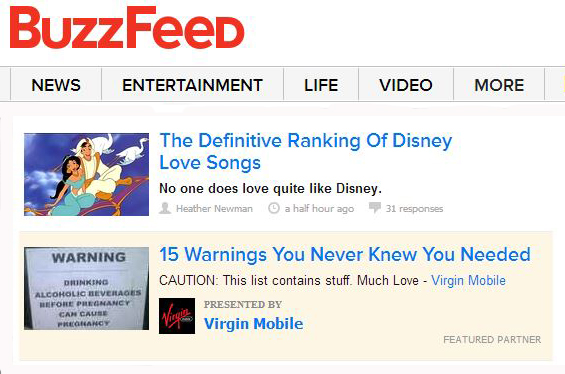 2. Humberto Leon
co-creative director, Kenzo (a Paris fashion house)
Tell stories.
"We're such nerdy, obsessed people about storytelling . . . and we're trying to tell the story of this brand through our collections."
3. John Mescall
executive creative director, McCann Australia
Use a content model. Shape it around experience and a message.
"It's interesting, [in "Dumb Ways to Die"] we never actually say don't do it. Never. We allow people to know that's a dumb thing to do, and no one wants to be dumb. Again, if we told people don't do it, it wouldn't have worked as well . . . it's a control model. Advertising is control. Do this, buy this, don't do that, own this, do this now, call us now. Whereas, the content model is all around an experience and the message, but not telling you. It's involving you and showing you and making you feel something."
4. Jill Applebaum
creative director, JWT New York
Realize not everyone will like your work.
"[Creativity is] about how resiliently you can dust yourself off and get back in the game after a round of soul-sucking criticism."
5. Carol Lim
co-creative director, Kenzo
Pick up where someone else left off.
Background provided by Interview Magazine: "Founder Kenzo Takada, who moved from Japan to Paris in the mid-'60s, also had a hand in retail . . . . In his prime, Takada pioneered a fusion of Japanese street style, Parisian chic, and global ethnic influences, creating voluminous, color-blocked clothes."
Lim revives his style: "Takada was really about designing from a personal perspective. He didn't follow trends, and we're trying to use the cues of that personality to make what we think is modern."
6. Anselmo Ramos
chief creative officer, Ogilvy Brazil
Create something new and difficult to pull off.
Ramos' two criteria for creative work:
"Show me something I haven't seen before (and I see a lot)."
"It should be really hard to make happen."
7. Ryan O'Rourke
global creative director, Wieden + Kennedy
Allow restrictions to become an advantage.
Working with client Nike, Ryan O'Rourke was partly responsible for Nike's "Find Your Greatness" campaign during the 2012 Olympics. Because they weren't an official Olympic sponsor, Nike didn't use professional athletes or references to the games. "In a way, the restrictions became our advantage—we had to do something different."
8. Mike Weston
creative director, Jackson Marketing Group
"I'll tell you what it's not.
Creative is never easy or for the faint of heart.
It is never safe or expected.
And it is not a big fan of the status quo."
Conclusion
Now take their advice to heart, because it works. Mull on it. Be inspired. Apply it to your situation. And go create.