If you don't like change, you'll like irrelevance even less
Wednesday, April 25, 2012 Jackson Categories: Book Reviews
"No business can survive over the longer term if it cannot continually reinvent self. But this is most difficult to do as it requires working across all layers of the firm. Essential and difficult, it is the ultimate test of leadership." – Dr. John Kotter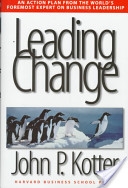 Fifteen years after the publication of Leading Change, I have finally found the time to read and appreciate this wonderful book by John Kotter. This book provides an excellent framework and strategy for companies to change, which is born in employing internal marketing. In ever-evolving global markets, myriads of businesses struggle to adapt to meet the challenges and to survive – large and small, national and international. We observe this phenomenon in iconic companies from General Motors to Hollywood. The common thread is these companies inability to change fast enough, and that is Kotter's premise which then becomes the foundation for the following eight steps:
Each of the steps above is linked to a short video of the author explaining the key points of the step. In order to receive full understanding of any of the eight steps, you will need to pick up the book, but I do want to highlight the central strengths of the book.
First, Dr. Kotter teaches theory and uses thought experiments throughout the book in order to encourage the readers to think about making specific applications. Some readers (of the lazy and simple type) dislike his stubborn unwillingness to spoon-feed all of the information. Next, he makes a distinction between leadership (aligning people) and management (controlling people) which is critically important: management can be taught, but leadership must be developed. Similarly, a company is either leading change or managing change, hence the title of the book. My third laud of this book is the available online resources to expand and clarify these eight steps.
In conclusion, the emphasis on urgency, momentum, and internal marketing of these ideas is quintessential to lasting change. Five of the eight steps lean heavily on the process of internal marketing, which involves applying marketing to an organization. Internal audiences should be looked at with as much importance and interest as your key target audience. It is impossible to establish urgency, form a strong coalition, communicate a radical vision, create noticeable wins, and institutionalize monumental new approaches without internally marketing from the beginning. Complacency need not be marketed.
My only warning in picking up this read is if you are simply looking for a new theory but are not looking to make specific applications/changes to your own leadership and change practices, then you must not waste time on this book. This book leads every reader to the introspective examination: Are we leading change or managing change?
*Title taken from a quote by General Eric Shinseki, former Chief of Staff, U. S. Army.