#harlemglobespotters campaign yields strong results, stronger partnership
Thursday, April 13, 2017 Kathy Vass Categories: Social Media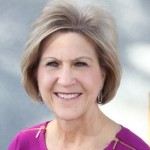 By Kathy Vass, PR Director
Social media campaigns typically are used to increase brand awareness, drive more website traffic, raise visitor loyalty and improve conversion rates. Creating a successful social campaign isn't always easy to identify, plan or execute…unless your subject is The Original Harlem Globetrotters and your creative partners are digital media students at Wade Hampton High School in Greenville, S.C.
Some of the most successful partnerships and outcomes can happen unintentionally, and in this case, quickly. During a meeting with work-based learning coordinators from Greenville County Schools, Jackson associates were brainstorming about ways the company could become more involved with area high-school students who are interested in careers in marketing. We talked about the work that we do and about some of our clients, and we mentioned that we recently had been kicking around ideas to promote The Original Harlem Globetrotters' upcoming appearance in Greenville.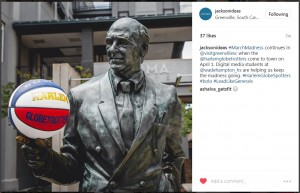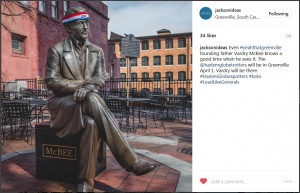 By the end of the meeting, we had conceived a contest for students to create a social media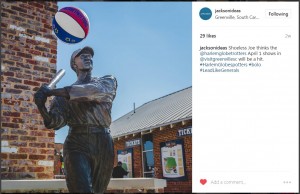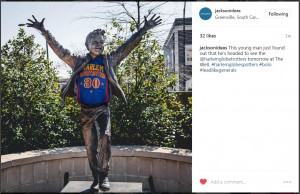 campaign promoting the Harlem Globetrotters. Students would create and plan the campaign, and Jackson would execute it. The winner of the contest would receive tickets to see The Globetrotters' April 1 performance at Bon Secours Wellness Arena.
The winning campaign was submitted by digital media students at Greenville's Wade Hampton High School. Led by instructor James Willey, the students submitted a campaign entitled "#harlemglobespotters." The idea was to place colorful Harlem Globetrotters apparel on the popular and numerous bronze statues around downtown Greenville, leaving social followers to be on the lookout for where the branded apparel would appear next. Our social media team loved the campaign and took it a step further to make sure the Globetrotters' famed red, white and blue basketball got into the mix.
The final campaign was a series of 12 #harlemglobespotters posts shared on Jackson's Instagram and Facebook platforms leading up to the April 1 show. From former Greenville Mayor Max Heller's likeness on North Main Street to S.C. Governor's School Founder Virginia Uldrick's image in the West End, no statue was spared. Using #harlemglobespotters as the main campaign hashtag, we also used #bolo and the WHHS hashtag, #leadlikegenerals.
Engagement results for the campaign were strong, with the numbers for likes, impressions, reach and engagement nearly doubling our platform averages.
To increase campaign reach, we engaged several other Greenville Instagram pages, including @visitgreenvillesc, @gvltoday, @greenvillenews, @greenvilleontherise, @greenville360 and @gvilleevents. These accounts follow and have followers that were within our target audience. With these pages liking our content, our posts were seen as more favorable to the followers of these pages by Instagram and were shown in the discover page, allowing those that don't follow Jackson to see and like the pictures. Tagging other Greenville pages, as well as the popular #yeahTHATgreenville, enabled us to join overall conversations for the City of Greenville, which draws many more eyes.
An equally important outcome of the campaign is the meaningful partnership we formed with students who are interested in marketing as a career. We were able to give them a real-world experience, working with a real client on a campaign that generated real results. In return, they gave us a fresh idea and a look into the future of marketing.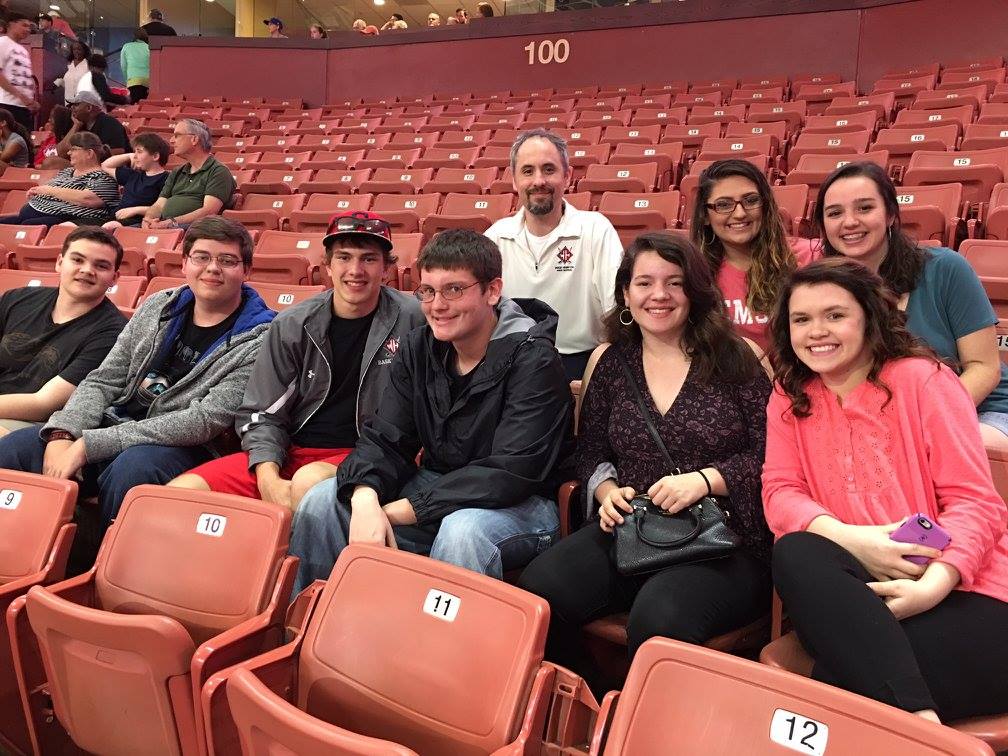 Pictured at left are Digital Media Instructor and Consultant James Willey and his digital media students from Wade Hampton High School, Greenville, S.C.