Guiding Principle 2: Serve
Monday, December 9, 2013 David Jones Categories: Management, Marketing
Serfs, slaves, servants – throughout the history of mankind, none of these were an enviable position. No one aspired to be a servant. (Even in the British hit-TV series Downton Abbey, many in service to His Lordship the Earl of Grantham dreamed of leaving the estate to pursue a life beyond servanthood.)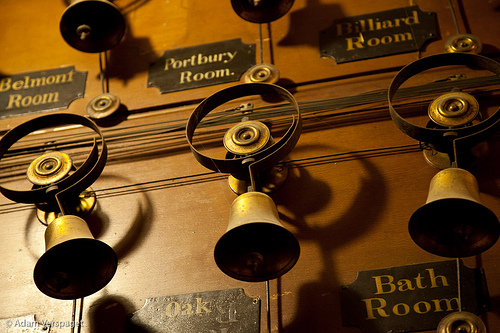 However, we are not always free from serving. A leader gains the most respect through "servant leadership," when he/she leads by serving. We can find prime examples in police officers, firemen, teachers and clergy. Our communities can't function without these servant leaders.
The second of our guiding principles highlights serving our clients and community, which is a worthy aspiration.
Serve your clients
Many businesses can say they offer great customer or client service. How far are you willing to go to serve your clients? Consumers, clients and customers expect more. "Over the past five years, consumer expectations have increased on average by 20%," according to Business 2 Community's article 14 Brand Trends for 2014. Deliverables that meet high expectations aren't easy. It requires vigilant work.
How far JMG will go to serve our clients can be summed up in our mantra "whatever it takes." Recently, a JMG team was up until 2 a.m. preparing for a 7 a.m. presentation. You can blame equipment, you can blame client changes, or you can stop blaming and just do whatever it takes.

A "whatever it takes" attitude is easy to recite but hard to live. How many man hours are you willing to spend to correct a mistake or to meet someone's ever-changing expectations?
Place customer service as your highest standard. Prepare your team and be willing to serve a nagging customer who thinks she's always right. A great leader should always be willing to serve.
Serve your community
One of the things we enjoy most about our community is its "togetherness." Maybe it's a Southern thing, or maybe it's a Greenville thing. But not many communities come together for community service like we do. (Kudos to you, Greenville!)
JMG is honored to jump in and serve. We participate in many local fundraising events; organize volunteers for Hands On Greenville (HOG), March of Dimes' March for Babies, United Way of Greenville, Goodwill Mud Run, Adopt a Road and Habitat for Humanity; and fulfill pro-bono marketing work for some amazing non-profits and ministries.
This year to celebrate JMG's 25th anniversary, we organized a 25-hour Serve-a-thon. Partnering with Habitat for Humanity and Hands On Greenville, volunteers from JMG worked 25 consecutive hours to build a Habitat for Humanity home. What better way to celebrate this milestone anniversary than to give back to the community who has given us so much.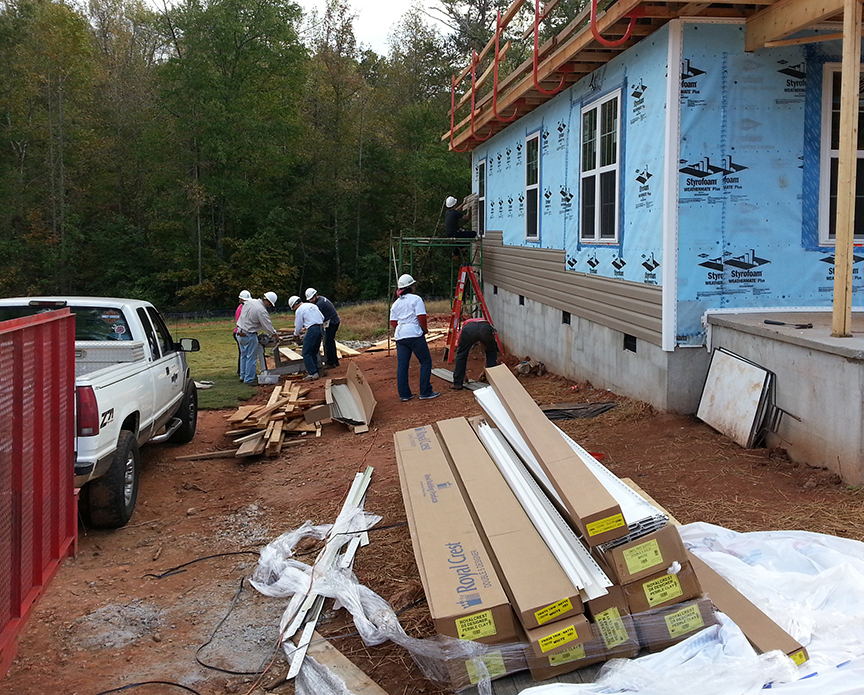 Maybe you don't feel honored or thankful to live and work in your community. Instead of complaining about it, what if you step up and begin making changes for the better? (Whoa, we're back to servant leadership.) If your whole company joins you in acts of service, you are well on your way to making a big difference.
Conclusion
Jackson Marketing Group is service-oriented, and we aspire to serve. What about you? Are you willing to win the loyalty of your clients or customers by offering unparalleled customer service? Can you serve your community whether they deserve it or not?
With a new year ahead of us, we want to challenge our friends, clients, fellow agencies and businesses all across the world to Serve.