Every year, the Greenville Literacy Association holds "The Really Good, Really Big, Really Cheap Book Sale" to raise money for its foundation, which funds the purchase of resources to improve adult literacy levels in Greenville County, S.C. For the past two years, Jackson Marketing, Motorsports & Events has been charged with advertising and marketing this longtime and popular event.
A massive new and gently used book sale, "The Really Good, Really Big, Really Cheap Book Sale" includes fiction and nonfiction, modern and classic, hardbound and softcover. The sale averages more than 125,000 books covering 130 categories, with restocking of sales tables taking place hourly throughout the day.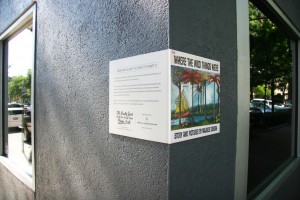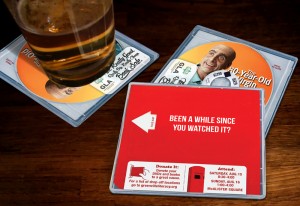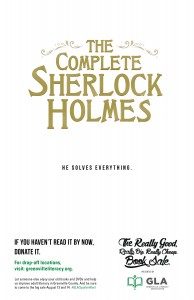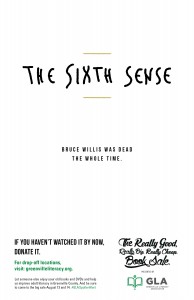 Jackson's work has helped increase book sale profits by substantial margins, with last year's sales up 50% compared with the previous year. In 2015, more than 126,200 books were donated and 98,958 were sold. Book sale customers numbered 10,000, with the sale supported by 603 volunteers. Adding to last year's success and raising the bar even higher for this year's sale was a Jackson win at 2016 Greenville ADDY Awards for last year's book sale campaign.
"It's hard to beat working for a client like GLA that appreciates good work and really makes a positive impact on the community," said Jackson Associate Creative Director Jordan Fretz. "Greenville Literacy Association helps numerous members of the Greenville community, and book sale profits make that possible. It's a great feeling to know that our work can have a direct impact on people's lives."
In 2015, "The Really Good, Really Big, Really Cheap Book Sale" campaign was based on the aging of books, with the campaign slogan, "Been a while since you read it? Donate it." The design team created a theme changing classics like Where the Wild Things Are to "Where the Wild Things Were" and To Kill a Mockingbird to "To Bury a Mocking Bird." They also retitled classic movies like JAWS to "GUMS." The campaign consisted of print elements—ads, posters, flyers and bookmarks—as well as billboards and clings of book covers posted on buildings around town. Additionally, Jackson created coasters in the shape of Red Box movies to give out at restaurants and bars to promote the event.
For this year's book sale, Jackson continued the aging books theme, creating the "#GLASpoilerAlert" campaign. The idea is that everyone knows the ending to these aging books and movies, so if you haven't read and seen it by now you might as well donate it. Some examples of the campaign creative are: "Gone Girl…his wife set him up."; "The Great Gatsby…Gatsby gets shot." and "The Sixth Sense…Bruce Willis was dead the whole time." Campaign elements include outdoor and print ads, posters and bookmarks.
New GLA Executive Director Jocelyn Slaughter believes "The Really Good, Really Big, Really Cheap Book Sale" will have another record year. New to the GLA team, Slaughter replaces former Executive Director Carol Browning who retired. Slaughter most recently was with Miracle Hill Ministries and was the 2013 President of the South Carolina Piedmont Chapter of the Association of Fundraising Professionals.
The 2016 Really Good, Really Big, Really Cheap Book Sale kicks off at McAlister Square in Greenville, S.C. on Friday, August 12, with a Preview Party from 5:30 p.m. – 8:00 p.m. This special event offers patrons a chance to shop before the sale opens to the general public. Preview party tickets are $35 per person or $60 per couple and include wine and light hors d'oeuvre. Preview party tickets can be purchased online.
The Really Good, Really Big, Really Cheap Book Sale continues on Saturday, August 13, with free admission from 8:30 a.m. – 4:00 p.m. Shoppers can pay $10 to enter the Early Bird Sale on Saturday at 7:30 a.m. On Sunday, August 14, The Really Good, Really Big, Really Cheap Book Sale will hold its Big Bag of Books Deal clearance event from 1:00 p.m. – 4:00 p.m. Admission is free and shoppers may fill designated bags with all types of books for only $10 per bag.