A global brand and the world's largest producer of pork products, Smithfield also has become a fixture at NASCAR events around the country.
A NASCAR sponsor since 2012, race fans often are among the first consumers to try a new Smithfield product or receive coupons for discounts on top-selling Smithfield items. This global leader wanted a top-notch presence at activation events, so Jackson's team went to work on concepts to boost the creativity and cohesion of Smithfield's on-site race weekend footprint.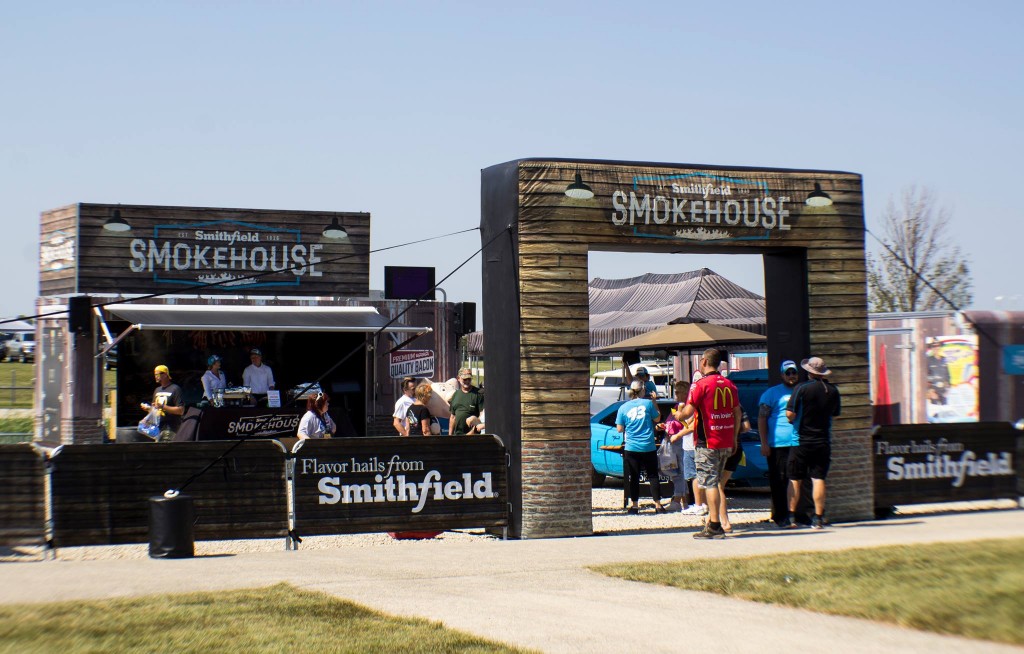 For Smithfield's 13-stop NASCAR tour, Jackson proposed a Smokehouse theme to rally around the idea of on-site food preparation and sampling, and to play off the company's established Get Grilling Sweepstakes at participating grocery stores.
The Smokehouse theme transformed a collection of individual exhibits like a sampling station, car giveaway tent, games and photo booth into an experiential marketing display that rivals a small county fair.
The fenced-in area with a large Smithfield entrance features a 24-foot stage trailer wrapped inside and out to resemble a Texas smokehouse. A companion trailer transports and displays a replica of Richard Petty's 1970 Superbird to be given away during Ford Championship Weekend at Homestead Miami Speedway in November. Corn toss, spin-the-wheel and other games that are consistent with a backyard barbeque have been incorporated into the footprint, along with a gift photo booth that offers up digital photos and gifs to encourage social sharing. Of the roughly 4,000 people coming through during race events, 500 to 1,000 each weekend step into the photo booth. To date, Smithfield has calculated almost 50,000 social media shares using the Smithfield and event hashtags.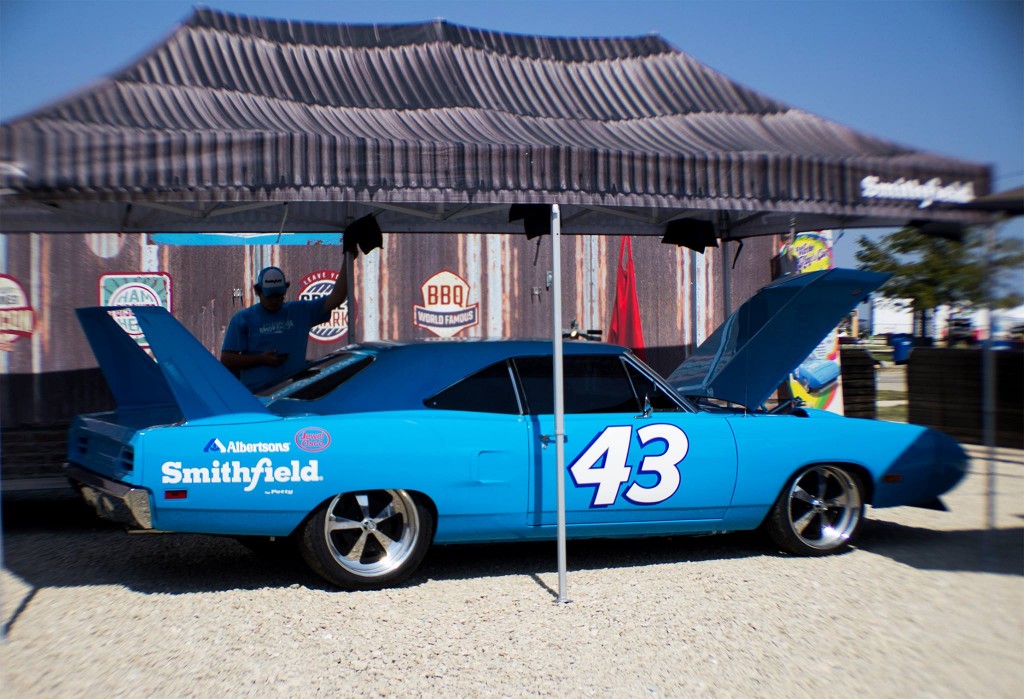 The new Smokehouse display also incorporates Smithfield's Sunday Grill Master Challenge. Smithfield previously held a bacon eating content during NASCAR activation events, but the Smokehouse stage trailer became the perfect spot for a Sunday afternoon cookoff to crown a weekend grill master. The winning griller at each NASCAR stop receives a trip to Homestead Miami for a grand prize cookoff.
Not only did Jackson create the Smokehouse-themed display, Jackson associates handle load-in, load-out and logistics for tour stops and help Smithfield staff with operations during each event.
"It has alleviated a lot of stress for the Smithfield activation team," said Jackson Account Rep Jessica Head. "The Jackson folks are checking and maintaining equipment on the road and making any needed repairs prior to the next activation event."
The new display also is helping product sampling and sales.
"We're seeing a lot of traction with tour stops," Head said. "People are flocking to the display at the racetracks with a lot of people coming back every day to sample different Smithfield products. Grocery stores are selling more Smithfield products, and every time a consumer buys one with a coupon they've received at the track, they're entered to win the Superbird."
Enjoy this video from Smithfield's recent visit to Chicagoland Speedway for the Monster Energy NASCAR Cup Series Tales of the Turtles 400.