FRESH CATCH: PIEDMONT ARTHRITIS CLINIC
Thursday, December 20, 2018 Jackson Categories: Social Media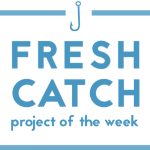 Founded almost 40 years ago by Dr. Jeffrey Lawson, Piedmont Arthritis Clinic today is a recognized national leader in the treatment of arthritis and other autoimmune diseases. The practice serves patients in the Upstate region of South Carolina, Western North Carolina and North Georgia from medical offices in Greenville, South Carolina.
Four physicians board-certified in rheumatology, a nurse practitioner, clinicians, nurses and insurance specialists round out an experienced staff specializing in all facets of rheumatology care. Additionally, PAC's affiliation with Innovative Clinical Trials allows it to participate in research opportunities for finding safe and effective treatments for those suffering with arthritis and other autoimmune diseases.
Bucking today's growing trend of hospital acquisition of medical practices, Piedmont Arthritis Clinic principals made the decision to remain independently owned and managed. That autonomy, however, affected the clinic's new patient referrals as hospitals and primary care physicians sent patients to rheumatologists within their system networks.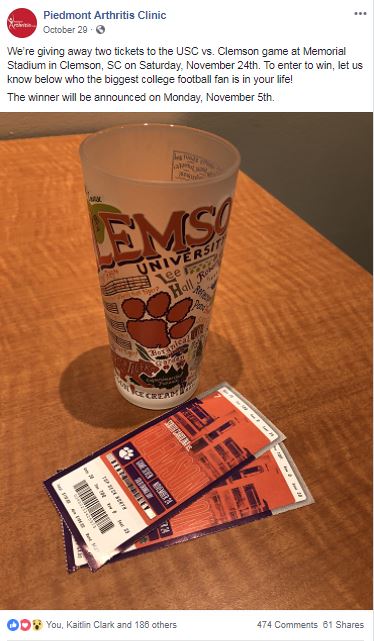 Looking for grass roots opportunities to increase brand awareness and connect with consumers, Piedmont Arthritis Clinic considered a still new but increasingly effective marketing tool—social media. With a patient mix that is more female than male in age groups that average 40 and above, PAC settled on Facebook as its preferred social network.
"Several of our staff members were active on Facebook, and we knew that many of our patients were," said Piedmont Arthritis Clinic Practice Administrator Nancy Ellis. "When we looked at the demographics of our patients and the demographics of those we're trying to reach, Facebook appeared to be the best social media option for us."
More than 54 million people in the United States have arthritis—that's 23 percent of all adults. Being active on social media would give Piedmont Arthritis Clinic the opportunity to have conversations about improving the quality of life for people with arthritis and talk about successful outcomes PAC has had with real people in the communities it serves.
Another goal was to educate consumers about the things that differentiate Piedmont Arthritis Clinic from other arthritis care providers. Those things include an in-house infusion suite and on-site MRI capabilities—services that make PAC a one-stop shop for many patients by eliminating the need to send them to hospital or outpatient settings for tests or treatment.
The Challenge
Jackson jumped into social media management for Piedmont Arthritis Clinic's established Facebook channel in May 2018. The challenge was to increase followers and engagement, but more importantly, boost new patient referrals.
To increase brand awareness, Jackson develops original and curated content to extend reach and impressions. Original content includes video testimonials from patients, a feature called #PACBTS (Piedmont Arthritis Clinic Behind The Scenes) that allows followers to learn more about what makes PAC staff members tick, and periodic contests with tickets to see Dr. Lawson's beloved Clemson Tigers or Dr. Long Huynh-Duc's Carolina Gamecocks play football as the prize. Original Facebook content also spotlights Dr. Jeff Lawson's extensive art collection on display at Piedmont Arthritis Clinic and a lengthy list of arts, education, professional, nonprofit, advocacy and community efforts supported by the medical practice.
Curated content includes information on exercise and drug therapies from trusted sources such as the Arthritis Foundation and the American College of Rheumatology, and news about open enrollment dates for insurance and prescription drug coverage.
Increasing Engagement, Rising Referrals
Strategies to increase brand awareness yielded a 280 percent increase in reach when comparing the first six months of 2018 with the last five months of this year. Aided by more relevant content and by boosting an engaging video testimonial post, overall engagement grew by 248 percent with Facebook profile visits more than doubling.
Fueled by PAC's social media success, referrals had risen dramatically at Piedmont Arthritis Clinic by August 2018 with all available new patient appointments booked through October.
"Social media gives us the opportunity to grow our relationships," Ellis said. "Our followers and fans are people who know us—our patients or families of patients, and they're the most likely to tell their friends about us."