The annual Junior Invitational had just completed its sixth year. Recognized by Golfweek as the most prestigious junior golf event in the world, the tournament wanted to step up its game.
Welcoming 54 of the best junior golfers in the world each year to the renowned and private Sage Valley Golf Club in Graniteville, South Carolina, the Junior Invitational arguably boasts the most competitive field in junior golf. Tournament alumni are collegiate stars, U.S. Amateur champions, Walker Cup Team members, and European and PGA Tour professionals and winners. They've played in The Masters, the U.S. Open and the Open Championship and include notables like Justin Thomas, Matthew Fitzpatrick and Emiliano Grillo.
With six years of awareness and operational success under their belts, Junior Invitational officials decided they were ready to take the tournament to a higher level, beginning with a new look and feel that would fuel a new website, collateral, signage, apparel and more.
For the rebrand, three of Jackson's graphic designers were challenged to create a new Junior Invitational logo. Creative direction included words like "timeless," "iconic," "cool" and "youthful." Interesting variations of a golf ball and a flagstick were integrated into some designs. A crest and a stamp-like image were used in a couple of the concepts to communicate the status of the sport, the location and the event. And one challenger incorporated the yellow pines of Sage Valley into the mix.

In the end, it was the simplicity of the "J" and the "I" that wowed. The new logo features a large gold "J" positioned next to a smaller gray "I" that, upon closer examination, together form a large "I." Simple. Clever. Iconic. The logo is used as a stand-alone element, then, at times, has an accompanying "Junior Invitational" or "Junior Invitational at Sage Valley Golf Club" tag.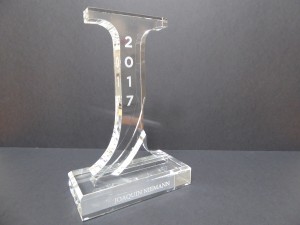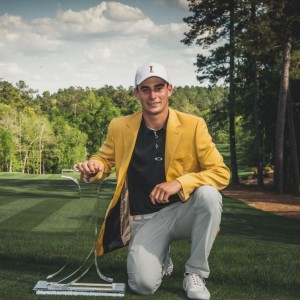 With the new logo in hand, the Jackson creative team developed fresh digital, video and print pieces from a new website to the player invitation booklet, 36-page spectator guide, invitations and newspaper ads. The logo has been incorporated into every aspect of the tournament including on-site signage, table drapes, name badges and the jacket awarded to the winner. Perhaps its most dramatic use is the display and winner's trophies which are 24-inch and 12-inch, respectively, pieces of lead crystal hand crafted into the "JI."
"Our new logo gives the Junior Invitational an iconic look and feel, and represents perfectly the professionally styled, prominent event that ours is known to be," said Tournament Coordinator Elaine Barnhill. "We're committed to continued improvement of the event experience for players, parents, sponsors and spectators, and it all begins with a classic and memorable logo that effectively communicates our brand."
Pictured at left: 2017 Junior Invitational Champion Joaquin Niemann of Chile.
Junior Invitational on Facebook
Junior Invitational on Twitter
Junior Invitational on Instagram